Um die Veröffentlichung ihres neuen Albums im Anfang 2021 zu feiern, haben EMPYRIUM ein paar Livetermine bekannt gegeben, bei denen KARG sie als Vorband unterstützen werden. facebook.com/Empyriumfans / facebook.com/kargband
Markus Stock Schwadorf: "This will hopefully happen early next year together with the release of our new album!"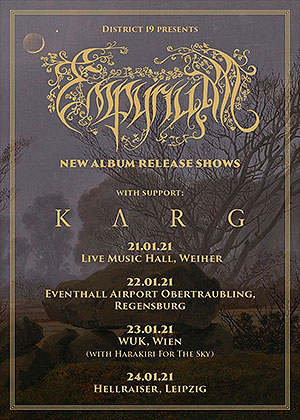 21.01.21 Live Music Hall, Weiher
Facebook: https://www.facebook.com/events/237357907263644
Tickets: https://newevilmusic.reservix.de
22.01.21 Eventhall Airport Obertraubling, Regensburg
Tickets: www.eventim.de/event/13216715/?affiliate=MKV
23.01.21 WUK, Wien
Facebook: https://www.facebook.com/events/770010890242687
Tickets: https://www.ticketmaster.at/event/16329…
24.01.21 Hellraiser, Leipzig
Facebook: https://www.facebook.com/events/344451873539562/
Tickets: https://hellraiser-leipzig.de/produkt/ticket-empyrium/
---

Am 16. Oktober wird das neue ACT OF CREATION Album "The Uncertain Light" über Black Sunset/MDD das Licht der Welt erblicken. Seit dem letzten Output "Thion" sind bereits 4 Jahre ins Land gegegangen, doch das Warten hat sich mehr als gelohnt. Mit "Break New Ground" haben die Melodic Deather jetzt eine erste Kostprobe des neuen Silberlings im Zusammenhang mit einem Videoclip veröffentlicht.
actofcreation.de / facebook.com/Actofcreation
---

Mit "Chain Of The Golden Horn" haben LEAVES' EYES die zweite Single aus ihrem kommenden Album The Last Viking" veröffentlicht. Der Song berichtet von Hardrådes gefährlicher Flucht aus Byzanz durch den Bosporus, wo eine im Wasser gespannte Eisenkette beinahe sein Schiff zerstört. Das Album erscheint am 23.10. bei AFM Records. https://www.facebook.com/leaveseyesofficial
"England im Jahr 1066. Die entscheidende Schlacht bei Stamford Bridge. Krieger im Todeskampf, blutgetränkte Felder. Norwegens König Harald III, genannt Hardråde ("Der Harte"), liegt sterbend am Boden. Vor seinen Augen zieht sein Leben vorbei: Kriege, Machtkämpfe, Reisen in exotische Welten, mächtige Frauen; Kaiser und Könige, die ins Verderben stürzen. Der letzte Wikingerkönig ist tot – die Ära der Wikinger ist beendet."
---

"Afar Angathfark" ist das dritte Album der italienschen Epic/Atmospheric Black Metal Band EMYN MUIL's drittes Album und erscheint am 25. September bei Northern Silence Productions. Bereits jetzt kann man sich das Album in voller Länge auf dem YouTube Kanal Black Metal Promotion anhören.
https://emynmuil-northernsilence.bandcamp.com / facebook.com/NorthernSilenceProductions / facebook.com/EmynMuil
A dark story of oaths and fratricide, and about an epic journey. Fans of bands like Summoning or Caladan Brood will find much to enjoy on this monumental release, and we highly recommend it to them!
As usual, mastermind Nartum also created all graphics for the album artwork and layout himself, resulting in a stunning 8-panel digipack for the limited CD edition (first press with black polycarbonate disc), a great looking album shirt as well as a beautiful gatefold cover with printed innersleeves and matching vinyl colours for the limited DLP.
---

DWARROWDELF ist ein Atmospheric Black Metal Soloprojekt aus UK und veröffentlichte 2018 erstmals ein Album, "The Sons of Fëanor", sowie 2019 den Nachfolger "Of Dying Lights". "Evenstar" ist das dritte Album und wird am 25. September bei Northern Silence Productions veröffentlicht. Bereits jetzt kann man sich das Album in voller Länge auf dem YouTube Kanal Black Metal Promotion anhören.
https://dwarrowdelf-northernsilence.bandcamp.com / facebook.com/NorthernSilenceProductions / facebook.com/DwarrowdelfUK
"Nach der Reise Aragorns und seinem Bestreben, Arwens Hand zu gewinnen, integrieren Dwarrowdelf auf diesem Album breitere Melodeath- und Folk-Metal-Einflüsse in ihre besondere Art von Atmospheric Metal, um eine wirklich einzigartige musikalische Reise zu schaffen."
---

Am 18. September hat die dänische Atmospheric Black Metal Band SUNKEN ihr zweites Album mit dem Titel "Livslede" über Vendetta Records veröffentlicht. Das gesamte Album kann man sich nun in voller Länge beim YouTube Kanal Black Metal Promotion anhören. facebook.com/sunkendenmark / sunkendenmark.bandcamp.com
---

Die Band kündigt das Debütalbum "Follow Your Nightmares" an, welches am 22. Januar 2021 über Out of Line Music erscheint. Das neue Musikvideo "I Don't Wanna Grow Up" ist jetzt auf YouTube zu sehen. Als Band orientiert sich Daemon Grey am Mantra "Follow Your Nightmares", dem zentralen Thema und Titel des kommenden Albums der Band. Das Album wurde in Zusammenarbeit mit dem Grammy-nominierten Produzenten Gavin Brown (Three Days Grace, Billy Talent), Mike Riley (Marilyn Manson) und Kevin Thrasher (Escape the Fate) erschaffen. facebook.com/daemongreyofficial
Daemon Grey (Sänger & Frontmann) erklärt die Bedeutung hinter der Single, "the single is a backlash to those who judge the intelligence, character, or general merit about anyone due to their age, inspired by personal experience and real emotion as all my lyrics are! It's a conviction to staying young forever. A lot of people consider growing up to be increasing intelligence and maturity, but in many cases, I think the opposite is true. People's egos claim they have 'grown-up', whereas really they have lost their inner child, their fearlessness, and their creative spirit. Many people get soft with age, and instead, elect to judge younger people for still living and cherishing their wild side."
---

"Emptiness Weighs The Most", das fünfte Studioalbum der finnischen Melodic Doomsters RED MOON ARCHITECT, wird am 23. Oktober auf Noble Demon erscheinen. Mit "Dethrone The Darkness", der dritten Single aus dem kommenden Album, gibt es nun einen weiteren Vorgeschmack auf "Emptiness Weighs The Most". facebook.com/RedMoonArchitect
"Einer unserer persönlichen Favoriten aus dem Album, da die Atmosphäre einfach ergreifend schön ist. Lasst euch nicht von der Dunkelheit übermannen!" kommentiert die Band.
---

Am 9. Oktober wird das neue Album "eremit" der Berliner NEÀNDER bei Through Love Records veröffentlicht. Mit "Atlas" hat die Band, die ihren Instrumentalstil aus Doom, Ambient, Post Rock und Black Metal verfeinern will, den Schlusstrack des neuen Werkes als Video herausgebracht. www.facebook.com/neanderhorde
"Atlas' is the closing track of 'Eremit.' With all the ups and downs – within rhythm and chord progression – breaks and mood changes; it might be the most experimental song of the album." Says guitarist Jan Korbach. "I really like this fact because the track may lead into our future as an artist. The song has to be perceived as one with 'Clivina' (the song that leads towards 'Atlas'). With over 14 minutes this is also our longest track (until now). It's truly a marathon, not a sprint.
neànder Live Dates 2021:
18.02.21 DE – Jena, KuBa
19.02.21 DE – Mannheim, Forum
20.02.21 DE – Köln, MTC
21.02.21 DE – Frankfurt, Nachtleben
22.02.21 DE – Siegen, Vortex
23.02.21 DE – Paderborn, Wohlsein
24.02.21 DE – Leipzig, Naumanns
25.02.21 DE – München, Kranhalle
26.02.21 DE – Erlangen, E-Werk
27.02.21 DE – Ulm, Kradhalle
03.03.21 DE – Dresden, Chemiefabrik
04.03.21 DE – Hamburg, Hafenklang
05.03.21 DE – Hannover, Bei Chéz Heinz
06.03.21 DE – Anaberg, Alte Brauerei
07.03.21 DE – Berlin, Cassiopaia
19.03.21 DE – Flensburg, Volksbad
---

Die thüringische Death/Doom Band DÉCEMBRE NOIR hat die erste Single mit dem Titel "Ritual and Failure" aus ihrem kommenden Album veröffentlicht. "The Renaissance Of Hope" erscheint am 13. November bei Lifeforce Records. facebook.com/DecembreNoir/
---