"Heavy Unplugged" nennt sich das, was die beiden Herren von MIT OHNE STROM bei ihrer Akustikshow anbieten. Sie paaren den Heavy Metal der achtziger Jahre mit einer Prise Punk und großspurigen Texten (Laut Bandinfo wohl die Größte Angeberei der Weltgeschichte). Das neue Album "Schizotopia" erscheint am 3.April 2020 via Bacillus Records.
Als "provokant, humorvoll und sexy as hell" beschreiben Tobi und Thomas, kurz T&T, die Songs auf dem neuen Album. Mit sechs wortgewitzten MOS-Kompositionen und fünf Interpretationen legendärer Hymnen (Rammstein, Sabaton, In Flames, Wizo und Alestorm) weiß "Schizotopia" zu unterhalten und ist dabei unverstärkt kurzweilig. www.mitohnestrom.de/band
Für ihre kommende Tournee mit Kärbholz sowie mit Tragedy gibt die Band nun die Termine bekannt.
09.04.2020 Mannheim (w/ Kärbholz unplugged)
10.04.2020 Hamburg (w/ Kärbholz unplugged)
11.04.2020 Jena (w/ Kärbholz unplugged)
12.04.2020 Nürnberg (w/ Kärbholz unplugged)
16.04.2020 Oberhausen (w/ Kärbholz unplugged) Zusatzshow!
17.04.2020 Oberhausen (w/ Kärbholz unplugged) Ausverkauft!
18.04.2020 Lindau (w/ Kärbholz unplugged)
14.05.2020 Wien (w/Tragedy)
15.05.2020 Dorsten (w/Tragedy)
16.05.2020 Zwickau (w/Tragedy)
---
Ab Februar sind JADU mit LINDEMANN auf Tour, kurz zuvor am 31.1. erscheint die neue Single "Auf Drei". Bei dem Song hat einmal mehr der erfolgreiche Produzent Olsen Involtini mitgewirkt (u.a. Seeed, Peter Fox, Rammstein).
04.02. DE – Hannover, Swiss Life Hall
06.02. DE – Köln, Palladium
08.02. AT – Wien, Gasometer
12.02. DE – Offenbach, Stadthalle
14.02. DE – Leipzig, Haus Auensee
17.02. DE – München, Zenith
19.02. CH – Zürich, Samsung Hall
---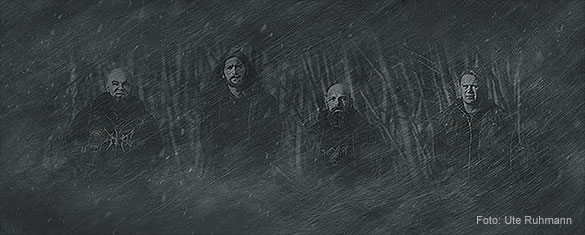 Die Deutschen Black/Pagan/Heathen Metaller HANGATYR veröffentlichen am 2. März ihr neues, drittes Album mit dem Titel "Kalt". Als Vorgeschmack auf das neue Werk hat die Band den Track "Blick aus Eis" bei YouTube veröffentlicht. https://www.facebook.com/derGehangene/
Mit "kalt" bieten HANGATYR gehaltvollen BLACK METAL. Von Dunkelheit und Spiritualität beseelte Kraftlieder, die so imposant aufsteigen, dass sich oftmals ein regelrechtes Triumphgefühl erhebt, welches am Ende an eisiger Einsamkeit verzweifeln möchte. (Markus Eck)
---

Die Black Metal Band THOKKIAN VORTEX hat ein Lyric-Video zum Track "Banishing the Lion of Kutha" veröffentlicht. Der Song stammt vom kommenden Album "Thy Throne is Mine", welches am 29. Februar bei Non Serviam Records erscheinen wird. https://www.facebook.com/ThokkianVortex/
Mastermind Lord Kaiaphas states: "Thy Throne is Mine is simply the best Black Metal that I'm capable of creating thus far. As a whole, it's an album with songs that are catchy and memorable. I didn't want to make an album with every song sounding the same. For the lyrics of Banishing the Lion of Kutha I created a story based on Sumerian and Akkadian mythology. This song has a warlike feeling."
---

Die Black Metaller DARK FORTRESS kehren am 28. Februar 2020 mit dem neuen Album "Spectres from the Old World" zurück. Mit "Isa" gibt es nun den zweiten Song aus dem Album zu hören:
Guitarist V. Santura about the track: "We are proud to present 'Isa', a monolithic song inspired by Arctic Icescapes. The first single we released on December 20th, 'Pulling at Threads', is definitely one of the fastest and shortest songs taken from 'Spectres from the Old World'. With 'Isa' we are putting out a different, opposite aspect: 'Isa' is the longest track on the album and probably also one of the heaviest and most epic songs in our discography thus far." http://www.darkfortress.org / https://www.facebook.com/officialdarkfortress
Live:
26.03.20 (DE) München – Feierwerk
27.03.20 (CH) Wetzikon – Hall Of Fame
28.03.20 (DE) Bochum – Matrix
29.03.20 (NL) Rotterdam – Baroeg
---

Am 7. Februar erscheint das neue Album der Psychedelic Doomcorer von WARPED CROSS mit dem Titel "Rumbling Chapel". Auf über 50 Minuten erwarten euch 11 Songs voller emotionaler Düsternis, die sich in eure Gehörgänge graben werden! Die komplette Tracklist findet ihr anbei. Ab sofort gibt's mit dem Opener des Albums "Heart Of Stone" einen ersten Vorgeschmack. Aufgenommen und produziert wurde das gute Stück im Chemnitzer Larox Studio, das Mastering stammt von Roland Wiegner / Tonmeisterei Oldenburg.
---

Das österreichische Ein-Mann Projekt KARG (by J.J. of HARAKIRI FOR THE SKY) veröffentlicht am 7. Februar das neue Album "Traktat" bei AOP Records veröffentlicht. Den neuen Song "Tod, Wo Bleibt Dein Frieden?" kann man nun hören und sehen. https://de-de.facebook.com/kargband
07/02/2020 – Oberhausen – Helvete
08/02/2020 – Erfurt – From Hell
09/02/2020 – Hamburg – Bambi Galore
10/02/2020 – Berlin – Nuke Club
11/02/2020 – Nürnberg – Golden Nugget
---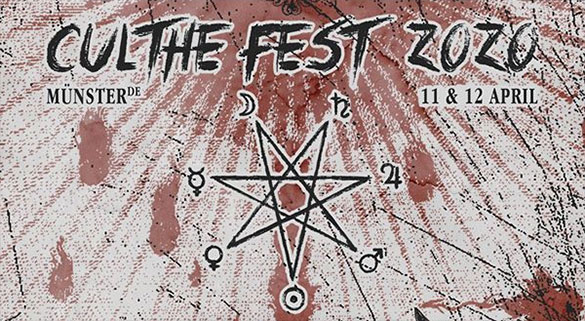 C U L T H E F E S T 2 0 2 0
am 11.+12. April in Münster, Sputnikhalle
UADA (USA, Black Metal)
GRIFT (SWE, Black Metal)
ANCST (DE, Blackened Crust/Black Metal)
DAWN RAY'D (UK, Black Metal)
SOLBRUD (DK, Black Metal)
VELNIAS (USA, Black Metal)
DEPRAVATION (DE, Black Metal)
VERHEERER (DE, Black Metal)
FRIISK (DE, Black Metal)
u.v.m.
"The Call Of Culthe"-Initiation Rite: A Lovecraft-Reading
By Ernie (Krachmucker TV)
Heavy Metal – Das Soloprogramm
By Ernie (Krachmucker TV)
MERCH-, ARTS- & CRAFTS MARKET
AFTER-SHOWS
TICKETS STARTING 31 JANUARY:
Green Hell-Records
GreenHell.de
ALL INFO:
https://www.facebook.com/unaussprechlichekulte
---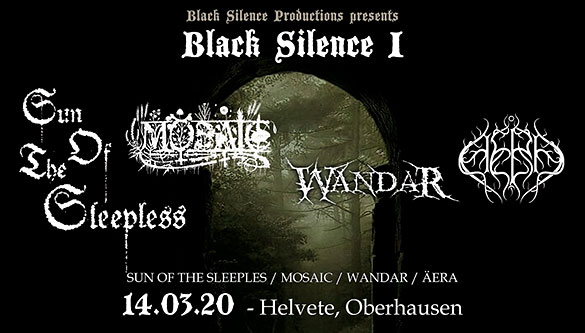 Black Silence Productions präsentiert die erste Ausgabe ihrer neuen und gleichnamigen Konzertreihe 'Black Silence'.
Am 14.3.2020 sind im Helvete Oberhausen folgende Black Metal Acts zu Gast:
Sun Of The Sleepless
Wandar
MOSAIC
ÄERA
Tickets gibt es im Vorverkauf unter
https://wintermelodei.wordpress.com/tickets-black-silence-i/
Einlass 19h
Beginn 19.30h
---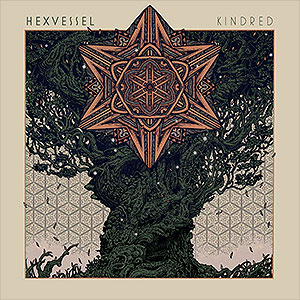 Finnlands Psychedelic Forest Folk-Rocker HEXVESSEL kehren mit dem neuen Album "Kindred", das am 17. April 2020 erscheinen soll, zu Svart Records zurück. Dort werden auch die ersten beiden Alben neu aufgelegt.
"Blues-laden psych-rock and progressive structures harken back to King Crimson, giving way to dark earthen balladry reminiscent of early Nick Cave and the doom-laden atmospheres of Dead Can Dance. The band returned to their original studio in Tampere, Finland, where they recorded their cult classic No Holier Temple, which fused Hexvessel's folk roots with an occult undercurrent, with the new album mastered by John Davis (Gorillaz / Led Zeppelin / Lana Del Rey) in the UK."
Hexvessel was formed by English/Irish singer/songwriter Mat McNerney in 2009 after he moved to Finland. Also know for his work with Beastmilk (now known as Grave Pleasures), The Deathtrip, Carpenter Brut, Me & That Man and his earlier work with Norwegian Black Metal bands Code & Dødheimsgard, McNerney is a both highly eclectic and critically acclaimed musical artist. Hexvessel have been previously nominated for 2 Finnish Emma (Grammy) awards, 2 Metal Hammer awards and 3 Prog Magazine awards, winning 2 Finnish Femma awards and landed several times in both the national and alternative charts Finland. Brooklyn Vegan said of the band's dark 'forest folk', "They're way too accessible to be as niche as they are" and as Noisey puts it, "Weaving English folk, lilting Americana, and mushroom-induced psychedelia, Hexvessel are The Doors misplaced and found wandering the vast forests of Finland."
Live mit WITH TWIN TEMPLE (USA)
01.02.2020 – Hamburg (DE) – Bahnhof St Pauli
02.02.2020 – Gothenburg (SE) – Tradgarn
04.02.2020 – Tampere (FI) – Olympia
05.02.2020 – Helsinki (FI) – Tavastia
07.02.2020 – Stockholm (SE) – Nalen Klubb
08.02.2020 – Frederica (DK) – Det Bruunske Pakus *
09.02.2020 – Copenhagen (DK) – Beta *
10.02.2020 – Berlin (DE) – Bi Nuu
11.02.2020 – München (DE) – Backstage
12.02.2020 – Vienna (AT) – Arena *
13.02.2020 – Winterthur (CH) – Gaswerk
14.02.2020 – Cologne (DE) – MTC
15.02.2020 – Paris (FR) – Point Ephemere
16.02.2020 – Wacken (DE) – Wacken Winter Nights *
17.02.2020 – Nijmegen (NL) – Merleyn *
18.02.2020 – Rotterdam (NL) – V11 *
(*without Twin Temple)
---