Die griechischen Black Metaller VARATHRON bringen mit "Flowers Of My Youth" einen weiteren neuen Titel aus ihrem bevorstehenden Live-Album zum 30. Jahrestag heraus. "Glorification Under The Latin Moon" erscheint am 25. September über Agonia Records. facebook.com/VarathronOfficial/
VARATHRON had this to say about its first live album since its 1988 inception: "During these weird and uncertain days we wish to all our friends, brothers and sisters health and better days to come. In recent years we had the chance to meet wonderful people! We are happy to share with you some important news specially dedicated to you, our supporters and friends: we present to you our new – first time ever – live album! 'Glorification Under The Latin Moon' was recorded in Sao Paulo, Brazil, the last show of our 2019 adventure in South America. The album includes a historic setlist with songs since 1988, our latest opus 'Patriarchs Of Evil' and 'His Majesty At The Swamp' in its entirety. The show was organized by our tour manager and friend Robson Calura and Storm Productions. Lots of thanks to every photographer, engineer and organizer who helped us create something truly special! ".
---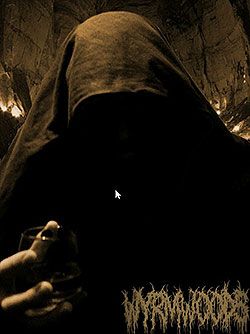 Die finnische Experimental Finniche Black Metal Band WYRMWOODS haben ihre neue Single "Subterrane" veröffentlicht. Der Track stammt vom kommenden, dritten Album "Gamma", welches am 23. Oktober bei Inverse Records erscheinen wird. facebook.com/wyrmwoods
The band's sole member Nuurag-Vaarn comments: "Subterrane – like the whole upcoming third album – will be a departure from the last album's more chaotic and lo-fi style and closer to the style of the first album. Less avant-garde and more progressive, with some added influences from bands like Opeth, in addition to all the previous inspirations. Many of the songs, like this one, won't be as primarily Black Metal like previous Wyrmwood's tracks especially last album, but more of a mixture of different metal genres."
---

Die Pioniere des Melodic Death Metals kehren mit ihrem neuen, dem 12. Album "Moment" zurück, das am 20. November bei Century Media veröffentlicht wird. Nun ist die erste Single "Phantom Days" zu hören. facebook.com/dtofficial
Die Band:
"It's happening again! We are proud to announce that our 12th album "Moment" will be released on Nov 20th worldwide. This has been in the works for a long time and we hope this finds you well and gives some sort of respite in these trying times. Crank up "Phantom Days" and find the best pre-order option below. Cheers from the DT camp." (Mikael Stanne)
---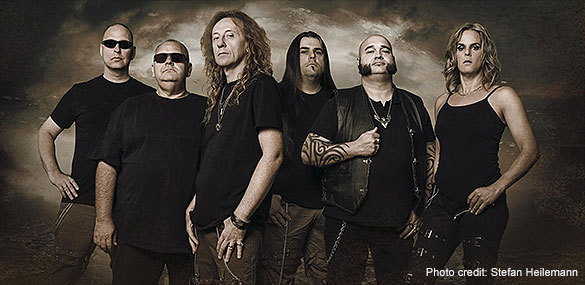 Die deutschen Gothic Metal Urgesteine CREMATORY haben ein Musikvideo zu "Like The Tides" veröffentlicht, der Neuauflage des 90er Jahre Klassikers von !distain, zusammgesetzt aus der Kombination aus originalen !distain Aufnahmen und dem CREMATORY Sound. Der Track stammt aus dem im März erschienen Album "Unbroken".
Markus Jüllich zu "Like The Tides":
"Dieser Song begleitet mich bereits seit den Neunzigern und ist für mich eine absolut emotionsgeladene Ballade, die meiner Meinung nach hervorragend zu CREMATORY passt. Für mich ist dieser Song sowas wie die 2.0 Version von unserer alten Ballade "Perils of the wind"!
---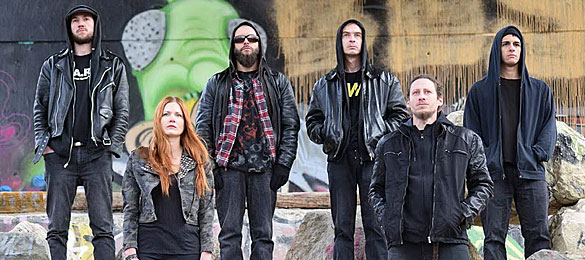 Die französische Melodic Black/Death Metal Band NOCTURN hat ihr Debütalbum "Like A Seed Of Dust" am 1. September bei Sliptrick Records veröffentlicht. Das Album steht bei YouTube als Track-by-Track Playlist im Fullstream zum Anhören online. facebook.com/nocturnband
Info:
The debut album from French group Nocturn sounds like no other, melting harsh and clean vocals, dual male and female voices, furious fast changing guitar riffs, fine keyboard harmonies, a big bass and a huge blasting drum section. Beyond the alchemy of violence and grace, Like A Seed Of Dust lights up a fragile glow in an infinite ocean of darkness.
The album was recorded in 2018 by Rob Carson and Arnaud Ménard in Studio du Lac, Carsonian Sound Solutions and Sicarius studios. It was mixed by Arnaud Ménard at Sicarius Studio and mastered by Dave Otero at Flatline Studio in 2019. Like A Seed Of Dust features 11 titles including Nocturn's previous 3-track EP rearranged and performed with the new line-up of the group.
"Like A Seed Of Dust" also features special guests: Sophie, the singer of From Hell With Love, who joined the band as a full member from then on, Rob from Xaon and Gilles Croset performing saxophone.
---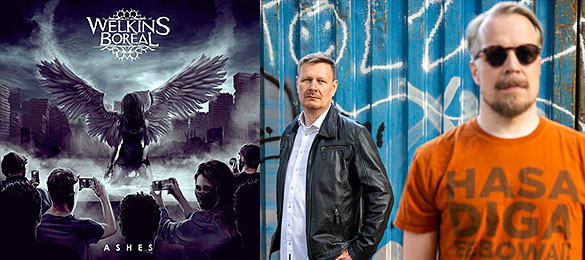 "Ashes", die neue EP der Finnen WELKINS BOREAL, ist am 11. September von der Band offiziell veröffentlicht und bei YouTube im Fullstream anhörbar. Sie enthält die ersten, brandneuen Lieder, die Songwriter Teemu Kautonen seit 2001 geschrieben hat, da das Debütalbum "Phantoms Of Yesteryear" (2019) aus vollständig überarbeiteten und neu aufgenommenen Versionen alter Nattvindens Gråt-Songs besteht. Für die "Ashes" wurde das Line-Up mit Aki Koponen an der Gitarre und Toni Paananen als Session-Drummer erweitert. facebook.com/welkinsboreal / welkinsboreal.com / welkinsboreal.bandcamp.com

Info:
"WELKINS BOREAL wurde 2018 von dem finnischen Songwriter Teemu Kautonen als Nachfolger seiner früheren Band Nattvindens Gråt gegründet, die 1995 bis 2000 drei Alben veröffentlichte und 1997 eine Europatournee spielte. Teemu hat auch mit Acts wie Darkwoods My Betrothed, Furthest Shore und Wizzard gespielt.
Geboten wird auf dem detailreichen Werk stimmungsvoller Atmospheric Gothic Metal, für Fans von Bands wie Sentenced, To/Die/For, Ghost und Charon.
Alles auf der EP ist organisch: keine Drum-Samples, kein Autotune, keine Amp-Simulatoren, keine MIDI-Files. Daher mögen das Spiel und der Gesang auf "Ashes" nicht perfekt sein, aber der Produzent und die Band folgten der Philosophie, dass die Emotionen der Musik die roboterhafte Präzision überwiegen und ein Gefühl der Gefahr interessanter ist als vorhersehbare Perfektion."
---

Das 1997 gegründete deutsche Dark Melancholic Rock/Metal Duo AUTUMNBLAZE hat einen weltweiten Deal mit Argonauta Records unterzeichnet. Das siebte Album der Band wird am 27. November 2020 als Vinyl, CD und in digitalen Formaten herauskommen. Ein brandneuer Musikclip zur ersten Single "Leaders" kann im Video nun angesehen werden. www.facebook.com/autumnblaze.band
"Each Autumnblaze album is a scored chapter of our lives." The band comments. "Welkin Shores Burning sounds like an ethereal journey through the stormy ocean of our souls, churning up long forgotten memories and fettered yearnings.
Musically we are exploring new ground, leaving the beaten tracks of the past. There's an outrageous coherence you won't find on any other Autumnblaze record and an insatiable desire for living our musical vision. We think it's also the most melodic album we have ever written."
---

Die finnischen Melancholic Doom/Death Metaller KAUNIS KUOLEMATON werden am 27. November ihr drittes Album via Noble Demon veröffentlichen, welches den Titel "Syttyköön Toinen Aurinko" trägt. Mit dem Musikvideo zu "Kylmä Maa" wurde nun die erste Single aus dem kommenden Album veröffentlicht.
www.facebook.com/kauniskuolematon / https://fb.me/nobledemonrecords
Wunderschöne melancholischen Klanglandschaften mit sanftem Gesang, treffen auf Extreme Metal und energische Schreie – 2012 gegründet und nicht davor zurückschreckend, musikalische Grenzen zu überschreiten und die Stereotypen des Doom Metal zu erweitern, bedienen KAUNIS KUOLEMATON eine große Bandbreite an Sounds, welche nicht ohne Grund das Publikum aus vielen Metal-Subgenres anspricht.
Die Band kommentiert:
"Ein Track über Melancholie und dem Begehren von Einsamkeit. Er soll Beklommenheit und Melancholie betonen, jedoch nicht als anhaltenden Zustand des Seins, sondern viel mehr als eine Möglichkeit, die Dinge so schön zu sehen, wie sie sind."
---

SALTATIO MORTIS haben eine weitere neue Single aus ihrem neuem Album veröffentlicht, welches am 9. Oktober erscheinen wird. facebook.com/saltatiomortisofficial/
"Für immer frei" heißt das zwölfte Studioalbum und im Titel finden sich Bekenntnis und Aufruf zugleich. Und eine stimmige Selbstbeschreibung. Denn frei und offen: So ist die Musik dieser Gruppe; so war sie schon immer, aber so neugierig und virtuos wie auf diesem Album haben sie vielleicht noch nie an der Erweiterung ihrer Möglichkeiten gearbeitet. Natürlich gibt es Dudelsäcke, Trommeln, Schalmeien und Folk-Harmonien zu hören; aber auch wuchtige Punk-Stücke wie "Linien im Sand" und "Palmen aus Stahl" in dem Sackpfeifen und schwere Gitarren-Riffs eine ganz eigene Kombination eingehen – und mit "Mittelfinger Richtung Zukunft" sogar ein Crossover-Stück mit elektronischen Beats und einer Rap-Passage.
---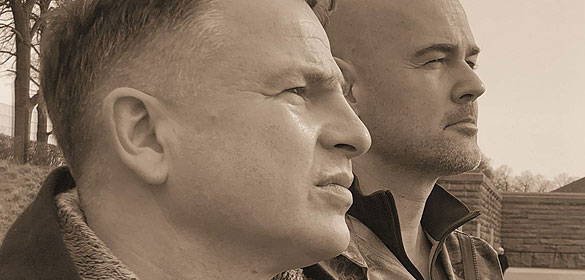 Die Neofolker ORPLID haben die neue Single "Dunkle Stunde" aus ihrem kommenden Album "Death Cult" enthüllt, dessen Veröffentlichung für den 25. September via Auerbach Tonträger / Prophecy Productions geplant ist. Mit dabei ist die ostdeutsche Sängerin Katrin Lindner. www.facebook.com/orplid.official
ORPLID vocalist Uwe Nolte comments: " The song 'Dunkle Stunde' is both an attempt and a temptation to try and give a valid image to melancholy", relates the poet. "A major contribution to this artistic endeavour has been gifted by iconic GDR-vocalist Katrin Lindner: With her mastery and expressive emotionality she has clearly left her mark in this track that has also been influenced by jazz and trip-hop. Never before has sadness sounded so full of beauty!"
---