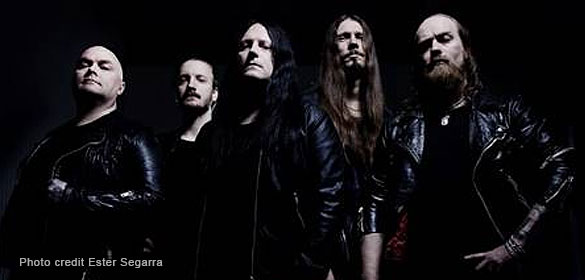 "Dead Air", das Livealbum vom Lockdown-Gig der Schweden KATATONIA, wird am 13.11. bei Peaceville als Ltd Edition 3 Disc (2 CD + DVD) und Doppel LP und Digital erscheinen. Mit "Behind The Blood" gibt es jetzt einen Vorgeschmack daraus zu sehen und zu hören. Preorder: https://katatoniaband.lnk.to/DeadAir
Vocalist Jonas Renkse comments "Here's our first and (so far) only live rendition of 'Behind The Blood' from our latest album, City Burials. As weird as these times are, it gives us a little comfort to know that we made an attempt to defy the situation and did what we miss the most right now: playing a show."
April 2020 saw Katatonia present their eleventh studio opus, the poignant City Burials, to unanimous acclaim but with the unforeseen global event transpiring this year resulting in their album touring plans being put on hold, Katatonia conducted a more intimate "lockdown" show which was streamed live from Studio Grondahl, Stockholm on May 9th. Dead Air offers fans a full 88-minute set containing 20 tracks from the band's extensive and illustrious repertoire to date, with inclusions spanning two decades of dark progressive greatness, and essentially also debuting three of the City Burials album tracks in a live setting.
The tracklisting itself contains a very literal selection of fan favourites overall, having being voted for exclusively by the band's worldwide fanbase, flawlessly flirting between earlier singles such as metallic anthems 'My Twin' & 'July', to the stirring emotional grandeur of new song, 'Lacquer'.
---

Nach der letzten EP "Äril" kehrt das schwedische ritualfolk-infiltrierte Metal Duo BHLEG mit der neuen Single "Arla i urtid" zurück.
https://nordvis.com/en/bhleg-a-4 / https://www.facebook.com/bhlegofficial / https://bhleg.bandcamp.com/
Stream or download via your preferred digital platform here:
https://orcd.co/arla-i-urtid
---

Seit dem 02. Oktober gibt es das Debut Album der Doom/Post(Black) Metaller ASCIAN namens "Elysion" im Handel und auf allen relevanten Download und Streaming Plattformen. Mit "Dead Will Carry The Dead" veröffentlicht die Band nun ein einen Videoclip des 9:40min langen Songs. Gedreht wurde das Video Mitte Juli dieses Jahres in Braunschweig unter der Leitung von Carsten Brand (Brandlicht.de) in Zusammenarbeit mit Hotel666 und der Kufa BS. facebook.com/AscianDoom/
---

Die französischen Black Metaller END OF MANKIND haben die zweite Single, "Golgotha", aus ihrem kommenden Album auf dem YouTube Kanal von Black Metal Promotion veröffentlicht. "Antérieur à la Lumière" erscheint am 20. November bei Mallevs Records, ein Jahr nach ihrem Debüt "Faciem Diaboli". endofmankind.bandcamp.com / facebook.com/EndOfMankind
"Golgotha, or Calvary, is best known for being the place where Jesus of Nazareth was executed. In this story, we invite you to follow the Martyr in his last moments, along his long way to the cross. Since then, this tragic fable has never ceased to enslave people's minds and marks a crucial point in humanity's fall."
"Antérieur à la Lumière", sets to music the hints of this dying humanity, through 9 tracks mixing the extreme brutality of compositions and themes addressed, with a contemplative sensitivity of the corners of human existence."
---

Die finnischen Melancholic Doom Metaler RED MOON ARCHITECT haben ihr brandneues, das fünfte Album auf Noble Demon veröffentlicht. Pünktlich zur Veröffentlichung haben sie einen neuen Videoclip zum Track "One Shines Brighter" veröffentlicht, welchen die Band als einen der "emotionalsten Tracks des Albums" beschreibt, der "weiblichen Gesang mit tiefen, kraftvollen Growls und schönen, melancholischen Melodien kombiniert". facebook.com/RedMoonArchitect/
---

Die niederländischen Black Metaller GRAFJAMMER haben kürzlich ihr neues, drittes Album "De Zoute Kwel" angekündigt. Jetzt gibt es auch die erste Hörprobe aus dem Album in Form eines Clips zu "De Bijlman van Trecht". "De Zoute Kwel" wird am 18.12.2020 via Folter Records veröffentlicht. https://www.facebook.com/grafjammer / https://www.facebook.com/Folter-Records-167406606752748/
---

Die schwedischen Melodic Black Metaller MÖRK GRYNING streamen ihr neues Album "Hinsides Vrede" (VÖ 23.10.) in voller Länge über den YouTube Kanal ihres Labels Season of Mist. facebook.com/morkgryningband/
"We are proud to finally present our new album "Hinsides Vrede" in its entirety to you. It's forged by the elements of our past which have matured during our 15 years break. It's an opus of rage and fury of the world beyond," comments Goth Gorgon.
---
Die Gothic Metaller SCHWARZER ENGEL sind gezwungen, die geplante Tour sowie das kommende Album "Sieben" auf unbestimmte Zeit zu verschieben.
Wer bereits ein Ticket für die Tour gekauft hat, kann es bei der entsprechenden Verkaufsstelle zurückgeben und bekommt den Kaufpreis zurück.
Bandleader Dave Jason kommentiert:
Die derzeitige Lage macht eine konsequente Planung einfach unmöglich. Jeden Tag werden neue Risikogebiete bekannt gegeben, die Clubs werden von Auflagen erdrückt oder sind komplett geschlossen und der Zeitpunkt, wann Konzerte wieder stattfinden können, steht in den Sternen. Anstatt neue Termine zu planen, die dann einige Monate später wieder umgeplant oder abgesagt werden, haben wir uns deshalb entschlossen, die Tour zum Album "Sieben" vorläufig abzusagen und auf unbestimmte Zeit verschieben. Ebenso die Veröffentlichung des kommenden Albums. Wir hoffen, dass sich die Umstände bald wieder ändern, aber derzeit macht die Planung einer neuen Tour leider keinen Sinn.
Trotzallem ist die jüngst veröffentlichte "Kreuziget Mich" EP im Digipak sowie in digitaler Form erhältlich und kann hier bestellt werden » https://lnk.to/kreuzigetmich
---

Die schwedischen Death Metaller DEMONICAL veröffentlichen zum VÖ (23.10. bei Agonia Redcords) ihres neuen Albums ein Video zum Track "Slipping Apart", featuring Gastvocals von Heavy Metal Sänger Nils Patrik Johansson (Astral Doors, ex-Civil War). demonical.net / facebook.com/Demonicalofficial
DEMONICAL commented: "So here we have it, World Domination; our sixth full-length album and the first one to feature new vocalist. Christofer Sätderdal and new-old drummer Ronnie Bergerstål. World Domination continues the same path as our previous Chaos Manifesto slap, in other words, fierce HM-2 driven Swedish death metal, a ravage combination of brutality, melody and darkness. As always on every album, even this time we tried out some new traces and elements we haven't explored before and have to say that we are stoked about the final outcome. When it comes to the production, this is clearly our most dynamic and vivid album so far. Not only did we use a different way of recording everything, we went also for a much more energetic and breathing sound closer to how albums were produced in the late 80's and early 90's. World Domination was recorded at a few different studios around Sweden, then mixed & mastered by Karl Daniel Lidén – a victorious collaboration we started with on our previous album."
---

Die Symphonic Metaller LEAVES' EYES um Alexander Krull und die finnische Sängerin Elina Siirala veröffentlichte kürzlich Teil 1 der 95-minütigen Film-Dokumentation "Viking Spirit" auf YouTube – diese filmische Werk ist Teil der limitierten Artbook Edition, die als Sonderformat des neuen Albums "The Last Viking" ab dem 23.10.2020 erhältlich ist. Bald erscheinen Teil 2 und 3. facebook.com/leaveseyesofficial
"Erfahrt selbst, wie eng die Band mit der weltweiten Wikinger Szene verbunden ist und wie sehr sie als seither aktiver Teil eine bemerkenswert wichtige Rolle in der Reenactment Gemeinde spielt."
Das neue Album "The Last Viking" ist als 2CD Digipak, 2CD + 1 DVD Artbook Edition, 2CD Collector's Edition und als farbiges Vinyl erhältlich.
Die Ltd. Artbook Edition enthält:
– hochwertiges 30x30cm Hardcover-Buch
– 60 Seiten Artwork
– exklusives Cover
– CD-Album "The Last Viking"
– exklusive DVD "Viking Spirit" (region free, NTSC); Film-Dokumentation über die immer beliebter werdende Wikinger-Reenactment-Szene, welcher Fronter Alex und die Band länger schon angehören; PLUS Studio Making Of & Offizielle Videoclips
– exklusive Soundtrack-Bonus-CD (Score der "Viking Spirit"-DVD)
– handsignierte Autogrammkarte
– strikt limitiert auf 1.066 Stück weltweit
---