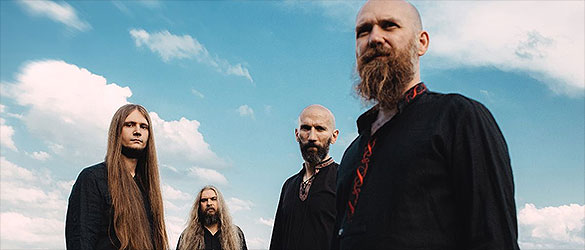 Die rumänischen Metaller DORDEDUH (mit einige ex- Negura Bunget Mitgliedern) haben ein Video zu Track "Desferecat" veröffentlicht. Dieser stammt vom kommenden Album "Har", das am 14. Mai bei Prophecy Productions erscheint. Presale: http://lnk.spkr.media/dordeduh-har
DORDEDUH comment: "The title of our first single translates from the Romanian 'Desferecat' to English as 'Unchained' in a somewhat loose way", explains mastermind Edmond "Hupogrammos" Karban. "This word relates to the principle idea behind this song, which deals with a process of deep transformation that touches and changes the human core. Such a journey of the mind starts with self-reflection and self-acknowledgement. This takes the purest form of humbleness that the ego can attain. The next step is a daring jump into the abyss of the self to discover and uncover all the fears and traumata that hide in the darkness surrounding our essence. Finally, we rise again above all of this by embracing and integrating that which lies in the depths into a new and elevated version of ourselves. What you see in this video is our personal take on this road to transformation."
---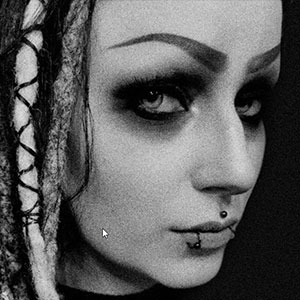 Die Hamburger Darkwave Band DARK hat ein neues Video zu ihrem Track "Nyctophilia" online gestellt, inspiriert vom gleichnamigen Hamburger Gothic Shop. Das Debütalbum soll im Sommer bei Young & Cold Records erscheinen.
https://dark-darkwave.bandcamp.com / https://www.facebook.com/darkthemessiah
"The idea was inspired by the Hamburg Gothic Shop 'Nyctophilia' and it's concept. With the song
ready, I got in touch with them, and together we produced the official music video shortly after. The song also features the female singer Nicole Willerton, and gitarrist Lestat Filth. It's about our love for the night. Our strong bond with the darkness, both outside and within ourselves."
---

dARTAGNAN veröffentlichen mit "Feuer & Flamme" ihr neues Studio-Album am 26.3 und haben nun die Balladensingle "Solang' Dein Blut" als weiteren Vorabsong veröffentlicht. Das Album erscheint am 26.03.2021 als Fanbox, Helden-Edition (2CD) und Vinyl bei Sony Music. und ist unter diesen Links bestellbar / streambar: https://dartagnan.lnk.to/FuF
Der Tag des Releases soll mit einem Streamingkonzert zelebriert werden. Es gibt verschiedene Ticketkategorien, mit denen man die Band unterstützen kann. Alle Infos & Tickets findet man unter: https://live4you.net/dArtagnan
Im September soll es dann auch wieder richtig live auf Tour gehen.
dArtagnans viertes Album klingt ein gutes Stück dynamischer und rockiger als seine Vorgänger. Die Live-Erfahrung zahlreicher Touren und Konzerte hat die Band reifen lassen. Es erscheint nur konsequent, dass die Band mit Felix Heldt erstmals einen ausgewiesenen Live-Experten zum Produzenten von FEUER & FLAMME auserkor und außerdem selbst als Co-Produzent zur Tat schritt. "Felix kennt unsere Bühnenenergie wie kein anderer", lässt Bandkopf, Sänger und Multiinstrumentalist Ben Metzner wissen. "Gerade in diesen schwierigen Zeiten konnten wir mit ihm die idealen Vorrausetzungen schaffen für die Aufnahmen dieses Albums."
---

Die kalifornischen Goth Metaller 616 haben zu "Cinderella Valentine" ein neues Video veröffentlicht. Die Band aus L.A. wurde durch die Zusammenarbeit mit dem Profi-Skateboarder und Musikerkollegen Bam Margera, dem Schlagzeuger Gas Lipstick von HIM/Flat Earth und dem Multi-Platin-Produzenten John Fryer (NIN/Stabbing Westward) unterstützt. https://www.facebook.com/616official/
Frontmann Matthew Lidwin: "Before I started writing music I was really into skateboarding and Bam Margera was my idol on the board (he still is). He was the very reason I ended up making music and he is now a dear friend. Through Bam I heard the band HIM for the very first time and instantly I fell in love with them. 'Cinderella Valentine' is my favorite song I've written to date. It's about dealing with loss of a loved one who was just there calling you the day before and the next day they are gone and how that puts life into a whole different perspective. So I picked up the guitar and note pad and wrote the song in 15 minutes. Then I recorded it and it just hit harder than anything I've done previously. Then I pitched the song off with the idea to get my idols on it. I sent the song to Bam who agreed to sing the chorus and I sent it to Gas and Gas loved it and agreed to do the drums. Boom! I was f*king speechless. I feel like a lot of people are gonna relate to this song in a very special way and I'm doing my best to Keep LoveMetal and Gothrock Alive!"
---
HOGSTUL, eine Ein-Mann-Band aus Norwegen, wurde 2019 von Kjetil Ytterhus (Profane Burial, ex-Haimad, Khôra, Omnia Moritur) gegründet. Das Debüt "Ominous Fragmenta Tuptdalr" mit über 45 Minuten im Orchstral Black Metal Stil ist nun in Voller Länge beim YouTube Kanal Symphonic Black Metal Promotion zu hören. https://www.facebook.com/Hogstul / https://hogstul.bandcamp.com/
Biography: Hogstul was founded in 2019 by Kjetil Ytterhus (Profane Burial, ex-Haimad, Khôra, Omnia Moritur). The band/project's first intentions was to release a pure orchestral journey with material gathered from over the years. When the track "A Nightmare at 40 Fathoms" was finished arranged and the orchestra worked to perfection, Kjetil felt something was missing, even though the desired feelings were present and achieved. Drums were programmed as a test to see if this could be a metal project worthy. Then guitars and bass were written and done as well before the ultimate challenge; vocals. Kjetil had never before done any vocals what so ever, but a microphone was bought and then he entered his studio with great spirit. Hogstul then sent all the material to Stemcellar studio for three mix and mastering sessions during the years 2019-2020.
---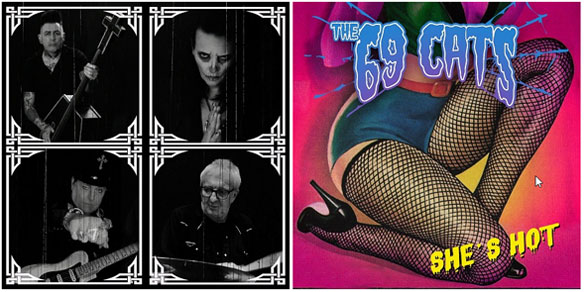 Am 26.04. veröffentlicht die Goth'n'Rockabilly Band THE 69 CATS ihr neues Album "Seven Year Itch". Mit "She's Hot" wurde nun die neue Single mit Video online gestellt. www.facebook.com/the69Cats
THE 69 CATS wurde 2013 von The-69-Eyes-Frontmann Jyrki 69 und Rockabilly-Gitarrenlegende & Headcat Danny B. Harvey gegründet. Jetzt ist die Gruppe mit einer neuen Besetzung zurückgekehrt, zu der der langjährige Schlagzeuger von The Damned, Rat Scabies, und Nekromantix-Gründer Kim Nekroman gehören.
---

Die finnischen Melodic Deather BLOODRED HOURGLASS haben als ersten Song aus ihrem kommenden Album "Drag Me The Rain" veröffentlicht, das später in diesem Jahr via Out Of Line Music erscheinen soll. www.brhg.net / www.facebook.com/bloodredhourglass
---

Am 12. Februar erscheint die neue Single "Barren King" der mystischen Goth Rocker MANNTRA. Der Song ist der letzte Vorgeschmack auf das zweite Album "Monster Mind Consuming", welches am 26. März veröffentlicht wird. facebook.com/ManntraOfficial
Von der ersten Sekunde an fühlst du den Schmerz des Barren King, der auf ewig verflucht ist, immer wieder auf das kalte, dunkle Meer hinaus zu segeln. Er sucht (vergeblich) ein Heilmittel für seine Qualen. Er ist der König der Außenseiter, der nichts außer seinem Herzen und seinem Glauben besitzt. Der König gibt nicht auf und bricht immer wieder erneut voller Hoffnung auf, um endlich Erlösung zu erfahren. Mit epischen Chören fesselt dich der Song von der ersten Sekunde an und zieht dich mit seinen betörenden Folk-Rock-Klängen so sehr in seinen Bann, dass ein Entkommen unmöglich ist.
---

Die norwegischen Black Metaller MORK veröffentlichen am 5. März ihr fünftes Album "Katedralen", das bei Peaceville Records als CD, Gatefold LP Black Vinyl und digital erscheinen wird. Zum Track "Svartmalt" featuring Nocturno Culto haben sie nun ein Video veröffentlicht. https://www.facebook.com/MORKOFFICIAL
'Katedralen' was performed and recorded by Eriksen at Likkjelleren Studio; mixed by both him and Freddy Holm at Kleiva Studio and with mastering once more carried out by Jack Control at Enormous Door (Darkthrone). The album also notably includes guest appearances from Nocturno Culto (Darkthrone), Dolk(Kampfar), & Eero Pöyry of funeral doom masters Skepticism.
"My new single is here. "SVARTMALT"!! This is a rocking black metal track! I'm shutting all the doors, boarding up all the windows and painting it all black! That's pretty much a direct translation from the song's Norwegian theme. When Nocturno Culto & I got together in the studio to figure out which of the tracks would fit him best, this one struck hard, it's a primitive and balls out rocker, we knew this was the one – it had to be "Svartmalt". The world seems to have gone to shit, so why not paint it black on top. Ugh!" comments Thomas Eriksen.
---

Die Finnin RIOGHAN wird am 10. März 2021 ihre Debüt-EP "Blackened Sky" über Inverse Records veröffentlichen. Die nächste Single "Wither" ist nun erschienen. www.facebook.com/rioghandarcy
Rioghan Darcy comments:
"This song was supposed to become a love song, but somehow it (too) ended up being a sad story. We started making this instruments first and picked a lyric after some of the instrumental visions had already been recorded to the demo. In the lyric the love is obviously present, but also strong feelings about fear of rejection and looking up from depths before surrendering to completely new phases in life. This was also the only lyric where the original poem ended up completely unedited, just a little repetition here and there."
---