Die seit 1999 existierende norwegische Pagan Folk Band GÅTE stellt ihr neues Musikvideo für ihre neueste Single "Huldra" vor.
https://www.facebook.com/Gaateband
Eine "Huldra" ist ein Fabelwesen, das aus den reichen Traditionen der norwegischen Folklore hervorgeht. Diese alten weiblichen Geister sind für ihre strahlende Schönheit und verführerischen Stimmen bekannt. Obwohl sie manchmal als gutartig beschrieben werden, besonders wenn sie gut behandelt werden, gibt es oft einen dunklen Unterton ihrer erotischen Kräfte, der Männer leicht in die Irre führen kann
GÅTE ("Riddle") haben diesem legendären Wesen nun mit ihrer demnächst erscheinenden Single mit dem treffenden Titel "Huldra" musikalische Gestalt verliehen. Eröffnet mit einem hypnotischen, von Schlagzeug angetriebenen Stammesrhythmus und einem ominösen Streichersusurrus, ruft bald der klare glockenartige Sopran der Sängerin Gunnhild Sundli – suchend, winkend. In kurzen Zwischenspielen sind andere Stimmen wie aus der Ferne oder durch einen dichten Nebel hindurch zu hören. Die Spannung steigt und der dramatische Aufbau wird plötzlich in einem Ausbruch von Gesang, E-Gitarren und Schlagzeug ausgelöst. Der unverkennbare Klang der norwegischen Geige gesellt sich zu diesem musikalischen Erzählen einer Geschichte.
---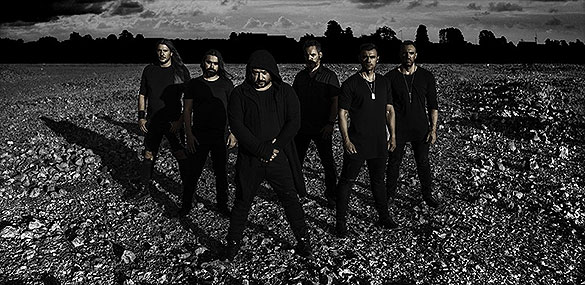 Am 21. Februar ist das 8. Album der griechischen Death Doom Gothic Metal Band ON THORNS I LAY auf Lifeforce Records erschienen. Mit "Cosmic Silence" haben sie nun eine weitere Single aus "Threnos" veröffentlicht.
Legend and all around great guy Dan Swanö, who was also responsible for the mix and mastering of "Threnos", comments: "A part of my wishes it will flop mercilessly, so I can buy all the riffs and release it under my own name…ha, ha!!"
---

"Reborn" ist der erste Track vom kommenden Album der griechischen Symphonic Metaller FALLEN ARISE. Ihr neues Album "Enigma" erscheint am 10.04.2020 via ROAR! / Soulfood.
www.facebook.com/fallenarise
FALLEN ARISE kommentieren den Song: "Analyzing the song "Reborn" musically, we can definitely see the band's new direction, as composition and sound. The aesthetic here is different and the symphonic sound's elements are turned down, giving a bigger space to the heavy element and pop aesthetic that now becomes a basic element of the band's music. The same we can say for the lyrics. They talk about this change of direction, the rebirth that people seek to end and start to walk on new ways, with a new purpose and target."
---


EILERA, eine aus Frankreich stammende Sängerin und Songwriterin, hat via Inverse Records am 6. März ihr fünftes Album veröffentlicht. Auf dem YouTube Kanal des Labels kann man "Waves" in voller Länge hören.
www.eilera.com – facebook.com/EileraOfficial – facebook.com/inverserecords
ORDER WAVES CD: http://bit.ly/2SA9Qdc
Eilera comments:
"When you are a song-writer, you are faced with a choice: make the same album again and again your whole musical life, or make albums that reflect the time, place and person you are at every new stage of your life. The first option is the safest. But I have never been the safe kind.."
"I believe that my job is to push walls away, even if I know that some of my followers might not understand my new albums at first, when they come out. I have to pursue my mission. Prior to the beginning of my work on Waves, I had gotten healed from a burn-out by a road trip along the Ocean coast. Its waves were the ones I had to make an album of. They decided for the organic quality of the album. I just obeyed the muse. Only, I did it my way."

"When I look back to the first days I was working on Waves, I remember thinking this album would be a kind of Kurt Cobain album, both pure and dirty-sounding. But of course, this was not realistic. I had to incorporate this acoustic seed into Eilera's sound tradition, make it mine, which was a long working-process. I also wanted to give space to the musicians who recorded on the album for expressing themselves.. The sure thing regarding Waves' sound that developed with time, was that I wanted it to have one foot in the depths of nature and humanity, like folk music, and the other foot in modern times music production."
---

Die Blackend Death Metaller NEXORUM haben passend zum Release ihres Debütalbum "Death Unchained" (VÖ am 6.3. über Non Serviam Records) den Titeltrack veröffentlicht. Die Band aus Trondheim, Norwegen, besteht u.a. aus Mitgliedern von KEEP OF KALESSIN, KHONSU u.a..
facebook.com/nexorum.official / facebook.com/nonserviamrecords
https://non-serviam-records.bandcamp.com/album/death-unchained
---

Die indonesische atmosphärische und symphonische Black Metal-Soloband PURE WRATH hat ihre neue EP "The Forlorn Soldier" nun bei Debemur Morti Productions veröffentlicht. Die knapp 30-minütige EP kann auf dem YouTube Kanal Black Metal Promotion angehört werden.
facebook.com/purewrath / purewrath.bandcamp.com / facebook.com/debemurmorti
Promoinfo: Formed 2014 in West Java, PURE WRATH is the solo project of multi-instrumentalist Januaryo Hardy, who presents here an emotive 3-track, almost-half-hour exploration of events behind a brutal incident during the 60s genocide in Indonesia where male members of a family were kidnapped and "vanished" by a tyrannical army in the name of "oso-called nationalism".
Darker, more immersive, expansive and organic than previous work, "The Forlorn Soldier" goes deeper still – through powerful melodic cascades, impassioned vocals, skilled guest drumwork from Yurii Kononov (ex-WHITE WARD) and piano contributions by Dice Midyanti (VICTORIAN) – to an all-encompassing realm where mythic dreamscapes meet bloody thematic realism.
---

"Old Old Death" – die neue und sechste CD der legendären norwegischen Black Metal Band TULUS, die 1991 gegründet wurde, ist bei Soulseller Records erschienen und kann auf dem YouTube Kanal Black Metal Promotion in voller Länge angehört werden. Das Trio, bestehend aus Mitgliedern von Sarke und Khold, hält 10 dunkle, kalte, groovige Black Metal-Tracks bereit. Das Album wurde bei H-10 Productions von Lars Erik Westby mit Unterstützung von Per Kristian Schjønsby aufgenommen und gemischt und in den Sonic Train Studios von Andy La Rocque gemastert. Das Cover-Artwork wurde von Maxime Taccardi erstellt.
facebook.com/TULUSband / facebook.com/SOULSELLERRECORDS
---
BEYOND THE BLACK legen um Frontfrau Jennifer Haben mit "Misery" den ersten Vorboten ihres am 19.06.2020 via Airforce1/Universal Music erscheinenden Albums "Hørizøns" vor.
"Wir haben viel Zeit im Studio verbracht und so intensiv wie nie zuvor gemeinsam als Band an unserem Sound gearbeitet", so Jennifer Haben über das neue Album. "'Hørizøns' ist definitiv ein Beyond The Black Album. 'Misery' fügt diesem aber nicht nur eine zusätzliche Facette hinzu, sondern wurde zum Befreiungsschlag für unseren kreativen Schaffensprozess als Band."
---

Finnlands Multi-Platin-Cello-Rocker APOCALYPTICA haben ihren brandneuen Track "Live Or Die (featuring Joakim Brodén)" veröffentlicht. Der Song ist ein heftiger Schlachtruf, der sich auf die Schändung unseres Planeten konzentriert. "Live Or Die" wurde von Apocalyptica komponiert und in Finnland mit Apocalyptica und Martin Hansen (Scorpions) als Produzenten aufgenommen. Das Video, das unter der Regie von Ville Juurikkala am 25. Januar in Berlin gedreht wurde, ist eine feurige Performance mit Brodén am Gesang.
apocalyptica.com / facebook.com/Apocalyptica
Apocalyptica and Sabaton have a new but notable history of collaboration. Most recently, the two bands recorded a version of the 2010 Sabaton track "Angels Calling," released in November 2019, with a companion music video. In addition, Apocalyptica was Special Guest on Sabaton's just-concluded, critically acclaimed, SRO, 15-country European tour, that included Apocalyptica joining Sabaton onstage every night for a half dozen songs.  As one UK reviewer wrote, "The chemistry between the two bands was absolutely incredible.  Apocalyptica were throwing around their cellos just as hard as Sabaton were throwing around their guitars."  
APOCALYPTICA sind u.a. im Herbst mit EPICA auf Tour, Details hier.
---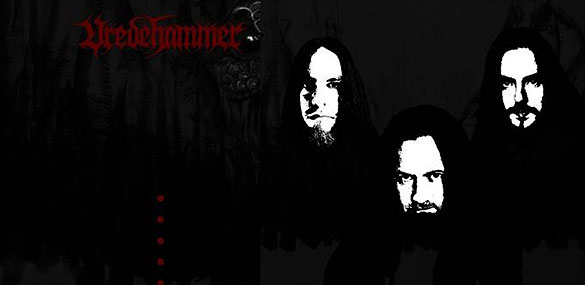 VREDEHAMMER, die Band um Per Valla (Nordjevel, Allfader, ex Abbath), haben ihr drittes Studioalbum mit dem Titel "Viperous" auf Indie Recordings veröffentlicht, das man sich auf dem YouTube Kanal Black Metal Promotion in voller Länge anhören kann.
facebook.com/Vredehammer / vredehammer.no/
Promoinfo: Per Valla (Nordjevel, Allfader, ex Abbath) has the skill of making metal in a way that keeps the listener interested. With their third release the band has incorporated a new musical element, and with the addition of «80`s horror keyboards» the Vredehammer sound is more atmospheric than ever. Vredehammer gets better for each release and delivers yet another opus of an extreme metal album.
---