Die französischen Symphonic Death Metallers GORGON haben ihre neue Single "Ishassara" veröffentlicht. Ein Album ist für 2018 angekündigt.
---
Continue reading →
Die italienischen Metaller EVA CAN'T haben einen neuen Song von ihrem neuen Album "Gravatum" veröffentlicht.
---
Continue reading →
Die französischen Black Metaller streamen ihr neues Album "V: The Inside Scriptures" bei YouTube, welches am 17.11. bei Agonia Records erschienen ist.
---
Continue reading →
CORONATUS werden am 8. Dezember ihr neues Album "Secrets Of Nature" bei Massacre Records veröffentlichen.
Hier kann man sich nun die Single "Mountain Sky" anhören:

CORONATUS präsentieren ihr erstes Konzeptalbum, auf dem sich alles ums Thema Naturmystik dreht. Sopranistin Carmen Lorch wird von der Rockstimme von Mareike Makosch (Illuminate, Sister Zero) sowie Sopranistin Gaby Koss (ex-Haggard, Cantus Lunaris) unterstützt, während Teddy Möhrke (Tales Of Nebelheim) die männlichen Gesangsparts beisteuert.
Das neue Album wurde von Markus Stock im Klangschmiede Studio E gemischt und gemastert. Für das Coverartwork ist abermals Jan Yrlund / Darkgrove Design verantwortlich.
CORONATUS' neues Album "Secrets Of Nature" wird auch als limitiertes Digipak mit Bonus CD erhältlich sein, auf der alle Songs nochmals als Instrumentalversion inklusive Orchester- und Chorparts enthalten sind.
---
Continue reading →
Die finnischen Symphonic Metaller VINIDE werden am 26. Januar via Inverse Records ihr drittes Album veröffentlichen. Mit "The Beginning Scene" gibt es nur einen ersten Track zu sehen.
---
Continue reading →
"Fall From Reality", das zweite Album der Leipziger Band EVIL WARRIORS bestehend aus Mitgliedern von Antlers, I I und Bloody Vengeance, wird am 19. Januar 2018 auf CD und LP bei War Anthem Records veröffentlicht. Eine Tape-Version folgt im späteren Jahresverlauf via Into Endless Chaos Records. Mix und Mastering lagen in den Händen von Patrick W. Engel (Temple Of Disharmony).
Eine erste Hörpobe gibt es mit dem Song "Reincarnation":
https://soundcloud.com/war-anthem-records/evil-warriors-reincarnation-track-2018
---
Continue reading →
SCHWARZER ENGEL, die kürzlich zu Massacre Records zurückgekehrt sind, werden am 8. Dezember 2017 ihre neue EP namens "Sinnflut" veröffentlichen. Nun hat die Band das Lyric Video zum Titelsong der EP enthüllt, das man sich hier ansehen kann:

Neben den beiden Tracks "Sinnflut" und "Futter Für Die See" enthält die limitierte Digipak EP eine exklusive Piano-Version (feat. El Friede / ex-OOMPH!) sowie einen Club-Remix des Titeltracks. Jan Vacik hat die EP in den Dreamsound Studios gemischt und gemastert undMatthias Bäuerle / Season Zero ist für die Gestaltung des Coverartworks der "Sinnflut" EP verantwortlich.
---
Continue reading →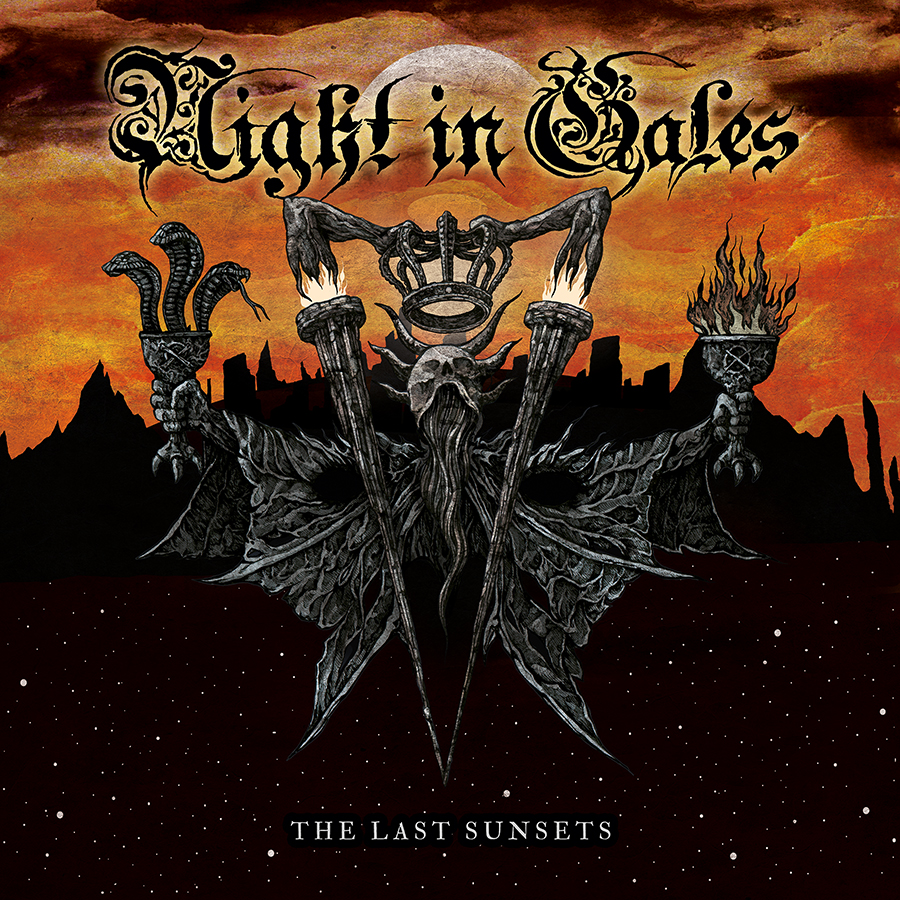 Nach sehr bewegten Jahren kehren NIGHT IN GALES mit neuem Material zurück. Mit dem Wiedereinstieg von Sänger Christian Müller, der bereits auf den Frühwerken "Sylphlike" (1995) und "Razor" (1996) zu hören war, kehren die Melodic Death Metaller zurück zu ihren Wurzeln und erleben dabei eine regelrechte Frischzellenkur. "The Last Sunsets" entfesselt wilden Death Metal mit packenden Melodien, wie zu den Anfangstagen des Melodic Death Metal. Unterstützt wird die Band außerdem von drei Gaststimmen: Mark Grewe (ex-Morgoth, Insidious Disease), Christian Mertens (Dark Millennium), und Martin Matzak (ex-Torchure). Für den Mix und das Master zeichnet sich eine echte Szene-Ikone verantwortlich: Dan Swanö (Edge Of Sanity, ex-Bloodbath, u.v.a.) hat den perfekten Sound für die zwölf neuen Songs gefunden. Dazu liefert Costin Chioreanus Artwork (At The Gates, Arch Enemy, Carach Angren.) mit seiner Symbolkraft die visuelle Komponente zur Musik.
"The Last Sunsets" erscheint am 23.02.2018 bei Apostasy Records.
---
Continue reading →
Die norwegischen Black Metaller DJEVEL veröffentlichen im März ihr fünftes Album, "Blant Svarte Graner", bei Aftermath Music. www.facebook.com/djevelmakt
"Djevel currently consist of Ciekals and Mannevond, where Faust (ex-Emperor, Blood Tsunami) has recorded the drums for the upcoming album.
The band also have confirmed their first show for 2018, at norways prestigious Inferno Festival, where the band will perform at the main stage, Rockefeller."
---
Continue reading →
Die schwedischen Black Metaller RIMFROST sind mit einer neuen, 11-minütigen Single zurück. "A Clash Under The Northern Wind" wird auch auf dem nächsten Album drauf sein, welches bei Non Serviam Records veröffenticht wird.
---
Continue reading →