Nachdem Tarjas erstes Live-Album "Act I" weltweit ein Erfolg war und 2012 für hohe Chartpositionen sorgte, kündigt die finnische Sängerin nun das erwartete Live-Spektakel "Act II" für den Soommer 2018 an. "Act II" erscheint am 27. Juli 2018 bei earMUSIC als 2CD Digipak, 3LP Gatefold, DVD, Blu-ray, Limited Mediabook 2CD+2BD und digital.
---
Continue reading →
Die aus Athen kommende Dark-Wave Metal-Band SADDOLLS veröffentlichen am 25.05.2018 ihre neue Single plus Video.
Seit ihrer Gründung vor gut elf Jahren veröffentlichten die Athener vier Alben. "Creep It Into You" ist von den aktuellen Album " Blood Of A Kind". Besonders glücklich ist die Band, das sie mit Hiili Hiilesmaa (Produzent u.a. HIM, 69 Eyes, Lordi) als Produzent und Mika Jussila (Finnvox Studio) zum Mastern zusammenarbeiten konnten.
---
Continue reading →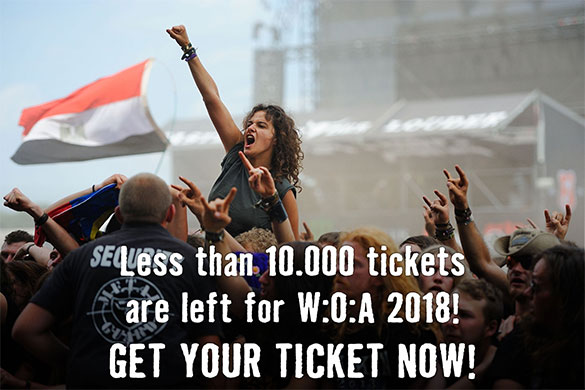 Der Vorverkauf für das Wacken Open Air 2018 biegt auf die Zielgerade ein. Knappe drei Monate vor dem Festival sind nur noch weniger als 10.000 Tickets verfügbar.
Die letzten Tickets gibt es exklusiv auf www.metaltix.com oder telefonisch unter der 04827 – 999 666 66
Das Wacken Open Air findet vom 02.08. bis zum 04.08.2018 statt.
Bestätigte Bands: Judas Priest, Nightwish, In Flames, Ghost, Helloween – Pumpkins United, Danzig, Running Wild, Behemoth, Dimmu Borgir, Arch Enemy, Children Of Bodom, In Extremo, Hatebreed, Gojira, Steel Panther, Doro, Alestorm, Dirkschneider, Samael, Cannibal Corpse, Ensiferum, Schandmaul, Destruction, Clawfinger, Korpiklaani, Eskimo Callboy, Die Apokalyptischen Reiter, Converge, Riot V, Epica, Tremonti, Wintersun, Oomph!, Amorphis, Vince Neil und mit vielen weiteren Acts.
Weitere Informationen finden Sie unter www.wacken.com
---
Continue reading →
EISREGENs neue EP namens "Satan liebt dich" wird am 8. Juni erscheinen. Auf der EP sind zwei Coversongs zu finden: Martin Schirenc covert EISREGENs "Mein Eichensarg" und EISREGEN covern "For God Your Soul" von Pungent Stench.
Diese zwei Songs werden nun ebenfalls am 8. Juni 2018 als Split 7″ erscheinen, streng limitiert auf 500 Stück.
Das Coverartwork der Split ist durch die Zusammenarbeit von EISREGENs Yantit und Martin Schirenc von Schirenc Plays Pungent Stench entstanden.
---
Continue reading →
Am 25. Mai 2018 werden afmusic PRINCIPE VALIENTEs Debütalbum neu auflegen. Die neue Edition kommt in einem speziellen 6-Panel-Digipack mit allen Originalaufnahmen und kann auf der Bandcamp-Seite der Band vorbestellte werden:
https://principevaliente.bandcamp.com/album/principe-valiente
Außerdem wird das lange vergriffene Album "Choirs of Blessed Youth" wieder erhältlich sein:
https://principevaliente.bandcamp.com/album/choirs-of-blessed-youth
---
Continue reading →
FLAT EARTH wurde ins Leben gerufen, nachdem Bassist Niclas Etelävuori im Frühjahr 2017 seine langjährige Band Amorphis verliess, aufgrund Differenzen mit dem Management.
Niclas erklärt: "After over 2 decades playing with bands I was at a point of thinking that maybe I start doing something else. But then I knew I had these songs on my hard drive still, and nothing was done with them. And I just wanted to get rid of them and see what happens. But then it kind of took over and I started to focus more on that" Sofort sprang ihm Linde (Mikko Lindström, ex HIM Gitarrist) in den Kopf, der allerdings zu dem Zeitpunkt noch alle Hände voll zu tun hatte mit der Abschiedstour von HIM. Trotzallem trafen die beiden sich regelmässig und feilten an dem Songmaterial. Der junge, talentierte Sänger Anthony brachte noch eine gute Portion Inspiration mit in die Band, und als dann schliesslich noch Linde´s und Niclas alter Band-Kumpel Gas Lipstick (aka Mika Karppinen, ex-HIM, ex KYYRIA) für die Schlagzeug Position zusagte, war das Line up perfekt. https://flatearth.band/
---
Continue reading →
SALTATIO MORTIS veröffentlichen am 27. Juli ihr neues Album "Brot und Spiele", das mittlerweile 11. Studioalbum. Als erste Single gibt es "Große Träume" zu sehen und zu hören:
Zu den musikalischen Gästen auf "Brot und Spiele" zählen Malte Hoyer von Versengold sowie Mr. Hurley (Mr. Hurley & die Pulveraffen).
Live:
18.10.2018 AT Graz, PPC
19.10.2018 AT Linz, Posthof
20.10.2018 CH Zürich, Dynamo
25.10.2018 AT Wien, Simm City
26.10.2018 München, Tonhalle
27.10.2018 München, Filharmonie
02.11.2018 Würzburg, Posthalle
03.11.2018 Oberhausen, Turbinenhalle
09.11.2018 Berlin, Huxleys
10.11.2018 Hamburg, Mehr! Theater
23.10.2018 Wiesbaden, Schlachthof
24.10.2018 Dresden, Alter Schlachthof
---
Continue reading →
ATROCITY haben einen zweiten Songteaser veröffentlicht, dieses Mal zu "Menschenschlachthaus":
ATROCITYs neues Album "OKKULT II" wird zusätzlich als limitierte Vinyl LP, als limitiertes Mediabook mit anderem Artwork und einer Bonus CD, auf der alle Songs als Instrumentalversion zu finden sind, sowie als streng limitiertes Boxset inklusive Mediabook, T-Shirt, Sticker, Postkarten und Autogrammkarte erhältlich sein. Hier kann man das Album bereits vorbestellen: https://massacre.lnk.to/okkult_II
Eine besondere Record Release Show wird im Zuge des Sunstorm Open Airs am 06. Juli 2018 in Nordheim stattfinden.
---
Continue reading →
Mit "Sirius' Blood"veröffentlichen die Doom/Black Metaller OBSOLETE THEORY den ersten Song von ihrem Debütalbum "Mudness", welches am 15. Juni bei My Kingdom Records erscheinen wird.
---
Continue reading →
Beeinflusst von Gothic, New Romantic, Synth Pop und Dark Wave, ist die neue Single "Don't Pity The Young" der Louisville Band FOTOCRIME, deren neues Album "Principle of pain" am 1. Juni über Golden Antenna Records erscheinen wird. https://fotocrime.bandcamp.com/releases
---
Continue reading →