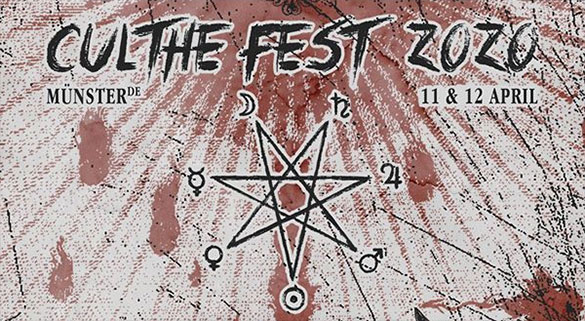 C U L T H E F E S T 2 0 2 0
am 11.+12. April in Münster, Sputnikhalle
UADA (USA, Black Metal)
GRIFT (SWE, Black Metal)
ANCST (DE, Blackened Crust/Black Metal)
DAWN RAY'D (UK, Black Metal)
SOLBRUD (DK, Black Metal)
VELNIAS (USA, Black Metal)
DEPRAVATION (DE, Black Metal)
VERHEERER (DE, Black Metal)
FRIISK (DE, Black Metal)
u.v.m.
"The Call Of Culthe"-Initiation Rite: A Lovecraft-Reading
By Ernie (Krachmucker TV)
Heavy Metal – Das Soloprogramm
By Ernie (Krachmucker TV)
MERCH-, ARTS- & CRAFTS MARKET
AFTER-SHOWS
TICKETS STARTING 31 JANUARY:
Green Hell-Records
GreenHell.de
ALL INFO:
https://www.facebook.com/unaussprechlichekulte
---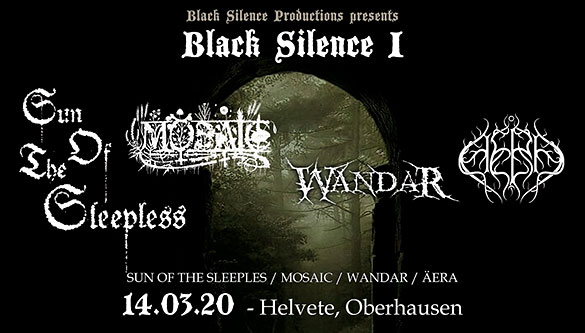 Black Silence Productions präsentiert die erste Ausgabe ihrer neuen und gleichnamigen Konzertreihe 'Black Silence'.
Am 14.3.2020 sind im Helvete Oberhausen folgende Black Metal Acts zu Gast:
Sun Of The Sleepless
Wandar
MOSAIC
ÄERA
Tickets gibt es im Vorverkauf unter
https://wintermelodei.wordpress.com/tickets-black-silence-i/
Einlass 19h
Beginn 19.30h
---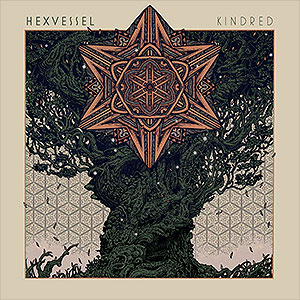 Finnlands Psychedelic Forest Folk-Rocker HEXVESSEL kehren mit dem neuen Album "Kindred", das am 17. April 2020 erscheinen soll, zu Svart Records zurück. Dort werden auch die ersten beiden Alben neu aufgelegt.
"Blues-laden psych-rock and progressive structures harken back to King Crimson, giving way to dark earthen balladry reminiscent of early Nick Cave and the doom-laden atmospheres of Dead Can Dance. The band returned to their original studio in Tampere, Finland, where they recorded their cult classic No Holier Temple, which fused Hexvessel's folk roots with an occult undercurrent, with the new album mastered by John Davis (Gorillaz / Led Zeppelin / Lana Del Rey) in the UK."
Hexvessel was formed by English/Irish singer/songwriter Mat McNerney in 2009 after he moved to Finland. Also know for his work with Beastmilk (now known as Grave Pleasures), The Deathtrip, Carpenter Brut, Me & That Man and his earlier work with Norwegian Black Metal bands Code & Dødheimsgard, McNerney is a both highly eclectic and critically acclaimed musical artist. Hexvessel have been previously nominated for 2 Finnish Emma (Grammy) awards, 2 Metal Hammer awards and 3 Prog Magazine awards, winning 2 Finnish Femma awards and landed several times in both the national and alternative charts Finland. Brooklyn Vegan said of the band's dark 'forest folk', "They're way too accessible to be as niche as they are" and as Noisey puts it, "Weaving English folk, lilting Americana, and mushroom-induced psychedelia, Hexvessel are The Doors misplaced and found wandering the vast forests of Finland."
Live mit WITH TWIN TEMPLE (USA)
01.02.2020 – Hamburg (DE) – Bahnhof St Pauli
02.02.2020 – Gothenburg (SE) – Tradgarn
04.02.2020 – Tampere (FI) – Olympia
05.02.2020 – Helsinki (FI) – Tavastia
07.02.2020 – Stockholm (SE) – Nalen Klubb
08.02.2020 – Frederica (DK) – Det Bruunske Pakus *
09.02.2020 – Copenhagen (DK) – Beta *
10.02.2020 – Berlin (DE) – Bi Nuu
11.02.2020 – München (DE) – Backstage
12.02.2020 – Vienna (AT) – Arena *
13.02.2020 – Winterthur (CH) – Gaswerk
14.02.2020 – Cologne (DE) – MTC
15.02.2020 – Paris (FR) – Point Ephemere
16.02.2020 – Wacken (DE) – Wacken Winter Nights *
17.02.2020 – Nijmegen (NL) – Merleyn *
18.02.2020 – Rotterdam (NL) – V11 *
(*without Twin Temple)
---

DAWN OF SOLACE (featuring Wolfheart mastermind Tuomas Saukkonen) veröffentlichen am 24. Januar bei Noble Demon ihr neues Album "Waves".
It's been 13 long years until Wolfheart / Before the Dawn mastermind Tuomas Saukkonen returns with his hotly anticipated, sophomore solo-album under the flag of DAWN OF SOLACE. 'Waves' will be taking the listener on a dark trip of melodic doom soundscapes, being an unchained and exciting affair feeding off of melancholy and progressive rock majesty.
Tuomas Saukkonen: "Ashes was meant to become a musical and lyrical embodiment of sorrow. Like a dark room with no doors or windows where time just stands still and darkness is slowly creeping from the corners and descending upon you."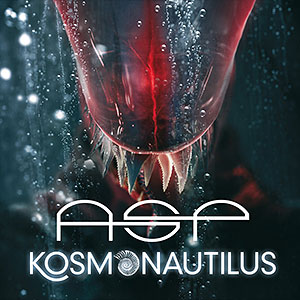 ASP starten am 16. Januar ihre "Kosmonautilus" Tournee. Das neue Album ist am 29.11.2019 erschienen
ASP KOSMONAUTILUS TOUR 2020
16.01.2020 Saarbrücken, Garage
17.01.2020 Pratteln, Z7 (CH)
18.01.2020 München, Backstage Werk
23.01.2020 Würzburg, Posthalle
24.01.2020 Oberhausen, Turbinenhalle
25.01.2020 Wiesbaden, Schlachthof
30.01.2020 Hannover, Pavillon
31.01.2020 Leipzig, Haus Auensee
01.02.2020 Stuttgart, Im Wizemann
06.02.2020 Hamburg, Markthalle
07.02.2020 Berlin, Huxleys Neue Welt
08.02.2020 Erfurt, Central
13.02.2020 Memmingen, Kaminwerk
14.02.2020 Wien, Simm City (A)
15.02.2020 Dresden, Alter Schlachthof
---
Bereits jetzt geben die Münchner EISBRECHER die Tourtermine zu ihrem neuen, achten Studioalbum bekannt, das sich derzeit in der Entstehungsphase befindet und noch vor Tourstart veröffentlicht werden wird. Derweil meldet sich Sänger und Band-Kapitän Alex Wesselsky schon einmal via Videomessage zu Wort.
"In 20220 geht es sowohl VERRÜCKT als auch EISKALT auf Deutschland-Tour zu Album acht", so die Basnd selbst. "Wir freuen uns, Euch alte Gassenhauer und neuue Songs um die Ohren hauen zu dürfen. Bringt die Verwandtschaft mit und sagt Euren Freunden Bescheid! Lasst uns zusammen den grauen Graus aus dem Novemberkittel klopfen und Spaß haben!"
EISBRECHER TOUR 2020
+ Special Guest: Schattenmann
06.11.2020 Hannover | Swiss Life Hall
07.11.2020 Leipzig | Haus Auensee
08.11.2020 Berlin | Columbiahalle
12.11.2020 Wiesbaden | Schlachthof
13.11.2020 Bochum | RuhrCongress
14.11.2020 Hamburg | edel-optics.de Arena
19.11.2020 Fürth | Stadthalle
20.11.2020 Ludwigsburg | MHP Arena
21.11.2020 München | Zenith
27.11.2020 Dresden | Alter Schlachthof
28.11.2020 Wien (A) | Gasometer
---

Die französischen Atmospheric Black Metaller HECATE haben die Single "Oracle Atone" veröffentlicht. Das 5. Album mit dem Titel "Ode au désert suspendu" wird im März bei Mourning Light Records erscheinen.
"The song combines aggressive black metal riffing with undeniably catchy melody, and expert instrumentation topped with tortured, evocative vocals."
---

Die norwegischen Black Metaller TULUS werden am 6. März über Soulseller Records ihr sechstes Album veröffentlichen. Eine erste Vorschau auf "Old Old Death" gibt es bei YouTube. https://www.facebook.com/TULUSband
"The trio, consisting of members of Sarke and Khold, has crafted a masterpiece in their own inimitable style. Expect 10 dark, cold, groovy Black Metal tracks that will hit your nerves like the black plague. Eerie & unique!"
---

Die Belgische Post Wave Band KORINTHIANS hat im Dezember ihr Debüt-Album auf Bandcamp veröffentlicht. Die Single "Beat" wurde nun als Video auf YouTube veröffentlicht. www.korinthians.be / https://korinthians.bandcamp.com/album/chaos-control-2019
---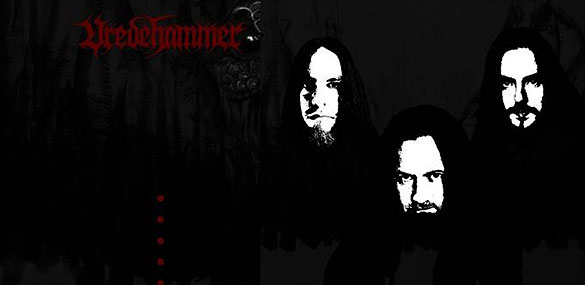 Am 6. März erscheint das neue Album "Viperous" der norwegischen Black Deather VREDEHAMMER auf Indie Recordings. Sie mischen düstere darkwave / horror Synthies mit fiesem Black und Death Metal und haben mit "Winds Of Dysphoria" die 2. Single aus dem bevorstehenden Werk veröffentlicht.
Per Valla bestätigt seine Absichten: "Dieser Song ist einer der schnellsten Vredehammer Songs, die ich je geschrieben habe. Mit der Absicht alles zu zerstören, was sich in seinen Weg stellt und keine Gefangenen zu machen." http://www.vredehammer.no
---