AMBASSADOR21
"Human Rage"
(Digital Hardcore)
Wertung: Empfehlung!!
VÖ: 10/2016
Label: Invasion
Schon seit längerer Zeit kündigte sich das neue Album von AMBASSADOR21 an und nun ist es soweit. "Human Rage" ist da und wird dir die Gehör -und Hirngänge mal so richtig frei pusten. 15 Jahre digitaler Krach auf intensivsten Niveau haben sie schon hinter sich aber in "Human Rage" stecken 6 Jahre Arbeit, Blut und Schweiß.
Der Titeltrack als Opener beginnt im Rhythmus eines Herzschlages düster und sehr kolossal und wiegt den Hörer fast in Sicherheit bis dann mit "Fear Level Red" ein brachialer explosionsartiger Orgasmus an digitalen Beats, wütendem Sequenzern und aggressiven Shouts über einen hereinbricht. Ein echter Killer Song der bleibenden Eindruck hinterlässt. Aber man ist durchaus auch facettenreich unterwegs und verbleibt nicht im nervenaufreibenden Uptempo. "Revelation" ist folgend wieder etwas langsamer, aber nicht weniger aggressiv. Zu wechselnd russischen und englischen Texten wird zwischen Break Beats und reißenden Gitarrenriffs ein spannendes Wechselbad der musikalischen Emotionen abgespult.
Generell geht`s in dem Album um Terror, Angst, Krieg, Geld, Freiheit, Action, Mut, Liebe, Freundschaft, also all die Themen die uns Menschen heutzutage beschäftigen, in positiver und negativer Hinsicht.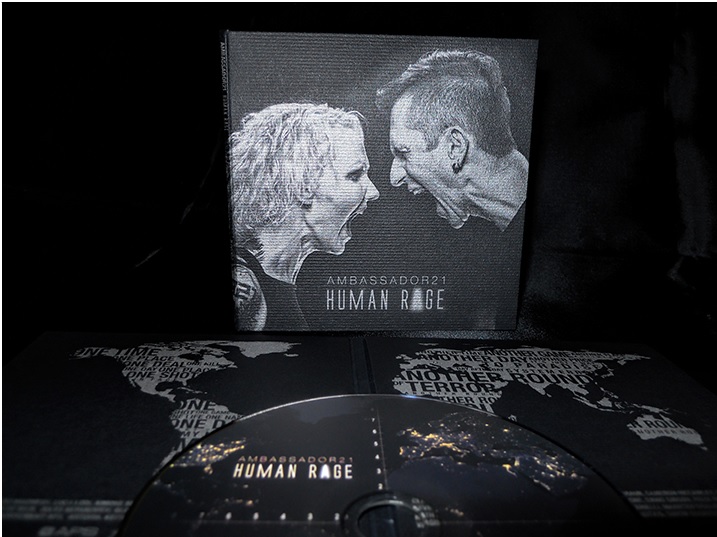 Sehr interessant ist wie man in "Cannibals" den Riff von "Eye Of The Tiger" in den ersten Teil des Songs integriert hat, sicherlich wird man diesem Stück viel Aufmerksamkeit schenken. Als weiteren Anspiel Tipp empfehle ich noch "Empire Must Fall" mit seinen brachialen Gitarrenriffs und wilden Beats die keinen Stein auf dem anderen stehen lassen. Tolle aggressive Stimmung. Eher mystisch und technisch trickreich erscheint das Stück "Before We Die".
Dieses Album bietet unglaublich aggressiven und dichten Stoff der vor allem die kommenden Live Konzerte zu einem extrem intensiven Erlebnis werden lassen wird. Die Stimmung der Musik überträgt sich schnell auf den Hörer, soviel ist sicher. Also laut aufdrehen und ausrasten bitte sehr!!! (michi)
PS: Es gibt eine limitierte Deluxe Version mit einer Bonus Disc. Darauf sind folgende Remix-Stücke zusätzlich enthalten:
Bonus disc (Deluxe Edition):
01. In Love (Nullvektor remix)
02. Turn Yourself (Lenny Dee & Mr.Madness remix)
03. In Love (V.2015)
04. Power Rage Riot Death (V.2015)
05. Turn Yourself (V.2015)
06. Face Your Future Killers (V.2015)
07. Turn Yourself (Hallucinator remix)
08. Face Your Future Killers (13th Monkey remix)
09. Fickt Alle Systeme
10. We Are Legion
11. In Love (Hydrone remix)