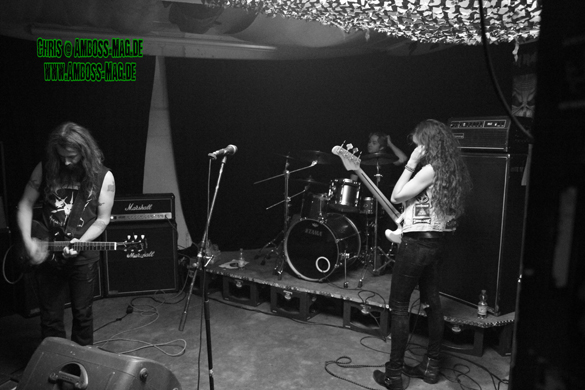 CASTLE + UNIVERSE217
Live im Hellroom in Kassel am 14.10.2016
CASTLE and UNIVERSE217 are on tour right now and it was looking like they had a day off on October 14th but luckily the metal scene in Kassel could help out. So on this friday evening some people were gathering in the Hellroom to watch these two great bands play. Lucky who has been there… I'll just write down a few thoughts about this evening because I want the people to know that there is something wicked on its way…
Once again it felt very good and kind of familiar entering the Hellroom, but the name should be changed to Darkroom as it is a pain in the ass to get nice pictures from the bands… on the other hand it's very intimate and intense, and I can't deny that I like locations like this to experience the music the right way.
First UNIVERSE217 started to play and holy hell… what a voice. The beginning of "Undone" is just perfect and gives me goosebumps all over. She has a wide vocal range and mostly I love her voice when she's singing clean or screaming her ferocious screams… The whole band is in a good mood and the harmony between them is noticable. "Nothing", "Mouth", "Ease", "Rest here", "Counting Hours", "Stay" and "Never" are to follow and the little rehearsal room is filled with energy, emotion and intensity. They create nice guitarsounds and a great groove, so a lot of people who came obviously enjoyd the gig.
I really loved this show… at the bigger festivals where I have seen them, this great atmosphere got a little lost. I love watching bands like UNIVERSE217 in small locations like these. But they are going to play the "Doom over Vienna" and "Hammer of Doom" this year and I really hope the band will get the attention they definately deserve.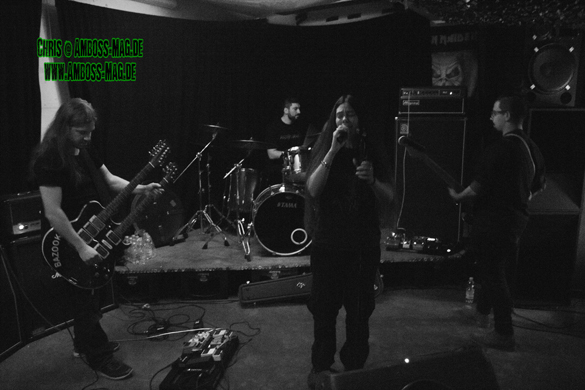 The same is with CASTLE. I saw them twice and they always delivered so well, and especially their show at the ACHERONTIC ARTS was brilliant but standing in the eye of the tornado is just an awesome feeling. Again I notice that there is always the regular personality and the stage personality. Before the show Elizabeth is a lovely, calmed down person but on stage she's wild and she's spreading so much energy, it's awsome. Her performance is so energetic, her gestures are great and she sings great. Mat is playing like hell, never standing still and the riffs and solos are great. They play very raw (in a positive way) and thanks to the great sound it is a real treat to be inside the Hellroom tonight.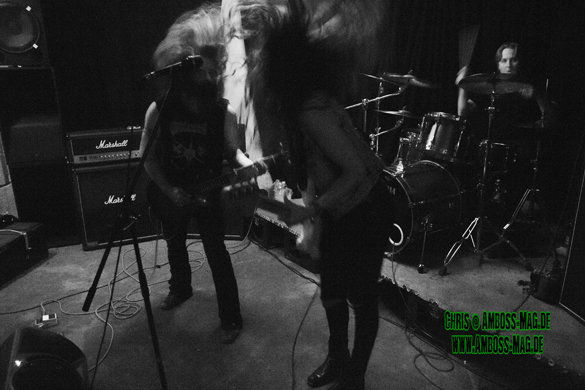 As far as I can recall (the list is not complete, I guess) they played "Hammer and the Cross", "Flash of the Pentagram", "Down in the Cauldron Bog" from their recommendable latest record "Welcome to the Graveyard", "Descent of Men" from their debut "In Witch Order", "Corpse Candles" and "Dying Breed" from "Blacklands" and at least "Evil ways" from "Under Siege". I bet there was more, but I was busy drinking, too…
I really hope the bands enjoyed this day like we all did enjoy the show. It was a pleasure meeting with and talking to Elizabeth, Mat and Mike and having a very nice chat with Tania, Manos and Nikos and their replacement drummer (I'm bad with names, please forgive me!) and still I don't know if I deserve the shirt, Tania…! Thanks to everyone for being such lovely people! I guess we'll see each other again…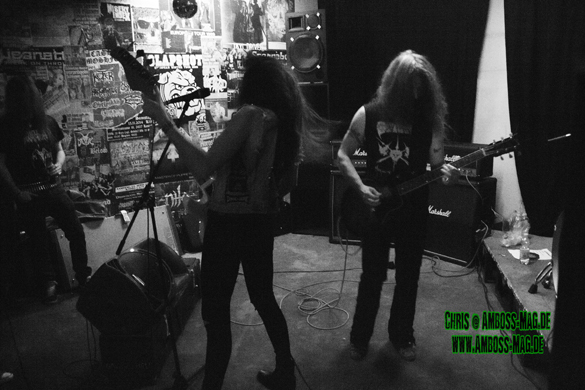 Please check out the tourdates and go to a show… you won't be disappointed, promised. (chris)