Axel Rudi Pell, Armored Saint, Coroner und Memoriam komplettieren das Billing!
Damit sieht es dann wie folgt aus:
SAXON
SODOM (erste Show im neuen Line-Up)
OVERKILL ("Feel The Fire" & "Horrorscope" Show)
AXEL RUDI PELL
ARMORED SAINTS (Einzige deutsche Festivalshow 2018!)
TIAMAT (Special "Clouds" & "Wildhoney" Set)
ULI JON ROTH ("Scorpions Revisited")
MARDUK
CIRITH UNGOL
BACKYARD BABIES
CORONER (Einzige deutsche Festival-Show 2018!)
LEATHERWOLF
DIAMOND HEAD
NIGHT DEMON
MEMORIAM
DOOL
THE NEW ROSES
NOCTURNAL RITES
ATTIC
THUNDERMOTHER
DAWN OF DISEASE
TRAITOR
Continue reading →
Die irischen Szene-Urgesteine CRUACHAN melden sich pünktlich zu ihrem 25-jährigen Jubiläum mit einem neuen Album zurück: "Nine Years Of Blood" wird am 27. April 2018 über Trollzorn veröffentlicht.
Der achte Longplayer der Mitbegründer des Folk-Metal-Genres wurde zusammen mit Michael Richards in den Trackmix Studios / Dublin produziert und bietet zwölf abwechslungsreiche, mitreißend epische Hymnen. Donnernde Schwermetall-Attacken, stürmische Black-Metal-Ausbrüche und exzellent dosierte Folk-Einlagen zeigen CRUACHAN in Hochform.
---
Continue reading →
Das dritte Album der Tiroler Black Metaller ASPHAGOR wird "The Cleansing" heißen und am 11. Mai via Black Sunset / MDD veröffentlicht. Das Album wurde von Patrick W. Engel (Temple Of Disharmony) produziert, gemischt und gemastert und wird 10 Songs bei einer Spielzeit von gut 60 Minuten enthalten.
---
Continue reading →
Die Finnischen Dark Metaller MUSTAN KUUN LAPSET haben einen neuen Track "Ikaros" veröffentlicht. Ein neues Album soll 2019 erscheinen.
---
Continue reading →
Nach der erfolgreichen Veröffentlichung ihres neuen Albums 'Thunderbolt' am 02.Februar 2018 veröffentlichen SAXON mit 'Nosferatu,The Vampire's Waltz' ein weiteres, neues Video. hier zu sehen.
---
Continue reading →
Dieses Wochenende startet eine interessante Tour präsentiert von Lycanthropic Chants mit Cryptic Brood aus Wolfsburg und Diskord aus Norwegen.
Eine Woche lang geht es durch einen Teil von Europa!
Hier die Daten für euch inklusive Facebookveranstaltungen:
2018.03.16, GER/Hamburg @Gängeviertel (Facebook)
2018.03.17, BEL/Chapelle-Lez-Herlaimont @Le Cercle (Facebook)
2018.03.18, BEL/Overpelt @Café 't Linne (Facebook)
2018.03.19, FRA/Poitiers @Le Zinc (Facebook)
2018.03.20, BAQ/Donostia @Mogambo (Facebook)
2018.03.21, ESP/Zaragoza @AVV Arrebato (Facebook)
2018.03.22, FRA/Cavaillon @Iron Bar (Facebook)
2018.03.23, ITA/Milano @Blue Rose Saloon (Facebook)
2018.03.24, GER/Ulm @CAT (Facebook)
Es wird auch ein Tourshirt geben!
Geht hin und lasst euch von Death Metal zerhacken!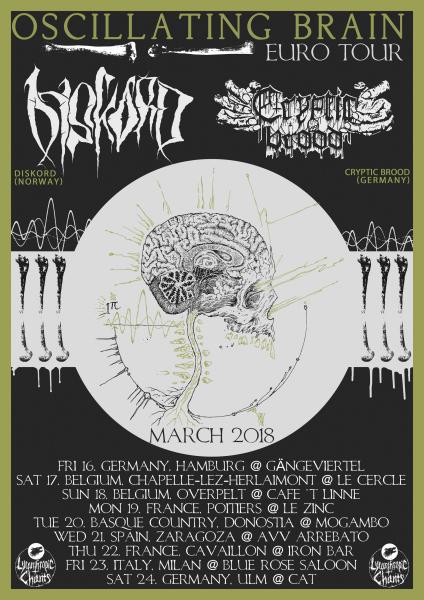 Continue reading →
Am 6. April wird das neue Album der Finnischen Melodeather KALMAH bei Spinefarm Rcords erscheinen. Als Vorgeschmack auf das achte Album "Palo" gibt es den Track Evil Kin" als Video oder bei diveresen Download und Streamingdiensten via http://spinefarm.lnk.to/Kalmah-TheEvilKin.
---
Continue reading →
Am 23.03. erscheint das TAINA-Album "Seellenfresser", welches in allen gängigen Shops als digitales Album erworben werden kann. Bereits jetzt haben die Bremer Industrial Rocker ein neues Video zu dem Song "Teil von mir" online gestellt.
24.03.18 TAINA Release Show / Heimathaus Rotenburg
05.04.18 Ebrietas / Zürich (CH)
06.04.18 Taratata / Bremgarten (CH)
07.04.18 Das O / Spiez (CH)
12.05.18 KIR / Hamburg
19.05.18 Rock and Metal Dayz / Oschersleben
25.10.18 SubKultur / Hannover
26.10.18 Bandcenter / Soltau
---
Continue reading →
Die Thüringer Extreme Metaller EISREGEN werden in diesem Sommer ein Mini-Album veröffentlichen. Es trägt den Namen "Satan Liebt Dich", wird 7 neue und bis dato unveröffentlichte Songs beinhalten und soll die Wartezeit bis zum 13. Studioalbum der Band, das in diesem Herbst erscheinen wird, verkürzen.
"Satan Liebt Dich" wird abermals von Markus Stock in der Klangschmiede Studio E gemischt und gemastert werden. Drummer Yantit wird die Gestaltung des Artworks übernehmen.
Das Record Release Konzert wird am gleichen Tag stattfinden, an dem auch "Satan Liebt Dich" erscheint: am 08.06.2018 im Heudepot in Tambach-Dietharz. Das Konzert trägt das Motto "Metal im Thüringer Wald 2018" und EISREGEN werden dann musikalisch von ihren Labelkollegen GRABAK und HARDHOLZ unterstützt. Tickets sind hier erhältlich: http://bit.ly/metalthueringerwald2018
---
Continue reading →
In 2019 wollen DEAD END FINLAND ihr viertes Album via Inverse Records veröffentlichen. Einen ersten Track gibt es bereits jetzt zu hören und zu sehen:
The band comments:
"Our fourth album will be musically the most diverse album we have made so far. The first single reflects the more epic, slower and calmer side of the album".
---
Continue reading →