Ich habe vor kurzem das Demo "Den Förste" der neuen Band DAUTHA erhalten und mich direkt in den epischen Doom Metal verliebt, der so facettenreich und spannend aus den Boxen dröhnt. Da lag es nahe, den Bandleader Ola Blomkvist um ein Interview zu bitten und ich bin glücklich und dankbar, dass ich das erste Interview überhaupt zu DAUTHA führen durfte. Lasst euch entführen in das Königreich des Todes.
AN ENGLISH TRANSLATION CAN BE FOUND BELOW! (chris)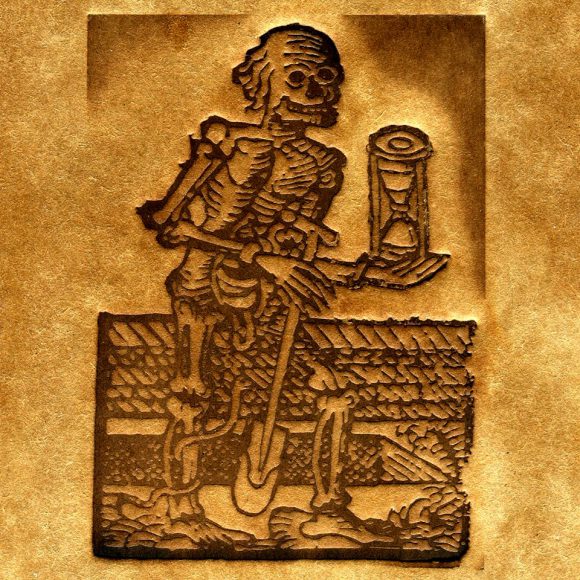 Ola, zuerst die unausweichliche Frage: Bisher gab es noch kein offizielles Statement von dir, welches das Ende von GRIFTEGÅRD betrifft. Es ist mittlerweile einige Zeit vergangen und möchtest du den Fans etwas dazu sagen?
Die Gründe, GRIFTEGÅRD zu beerdigen sind sehr persönlich und ich möchte nicht darüber sprechen… entschuldigt das bitte, aber es ist, wie es ist.
Existierte DAUTHA schon zu GRIFTEGÅRD-Zeiten die Idee zu DAUTHA in deinem Kopf?
Wann hast du angefangen die Songs für DAUTHA zu schreiben?
Seit drei Jahren trage ich die Idee zu DAUTHA mit mir herum und ich habe immer Songs für DAUTHA geschrieben. Zuerst haben Micael Zetterberg und ich ganz zwanglos gejammt, aber im Winter 2015/2016 wurden wir zu einer richtigen Band, als Emil Åström am Bass und später dann Erik Öquist an der Gitarre und Sänger Lars Palmqvist zu uns gestoßen sind. Seitdem sind wir die Tonschmiede, in der DAUTHA entsteht.
Was für ein Konzept steckt hinter DAUTHA?
Das Konzept erklärt sich, wenn man weiß, was der Begriff DAUTHA bedeutet: DAUTHA ist ein gotländischer/schwedischer Akzent und bedeutet "Tod". DAUTHA ist der Tod in einem mittelalterlichen und gleichzeitig weltlichen Kostüm und zu unserer und vielleicht auch eurer Unterhaltung winden wir uns zu seinen Füßen wie ein Wurm und machen Musik. Das ist immerhin einfacher, als nur auf den Tod zu warten.
Du nennst das Genre "Murky Medieval Folk Doom" aber auf "Den Förste"gibt es noch relativ wenige offensichtliche musikalische Mittelalter-Einflüsse, von den Geigen abgesehen. Hast du bereits Ideen, diesen Teil der Musik weiter auszubauen?
Der Beginn von DAUTHA ist erst einmal eine Standortbestimmung. Wir werden aber sehr wohl den Anteil der mittelalterlich beeinflussten Musik erhöhen. Aber DAUTHA steht vor allem für eins: Doom Metal und es wird immer eine schwere und heftige Angelegenheit sein.
Aber versprich uns, dass ihr nicht irgendwann in dem Mittelalter-Folk-Humppa-Zelt in Wacken die Menge zum Schunkeln bringen werdet!
Ha ha ha! Wir werden uns ganz deutlich von diesem unverständlichen und lächerlichen Schwachsinn fernhalten.
Welchen offensichtlichen und versteckten musikalischen Einflüssen huldigst du mit der neuen Band?!
In Reviews wird oft CANDLEMASS erwähnt, wenn jemand unseren Sound beschreiben will und wer bin ich denn, dass ich das bestreiten könnte? Meine persönliche musikalische DNA besteht aus so vielen verschiedenen verschlungenen Strängen des Doom Metal, dass man dieses Geflecht unmöglich entwirren könnte.
Die eher versteckten kollektiven Einflüsse reichen von LARS GULLIN über TRETTIOÅRIGA KRIGET bis hin zu IRON MAIDEN. Der DAUTHA-Sound ist das Ergebnis der Einflüsse aller Mitglieder, wenn auch in immer in verschiedenen Dosierungen.
Textlich geht offensichtlich der erste Song "Benandanti" weit zurück in das Mittelalter. Wie bist du auf das Thema der Benandanti gekommen?
Ich habe ein großes Interesse an der mittelalterlichen Geschichte Europas und lese viel. In einer Doktorarbeit über den Ursprung der europäischen Hexenverfolgung las ich ein spannendes Kapitel über eine norditalienische Tradition in der Weiße Hexen gegen Schwarze Hexen kämpften und das hat mich auf vielen Ebenen begeistert, sowohl psychologisch, als auch moralisch. Je mehr man zu einen Thema liest, umso eher verschwimmen die Grenzen zwischen Gut und Böse. Der folkloristische und religiöse Ansatz ist ebenfalls sehr spannend, denn die Benandanti und ihre Gegenspieler, die Malandanti, haben für hunderte von Jahren friedlich neben dem katholischen Glauben existieren können, ohne jemals von der Kirche angegriffen worden zu sein. Zunächst wurde dieser traditionelle Kult eher als harmlos eingestuft, aber als die Spanische Inquisition immer einflussreicher wurde, fingen die Verfolgungen umgehend an.
Glaubst du an den Mythos, dass die Benandanti die Fähigkeit hatten, sogenannte "Visionary journey" oder "Spiritual Journeys" zu unternehmen?
Bestimmte psychoaktive Drogen in Verbindung mit schamanistischen Ritualen und Techniken können Vision und eine tiefe Einsicht hervorrufen. Ich würde z.B. gerne mal unter professioneller Anleitung Ayahuasca ausprobieren.
Denkst du, dass die Menschheit vor Jahrhunderten spirituelle Fähigkeiten besaßen, die sie im Laufe der Zeit verloren haben?
Ich glaube schon, dass die Propaganda der Mächtigen, aber auch unser trostloses Leben, welches wir in diesen modernen Zeiten leben, unseren Zugang zu unserem wahren Ich blockieren. Es gibt keinen Beweis, außer der subjektiven Wahrnehmung, dass wir im Innersten nicht vielleicht doch dem Selbstwahn erliegen. Da kommt mir die True Metal-Phrase in den Kopf und ich denke, sie ist sehr nah an der Wahrheit: Only death is real!
Wovon handelt "In between two floods"?
Einerseits behandelt er die sozialen und religiösen Unruhen im Europa des 14. Jahrhunderts, als die Pest um sich griff. Andererseits ist es auch die alte und ermüdende mit-dem-Finger-auf-die-Grabplatte-zeigen-Geschichte des Memento Mori, der sich Künstler aller Kulturen seit Beginn der Menschheit hingegeben haben. Wir sind Würmer und Würmerfraß ad nauseum… eingeklemmt irgendwo zwischen Baum (der Pest) und Borke (der kommenden Schlacht).
[bandcamp track=2936298627 bgcol=FFFFFF linkcol=4285BB size=venti]
Handeln deine Texte ausschließlich von Geschichten aus der Vergangenheit oder sieht du Parallelen zu unserer heutigen Zeit?
Beides ist offensichtlich richtig.
Welche Bücher haben dich zu den Themen inspiriert?
Ja, Bücher haben mich sehr beeinflusst, wenigstens bis ich E.M. Cioran gelesen habe. Wenn du seine Bücher gelesen hast, macht lesen oder überhaupt irgendwas zu unternehmen keinen Sinn mehr. Cioran balsamiert eure Seele ein. Vermeidet es, seine Bücher zu lesen!
Micael Zetterberg hat mit THE UNQUIET GRAVE eine großartige EP produziert, die ebenfalls als "folkig" beworben wurde. Was hältst du von "Cosmic Dawn" und ist Micael in den Songwriting-Prozess bei DAUTHA eingebunden?
Ich mag THE UNQUIET GRAVE sehr gerne, denn Micael hat es geschafft, einen sehr reduzierten, ehrlichen Doom mit einen ursprünglichen und erdigen Sound aufzunehmen. Ich war sehr von seiner Stimme überrascht und wusste nicht einmal, dass er singen kann… und dann singt er mit dieser Stimme, die perfekt zum Sound passt! Er hat wahrlich viele Talente und wir sind sehr glücklich, dass er mit an Bord ist.
Was seinen Input zu "Den Förste" angeht, muss man wissen, dass Micael und ich die Songs, die auf dem Demo zu hören sind, schon ein Jahr bevor Erik, Lars und Emil zu der Band gestoßen sind, gemeinsam geschrieben und gespielt haben! Aber erst gemeinsam haben wir den Songs die Form gegeben, die ihr auf dem Demo hören könnt.
Inwiefern haben die anderen Bandmitglieder Einfluss auf die Musik von DAUTHA?
Alle Bandmitglieder haben einen großen Einfluss auf den Sound und das Songwriting.
Erik ist ein beinahe vollkommener Gitarrist und kommt immer mit großartigen Ideen! Er hat die Intromelodie geschrieben und der Schlusspart bei "Benandanti" hat uns alle umgehauen, besonders wenn man weiß, dass er diesen Part ganz spontan im Studio erschaffen hat.
Emils Art seinen Bass zu spielen ist, genau wie er, einzigartig. Er kommt mit großartigen, völlig eigenständigen Basslinien an und er ist außerdem ein Multiinstrumentalist, der, falls nötig, auch Probleme lösen kann, die das Schlagzeug oder die Gitarre betreffen.
Lars… was soll ich sagen?! Er ist ein so großartiger Sänger, der einfach alles singen kann. Ich denke, seine Stimme ist für Epic Doom wie geschaffen. Er hat einen unglaublichen Ausdruck in seiner Stimme und kann von Trauer zu Triumph mit einem Wimpernschlag wechseln. Er hat alles Gesangsmelodien zusammen mit seinem Vater Bengt-Arne Palmqvist geschrieben, der ebenfalls Künstler und Musiklehrer ist. Dazu haben sie auch die Parts für die Violinen gemeinsam ausgearbeitet, die von Åsa Eriksson-Wärnberg, einer Kollegin von Lars' Vater, eingespielt wurden.
Mit Emil Åström und Micael Zetterberg hast du eine eingespielte Rhythmusgruppe am Start, die auch bei WARDENCLYFFE mit dir zusammen spielt, aber die beiden anderen Musiker erscheinen auf den ersten Blick eher untypisch für eine Doom Band: Erik Öquist spielt in der Progressive / Melodic Rock-Band PROJECTU. Wie ist er zu euch gestoßen?
Erik und ich sind Arbeitskollegen und eines Tages unterhielten wir uns über Folk Musik und entdeckten damit eine Gemeinsamkeit. Danach kam eines zum anderen und nun ist er ein wertvoller Teil von DAUTHA. Erik ist übrigens erst 20 Jahre alt, aber manchmal ist er der Erwachsenste in der Band…
Ich gebe gerne zu: eine der größten Überraschungen des Demos für mich ist Lars Palmqvist, den einige sicher von SCAR SYMMETRY kennen. Sein Gesang bei DAUTHA verdient größten Respekt, hat aber nur wenig mit seiner Hauptband gemeinsam… woher hast du gewusst, dass er ein so großartiger Doom-Sänger ist?
Ich kenne Lars schon seit sechs oder sieben Jahren und SCAR SYMMETRY ist nur ein kleiner Teil, von dem, was er macht. Auch er ist ein Multi-Instrumentalist, er spielt Schlagzeug, Gitarre, Bass, Keyboards und er ist überhaupt ein unglaubliches Energiebündel. Er spielte in vielen anderen Bands und Projekten, unter anderen auch bei einer lokalen Doom Band namens MIRADOR. Sein Talent ist in den musikalischen Kreisen in Norrköping berühmt. Ich kann verstehen, dass es für viele Menschen außerhalb dieses Kreises eine Überraschung ist, dass er eine so großartige Doom-Stimme hat, vor allem wenn man bedenkt, das seine Hauptband SCAR SYMMETRY meilenweit von dem Sound DAUTHAs entfernt ist.
Ola, die Aufmachung des Demos ist einfach phänomenal… erzähl den 78 glücklichen Besitzern und allen, die das Demo in dieser Aufmachung verpasst haben, von der Produktion!
Vielen Dank, es freut mich, dass es dir gefällt! Die Produktion hat 10 Wochen gedauert und es wurden moderne und traditionelle Techniken verwendet, dazu kam noch eine Menge Blut, Schweiß und Gefluche. Nachdem ich das Logo, den Text und die CD-Tasche entworfen habe, bin ich zu meinen Freunden von der örtlichen Buchbinder-Gesellschaft gegangen und habe mir die benötigten Werkzeuge geliehen. Meine Schwester arbeitet als Sattlerin und von ihr habe ich eine ganze Menge Leder bekommen und sie hat es sogar für mich auf die richtige Größe geschnitten, was mir weitere Tage voller Arbeit erspart hat.
Den Karton habe ich mir auf die richtige Größe schneiden lassen und dann ging es erst richtig los: die Patinierung des Kartons, das Anbringen des Lederstreifen, das Einbrennen des Logos, das Einkleben des Leinenstoffes auf der Innenseite des Leders und Kartons; das Ausschneiden und Zusammenkleben der CD-Tasche und diese dann in der Innenseite ankleben… all das und noch viel mehr musste in einer bestimmten Reihenfolge geschehen und diese ganzen Wiederholungen wurden mit der Zeit doch recht ermüdend. In dieser Zeit war ich in einer anderen Welt… außer täglich zur Arbeit zu gehen, habe ich in diesen 10 Wochen nichts anderes getan! Manchmal ist es wohl ganz hilfreich, wenn man manische Züge hat.
Das Demo war in wenigen Tagen restlos ausverkauft… hast du damit gerechnet und wie fühlt sich das an?
Ich habe natürlich gehofft, dass es sich gut verkauft, aber nicht damit gerechnet, dass es so schnell geht! Ich habe bereits ähnliche Auflagen für THE DOOMSDAY CULT und GRIFTEGÅRD angefertigt und die gingen auch recht schnell weg, aber diese wurden z.B. direkt an die Fans beim DOOM SHALL RISE verkauft und da konnten die Fans sich die CDs anschauen, sie anfassen und daran riechen bevor sie es kaufen. Ich bin glücklich, dass es da draußen Leute gibt, die in Zeiten des Massenkonsums echte Handarbeit zu schätzen wissen.
Was wird die Zukunft für DAUTHA bringen? Gibt es schon Pläne für ein komplettes Album und wie wird es an der Livefront aussehen?
Als nächstes werden wir das Demo über Ván Records als 7" neu auflegen! Wir vertrauen Ván Records blind, denn sie haben bereits THE DOOMSDAY CULT, GRIFTEGÅRD und WARDENCLYFFE veröffentlicht. Sven ist ein wirklicher Enthusiast mit einem großen Herzen und das ist sehr selten in diesem Geschäft und wir sind alle aus dem Häuschen, dass er auch mit DAUTHA und uns weiterarbeiten möchte.
Es wird auch ein Album geben und die Grundlagen haben wir bereits dafür geschaffen. Nun werden wir das Material bis zum Erbrechen proben und bereits mit dem einen Auge auf die Produktion schielen. Nichts wird dem Zufall überlassen. Es sind keine Liveshows geplant, alles was zählt ist das erste Album.
Gibt es noch eine Weisheit, die du zum Schluss den Lesern und Fans mit auf den Weg geben möchtest?
With or without death nothing is accomplished.
Links:
DAUTHA – Facebook, Bandcamp, Review "Den Förste"
THE UNQUIET GRAVE – Review
WARDENCLYFFE – Reviews: Ordo ab Chao , Control all Delete, The Omega Point
PROJECTU – Facebook
SCAR SYMMETRY – Facebook
†††††††††††††††††††††††††††††††††††††††††††††††††††††††††††††††††††††††††††††††††††
Lately I received the first demo by DAUTHA and fell in love with this epic Doom immediatly. Their multifaceted sound is very special and so I felt the urge to ask Ola Blomkvist for an interview and here it is: the first ever interview about DAUTHA. I'm happy and grateful to be the first one to tell the world about DAUTHA. Take a trip to the kingdom of death.
Ola, first the inevitable question… There has never been an official statement regarding the end of GRIFTEGÅRD. Now as some time has passed, do you want to tell us about it?
My reasons for ending GRIFTEGÅRD are personal and something I still do not care to elaborate upon in an interview. Sorry for being a bore but this is how it is.
Was the idea for DAUTHA in your head for some time and when did you start writing songs for DAUTHA?
DAUTHA has been in my mind for three years now and I have been composing songs for it since. From the beginning it was only me and Micael Zetterberg rehearsing spontaneously, but this last winter (15/16) we became a proper band as we included bass player Emil Åström and, later, guitarist Erik Öquist and singer Lars Palmqvist. Together we now form the tonschmiede that is Dautha.
What concept is behind DAUTHA? Tell us everything the doomheads need to know about DAUTHA…
The main part of the concept becomes evident when one knows the meaning of the band name. DAUTHA means Death in ancient Gotlandic/Swedish accent. DAUTHA is death in medieval, mundane costume and for our own, and, perhaps, others amusement we will writhe in worm-like fashion at his feet, making music. Easier than just waiting around to die.
You call the genre "Murky Medieval Folk Doom" but there are just a few obvious medieval musical influences in "Den Förste", like the violin. Is it your plan to expand this part of the music?
I guess our branding of DAUTHA can be seen as a statement of intent, for now. Indeed we will be more heavy on the medieval musical influence on upcoming releases. This said, DAUTHA is, first and foremost, about Doom Metal and will always be a heavy and dark affair.
But you have to promise that you won't end up at the Medieval Folk Humppa-stage at Wacken, ok?!
Ha ha ha! We will steer very clear from this kind of ridiculous and, frankly, incomprehensible idiocy.
Please name your obvious and not-so-obvious musical influences for DAUTHA!
People have mentioned CANDLEMASS when describing our sound, and who am I to argue against their influence…This said, my personal musical DNA is made up of so many intertwining strings of Doom Metal they have formed a body impossible to untangle. Not so obvious (collective) influences ranges from LARS GULIN via TRETTIOÅRIGA KRIGET to IRON MAIDEN. To conclude, the DAUTHA sound derives from all of its members, in varying amount.
Lyrically the first song "Benandanti" reaches back to the medieval times. How did you get to know about the "Benandanti"?
I have a great interest in European medieval history and read a lot. In a doctors thesis on the origin of the European witch persecutions there was this captivating chapter about a North Italian tradition of white witches battling black ones. It was interesting on several levels. Psychologically and morally so, since the line between good and evil gets blurred the more one reads up on it, but also from a folkloristic/religious perspective as the belief in the Benandanti and their counterpart Malandanti could co-exist for hundreds of years with the indigenous Catholic faith, without the intervention of the church. Initially the tradition was only reluctantly dealt with by the Italian authorities, being perceived as harmless, but with the rise in power of the Spanish Inquisition proper persecutions started.
Do you believe in the myth that the Benandanti were able to do visionary or spiritual journeys?
Certain psychoactive drugs in combination with shamanistic ritual and techniques can cause vision and insight, yes. For instance, a dream of mine would be to try Ayahuasca under trained guidance.
Do you think that mankind centuries ago was blessed with spiritual abilities that got lost over the years?
I believe that the distortion of propaganda aimed at us from those in power as well as the effect of living our bleak lives in these modern times block our true selves on many (or almost all) levels. This said, there is no evidence, save for the subjective, to suggest that we are not self delusional at our core. In the end the following old run-of-the-mill trrrruuuue Metal catch phrase comes to mind as being closest to the truth: Only Death Is Real.
What is the song "In between two floods" about?
On one level it deals with the factual social and religious upheavals of 14th century Europe in the wake of the Black Death. On another it is the same old and tiresome pointing-with-a-bone-at-the grave-plaque-that-reads-Memento Mori that artists have bemused themselves with in all cultures since the dawn of man. We are nothing but worms and worms food (ad nauseum) squashed between a rock (the plague) and a hard place (the war to come).
Are your lyrics exclusively about stories from the past or do you also have the present time in mind?
Both is the answer.
Did books influence you when you wrote the lyrics? And do you want to recommend us some?
Indeed, books influence me greatly, or at least they did up until I found E.M. Cioran. After him there's really no use in reading, or to do anything for that matter. E.M. Cioran provides embalming fluid for the soul. Avoid him.
Micael Zetterberg released a great EP under the name of THE UNQUIET GRAVE and it was promoted with the term "folky", too. What do you think about "Cosmic Dawn" and is Micael especialy involved in songwriting?
I really like THE UNQUIET GRAVE. I think Micael has managed to create some stripped down, honest Doom with a primordial, earthy sound. Also, I was quite surprised by his vocals, I didn't even know he could sing and then he lays down these lines which suit the sound perfectly! He is a man of many talents for sure and we are lucky to have him with us in Dautha.
Regarding the writing process for the songs on "Den Förste": Me and Micael were rehearsing and arranging the songs (for which I provided the basics) on the demo for about a year before Erik, Lars and Emil came along, thus his input has been instrumental to our sound. This said, we collectively finalized the songs to the shape they have on the demo.
To what extent are the other musicians involved in writing songs and creating ideas for DAUTHA?
The other members all have a great deal of influence on the sound, and the song writing, for sure. Erik is a very accomplished guitarist and comes up with great stuff. He has written the guitar line in the demo intro and his work on the finishing part of Benandanti blew us away! Especially so since he created it on spot in the studio. Emil's bass playing is, like himself, unique. He comes up with REAL, almost autonomous, bass lines and he never just apes the guitar. What's more, he is a multi-instrumentalist that, if needed, comes up with solutions for guitars and drums as well. Lars…what can I say? He's such a powerful vocalist, he can sing anything, really! However I think his voice is destined for Epic Doom Metal. He has great longevity and pitch and is able to switch between sorrow and triumph in the blink of an eye! He has penned all the vocal lines and together with his father, Bengt-Arne Palmqvist (who is a music teacher and artist himself), he has come up with all the violin parts (performed by Åsa Eriksson-Wärnberg, a colleague of Bengt- Arne's).
Micael Zetterberg and Emil Åström is the experienced rhythm section and they are playing with you in WARDENCLYFFE but the other two guys seem rather unusual to be part of a massive Epic Doom band. Erik Öquist is part of the Progressive/Melodic Rock band PROJECTU… how did he join DAUTHA?
Erik and I are work colleagues and one day we got talking about folk music, which, as it turned out, was a mutual interest. One thing lead to another and now he is a much valued part of DAUTHA. Erik is only 20 years old by the way, although he often comes across as more mature than the rest of the band…
I have to admit that one of the biggest surprises is Lars Palmqvist, known singer with SCAR SYMMETRY. His vocals for DAUTHA deserve the utmost respect but how did you know that he's such an outstanding doom singer?
I have known Lars for six or seven years by now and SCAR SYMMETRY is just a fraction of what he does. He is a multi instrumentalist playing drums, guitar, bass and keys and he is a musical power plant in his own right. He has been involved in numerous other bands and projects, including another local Doom Metal band called MIRADOR. To the members of Norrköping's musical community his talent is very well known. I can understand it may come as a surprise to people outside the town area that he is so well suited for Doom though, given his main occupation as vocalist in a band as far removed in sound as SCAR SYMMETRY. However a truly great singer can sing anything…
The layout of the demo is breathtaking and very ambitious. Tell the 78 happy people and all the other guys, who missed this edition, about the production!
Thank you, glad you enjoy it! The production was a ten week process and included the use of a mixture of modern and traditional techniques, plus blood, sweat and cursing. First I created the originals for the logo, the text and the CD pocket. Then I went to my friends at the local book binding society to borrow the needed tools and to buy cardboard. Lucky for me I have a sister who works as a saddler and in this occupation one assembles a huge amount of excess leather of which she sent me a load. She even cut it out in the right size, saving me a days work. I then had the card board cut up to the right size at a friends printing firm, and then the hard part began. Namely the patination of the cardboard, the applying of the leather spine to the cardboard, the burning of the image of Dautha into the cardboard, the applying of the cloth on the inside of the leather spine, the cutting out and gluing of the originals to the inside of the card board sleeve, the folding of the CD pocket and aplying it to the inside of the card board sleeve etc. All this (and many more stages) had to be done in a certain order and it became a bit tedious doing the same thing over and over again, waiting for the patina and glue to dry and so forth. All the while I was in what I would call "the zone"-I did nothing during these ten weeks (save for going to my day job) but this work. Sometimes it helps being manic, I guess.
In just a few days the demo was sold out. Did you expect that in any way and how does it feel?
I had hoped it would sell fast, but I did not expect it to go this quickly, really. I have done similar issues for THE DOOMSDAY CULT and GRIFTEGÅRD and these went fast, but they were mostly sold directly to people at Doom Shall Rise. Selling like this is much easier cause you get to meet people eye to eye and they get to see, feel and even smell the product before buying. Anyway, I'm happy to learn people still appreciate craftsmanship in this age of Spotified mass consumption.
Tell us about the future plans for DAUTHA! Do you have some songs in mind for the possible next album and are there any plans for playing live?
The next thing to happen is a re-release of the demo on vinyl through Ván Records, a label we have complete trust in, needless to say, as they have released THE DOOMSDAY CULT, GRIFTEGÅRD and WARDENCLYFFE to great effect. Sven is a true die-hard with a big heart, something rare in this business, so we are really happy he wanted to work with us. There will be an album and the basics for it is already done. Now it will come down to rehearsing the material to death, killing darlings left, right and center while looking at the production side simultaneously. Nothing will be left to chance. No live shows are planned, our focus is the album.
Is there a last wisdom you want to share with your fans?
With or without death nothing is accomplished.