AVARICE IN AUDIO
"Apollo and dionysus"
(Electro)
Wertung: gut
VÖ: 18.03.2016
Label: alfa matrix
"Shine & Burn" war der Name des 2014 veröffentlichten Debüt Album von AVARICE IN AUDIO. Angesiedelt im Bereich des Dark Electro mit leichten EBM Elementen sorgt die Musik für viel Potentil für die dunklen Club, sofern es noch welche gibt. Interessant dabei ist die Mischung aus filigranen weiblichem und rauen männlichem Gesang.
"Apollo and dionysus" ist nun das zweite Werk der Australier bei dem sich viele Gastmusiker mit eingebracht haben. "Glamour" (feat. Psy'Aviah) ist ein dunkler growliger Dark Elektro Song, "Her Fire" folgend ein modern inspirierter Song, der auch viele Techno Elemente beinhaltet.
"Anthracite Nights" ist dann wieder ein griffiges Stück bei dem vor allem der aggressive Gesang beeindruckt zu elektronischen Klängen die etwas an HOCICO erinnern. Sehr imposant ist die gelungene Mischung aus Kraft, Aggressivität, Melodie und experimentellem Mut genrefremde Elemente mit einzubinden oder sehr unterschiedliche Gesangstypen zu vereinen. Dies ist zum Beispiel bei "Crystal Tears" zu vernehmen welches zusammen mit MONDTRÄUME aufgenommen wurde, hier gefällt wieder die tolle Symbiose aus vielen verschiedenen Gesängen.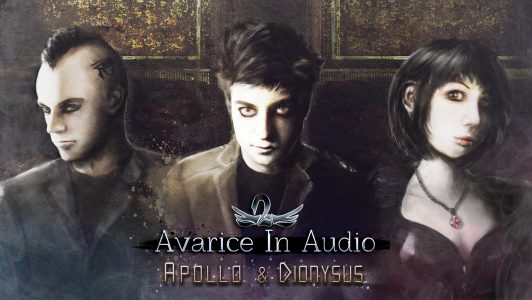 Beim Hören der Titel fällt allerdings schnell auf, dass die aggressiv orientierten Songs am besten funktionieren. Grad die kräftigen Drum N' Bass Elemente harmonieren genial mit den griffigen Growls vom Gesang. Einige rein weiblich vorgetragene Stücke fallen leider etwas von dieser Qualität ab.
Das Album ist auch als limitierte Boxausgabe zu haben inklusive einer zweiten CD. Dies ist ein Remixalbum namens "Dreamers Never Prosper" mit Künstlern wie FREAKANGEL, DIE SEKTOR, LUDOVICO TECHNIQUE, PANIC LIFT, ALTER DER RUINE, IVARDENSPHERE, KULT OF RED PYRAMID, STUDIO-X, NITRO/NOISE, [SNUFF], TERROLOKAUST, BIOMECHANIMAL und ein Bonusremix des australischen Projekts SIRUS.
Ein wirklich gelungenes Album aus Down Under. Könnte auch Live wirklich gut funktionieren. Frischt mit einigen Innovationen das Genre gekonnt auf. (michi)
TRACK-LISTING
CD 1 "Apollo & Dionysus"
Glamour (feat. Psy'Aviah)
Her Fire
Anthracite Nights
Crystal Tears (Feat. Damasius Venys of Mondträume)
Promise For Sale
Fire Is Enough
Juvenile Desires (feat. Mr.Kitty)
Tigerblood
World Without Song (feat. Chris Anderson)
Pater Noster
Six Feet Under
Heartstrings (feat. MiXE1)
The Cassandra Complex (v.2016)
CD 2 "Dreamers Never Prosper" bonus disc only available in the limited carton box edition
Glamour (Studio-X Hard Dance mix)
Her Fire (iVardensphere remix)
Anthracite Nights (Eternal Night mix by Nitro/Noise)
Crystal Tears (Alter Der Ruine remix)
Promise For Sale (PANIC LIFT remix)
Fire Is Enough ([SNUFF] remix)
Juvenile Desires (Ludovico Technique remix)
Tigerblood (Biomechanimal remix)
World Without Song (Freakangel remix)
Pater Noster (Terrolokaust remix)
Six Feet Under (Kult Of Red Pyramid remix)
Heartstrings (Die Sektor remix)
The Cassandra Complex (SIRUS remix)