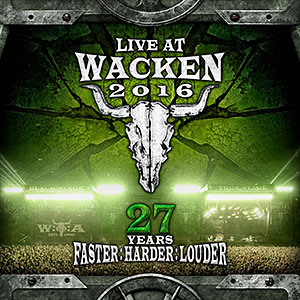 Wacken 2016 kommt zu euch nach Haus und lässt die Wände wackeln. Die besten Momente, die besten Performances des Jahres 2016 hier noch einmal auf einer Doppel CD und Doppel DVD. Der Release dieser DVD/CD wird am 21. Juli 2017 sein. www.wacken.com
Formate: 2DVD/2 CD Digipack, 2 BluRay /2 CD BR-Digipack, Standard Digital Audio
DVD/BluRay 1
1 PHIL CAMPBELL AND THE BASTARD SONS – BIG MOUTH
2 PROFANER – KILLING ON COMMAND
3 HÄMATOM – ALTE LIEBE ROSTET NICHT
4 AUÐN – ÞJÁNING HEILLAR ÞJÓÐAR
5 SAXON – BATTERING RAM
6 SAXON – HEAVY METAL THUNDER
7 ZOMBIES ATE MY GIRLFRIEND – APPROPRIATE HATE CRIMES
8 VADER – TRIUMPH OF DEATH
9 TSJUDER – DEMONIC SUPREMACY
10 IMMOLATION – DESPONDENT SOULS
11 THERAPY? – SCREAMAGER
12 MICHAEL MONROE – 78
13 ORDEN OGAN – F.E.V.E.R.
14 ORDEN OGAN – THE THINGS WE BELIEVE IN
15 THE VINTAGE CARAVAN – EXPAND YOUR MIND
16 BURY TOMORROW – MAN ON FIRE
17 ENTOMBED A.D. – DEAD DAWN
18 EQUILIBRIUM – BLUT IM AUGE
19 EQUILIBRIUM – BORN TO BE EPIC
20 DIE KRUPPS – FATHERLAND
21 AXEL RUDI PELL – GAME OF SINS
22 AXEL RUDI PELL – ROCK THE NATION
23 EKTOMORF – HOLOCAUST
24 GIRLSCHOOL – TAKE IT LIKE A BAND
25 LEMMY – BORN TO LOSE, LIVE TO WIN
DVD/BluRay 2
1 TORFROCK – TRUNKENBOLD
2 TORFROCK – PREßLUFTHAMMER B-B-BERNHARD
3 ELUVEITIE – TEGERNAKO
4 ELUVEITIE – HAVOC
5 BULLET FOR MY VALENTINE – TEARS DON'T FALL
6 BULLET FOR MY VALENTINE – WAKING THE DEMON
7 TARJA – NO BITTER END
8 1349 – SCULPTOR OF FLESH
9 RED FANG – PREHISTORIC DOG
10 UNISONIC – UNISONIC
11 CALIBAN – PARALYZED
12 WHILE SHE SLEEPS – FOUR WALLS
13 ESKIMO CALLBOY – MUFFIN PURPER-GURK
14 MYRKUR – JEG ER GUDEN, I ER TJENERNE
15 BORKNAGAR – COLOSSUS
16 BORKNAGAR – WINTER THRICE
17 METAL CHURCH – GODS OF SECOND CHANCE
18 THERION – SON OF THE SUN
19 THERION – SON OF THE STAVES OF TIME
20 STEEL PANTHER – ASIAN HOOKER
21 STEEL PANTHER – COMMUNITY PROPERTY
22 STEAK NUMBER EIGHT – BLACK EYED
23 TRIPTYKON – MORBID TALES
24 BUFFALO SUMMER – MONEY
25 BARB WIRE DOLLS – HEART ATTACK
26 ARCH ENEMY – WAR ETERNAL
27 BUDDERSIDE – PAIN
28 DIO DISCIPLES – THE LAST IN LINE
29 DIO DISCIPLES – STARGAZER
CD1:
1 PHIL CAMPBELL AND THE BASTARD SONS – BIG MOUTH
2 HÄMATOM – ALTE LIEBE ROSTET NICHT
3 SAXON – BATTERING RAM
4 VADER – TRIUMPH OF DEATH
5 TSJUDER – DEMONIC SUPREMACY
6 IMMOLATION – DESPONDENT SOULS
7 THERAPY? – SCREAMAGER
8 MICHAEL MONROE – 78
9 THE VINTAGE CARAVAN – EXPAND YOUR MIND
10 BURY TOMORROW – MAN ON FIRE
11 ENTOMBED A.D. – DEAD DAWN
12 EQUILIBRIUM – BORN TO BE EPIC
13 DIE KRUPPS – FATHERLAND
14 AXEL RUDI PELL – ROCK THE NATION
15 GIRLSCHOOL – TAKE IT LIKE A BAND
16 EKTOMORF – HOLOCAUST
17 TORFROCK – PREßLUFTHAMMER B-B-BERNHARD
18 ELUVEITIE – HAVOC
CD2:
1 BULLET FOR MY VALENTINE – TEARS DON'T FALL
2 TARJA – NO BITTER END
3 1349 – SCULPTOR OF FLESH
4 RED FANG – PREHISTORIC DOG
5 UNISONIC – UNISONIC
6 CALIBAN – PARALYZED
7 ESKIMO CALLBOY – MUFFIN PURPER-GURK
8 BORKNAGAR – COLOSSUS
9 METAL CHURCH – GODS OF SECOND CHANCE
10 THERION – SON OF THE STAVES OF TIME
11 STEEL PANTHER – COMMUNITY PROPERTY
12 STEAK NUMBER EIGHT – BLACK EYED
13 TRIPTYKON – MORBID TALES
14 BUFFALO SUMMER – MONEY
15 BARB WIRE DOLLS – HEART ATTACK
16 ARCH ENEMY – WAR ETERNAL
17 BUDDERSIDE – PAIN
18 DIO DISCIPLES – STARGAZER
Formate: 2DVD/2 CD Digipack, 2 BluRay /2 CD BR-Digipack, Standard Digital Audio
www.wacken.com
Die Schweizer SAMAEL haben einen ersten Song von ihrem neuen Album veröffentlicht, welches passend zum 30-jährigen Bandjubiläum am 13. Oktober bei Napalm Records erscheinen soll.
---
RUSSKAJA, das österreichische Aushängeschild in Sachen Crossover Mukke, präsentiert einen ersten Track vom kommenden Album "Kosmopoliturbo", welches ab dem 04.08.2017 auf Napalm Records erhältlich ist.
---
Im zehnten Jahr des Bestehens seines zur Band gewordenen Projekts TOTENGEFLÜSTER machen Simon Bossert alias Totleben und seine Mitstreiter Nägel mit Köpfen: "Im Nebel der Vergänglichkeit" ist fertig, das zweite Album der Baden-Württemberger, und erscheint am 18.08. beim eigens gegründeten Label Pale Essence Music. http://www.totengefluester.de
Erster Song "Totengeflüster":

---
Am 09. Dezember 2016 haben -LA MAGRA- ihr aktuelles Album "Fairytales from the Graves" veröffentlicht. Danach begannen die Dreharbeiten für das neue Musikvideo. Der offizielle Videoclip "Hörst du mich rufen" ist nun hier zusehen. Ende Herbst diesen Jahres folgt dann die Singleauskopplung von "Riding Corpses" als digital E.P.
---
Am 21. Juli 2017 veröffentlichen die Rock'n'Roll Legenden EUROPE ihre einmalige 30th Anniversary Show der Final Countdown Tour, aufgenommen im geschichtsträchtigen Roundhouse in London als DVD/2CD, BluRay/2CD, digital und 12″ Boxset!
Die Final Countdown 30th Anniversary Show – Live At The Roundhouse zelebriert das mehrfach Platin Album und den Erfolg, der sich inzwischen über 30 Jahre streckt. Die Band hat das komplette Album der Reihe nach in ausgewählten europäischen Städten gespielt und hat den Abschluss mit einem fulminanten Konzert am 12. November 2016 im Londoner Roundhouse gefeiert. Aufgenommen wurde die DVD von Patric Ullaeus / rEvolver Film Company AB. Und die Band hat nicht nur das volle Set aus dem Final Countdown Album gespielt sondern ebenfalls das 2015 erschienene War Of Kings, welches sie wieder als eine der Top Classic Rock Bands weltweit bestätigt hat.
LIVE AT THE ROUNDHOUSE wird in folgenden Formaten veröffentlicht:
DVD/2CD – komplettes Konzert (1 visual, 2 audio) verpackt in 8 panel CD-sized Digipack mit einem 24 Seiten Booklet
BluRay/2CD – komplettes Konzert (1 visual, 2 audio) verpackt in 8 panel CD-sized Digipack mit einem 24 Seiten Booklet
Digital audio only VÖ
12″ Boxset, limitiert auf 1,000 wird im September erhältlich sein.
Bestehend aus der BluRay/2CD Konfiguration, Doppel Gatefold Vinyl The Final Countdown komplett und anderen Ausschnitten aus dem Konzert, 40 Seiten 12″ Hardcover Foto Buch, ein Vintage Schal und ein Laminate/Guest-Pass.
Mehr Infos: http://europetheband.com/
---
Die portugiesischen Black Metaller VULPUS haben die zweite Single aus ihrem neuen Album "Certitude" bei YouTube veröffentlicht. Das Album erscheint am 25.6. bei Pest Productions.
---
Ab sofort ist ein erster Teaser zu dem am 25. August erscheinenden neuen Eisbrecher-Album "Sturmfahrt" online. Ihm zugrunde liegt die erste Single "Was ist hier los", welche am 7. Juli ausgekoppelt wird, passend zum "Volle Kraft Voraus"-Festival in der Ulmer Ratiopharm Arena. Dabei wird es sich um das erste bandeigene Festival der Bandgeschichte handeln. Gemeinsam mit EISBRECHER selber werden dabei etliche Bands auf der Bühne stehen, die die Münchner bereits auf Tour begleitet haben, darunter die US-Amerikaner COMBICHRIST, die Hamburger LORD OF THE LOST, UNZUCHT, WELLE:ERDBALL und AND THEN SHE CAME.
---
Das sechste Album der Dark Rock/Metal Formation ECNEPHIAS wird am 7. Juli bei My Kingdom Music erscheinen. Ein Vorbote kommt in Form des neuen Videos zum Song "Quimbanda"
ECNEPHIAS' Mastermind Mancan: "'The Sad Wonder Of The Sun' is Mediterranean Dark Metal at 101%, and you must wait for something really gothic, murky and darker than ever".
---
THE SLAYERKING ist die neue Band um Efthimis Karadimas von den Griechen NIGHTFALL, die sich zwischen Doom Rock, Dark Rock und Death Metal bewegt.
Einen neuen Song gibt es hier:

Auf Tour geht es mit AVATARIUM im Herbst
AVATARIUM + special guest THE SLAYERKING
15.09.2017 (DE) LANGEN / Stadthalle
16.09.2017 (DE) ESSEN / Turock
17.09.2017 (DE) NÜRNBERG / Hirsch
18.09.2017 (DE) BERLIN / Musik und Frieden
19.09.2017 (DE) HANNOVER / Musikzentrum
20.09.2017 (DE) ERFURT / From Hell
21.09.2017 (DE) SIEGBURG / Kubana
22.09.2017 (NL) OSS / Groene Engel
23.09.2017 (BE) VOSSELAAR / Biebob
24.09.2017 (NL) ZAANDAM / Flux
25.09.2017 (FR) PARIS / Glaz'art
26.09.2017 (DE) STUTTGART / Universum
27.09.2017 (IT) MILAN / Legend Club
28.09.2017 (DE) MUNICH / Backstage
29.09.2017 (AT) VIENNA / Viper Room
30.09.2017 (HU) BUDAPEST / Dürer Kert
---