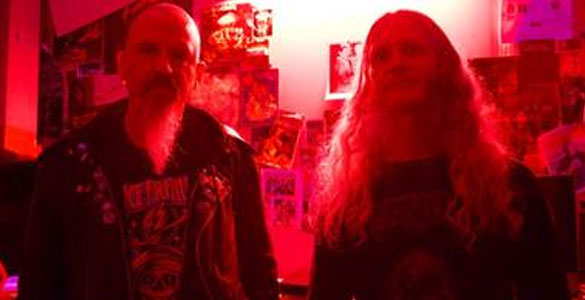 Die Death/Doom Metaller STATIC ABYSS haben passend zur Veröffentlichung ihres neuen Albums "Aborted From Reality" (30.06. via Peaceville) ein Lyric-Video zu dem Song "Cathedral of Vomit" online gestellt.
Order: https://StaticAbyss.lnk.to/AFR
Info:
'Aborted From Reality' follows swiftly on from Static Abyss' 2022 debut, 'Labyrinth of Veins'; itself a wild and contagious ride through a nightmarish soundscape. This album presents a stark contrast between a brutal wall of riffs and crawling darkly hypnotic guitar leads burying themselves under the skin, and combines for a sick and unnerving experience through Death Metal combined with Crust and Doom elements. Chris' unmistakable vocals come spewing from the depths of insanity in this soundtrack to an anxiety-filled dimension, backing up the twisted riffs from Greg's own cauldron of mental chaos.
'Aborted from Reality' was recorded at Earhammer Studios in Oakland, CA , with engineering, mixing and mastering overseen by Greg himself. Following on from the debut release, cover art appears once again courtesy of All Things Rotten.
---