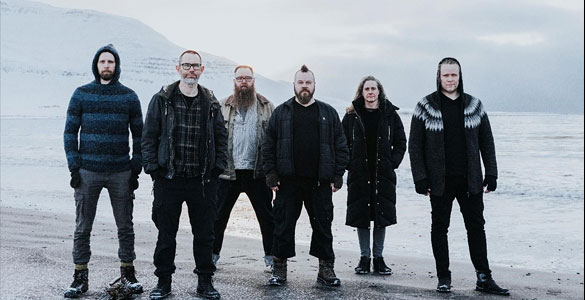 Pünktlich zur Veröffentlichung ihres neuen Albums "Ýdalir" veröffentlichen die isländischen Viking-Metal-Ikonen SKÁLMÖLD ihren Titelsong zusammen mit einem offiziellen Performance-Video. Das Album erscheint am Freitag, den 18. August 2023, über Napalm Records.
Preorder: https://napalmrecords.com/skalmold
Nach der Veröffentlichung ihres ersten Albums seit fünf Jahren sind SKÁLMÖLD mit furiosen Auftritten zurückgekehrt – wie zum Beispiel beim Wacken Open Air (dem sogar der isländische Präsident persönlich beiwohnte) und bei ihrer bevorstehenden Show beim Summer Breeze.
Björgvin Sigurðsson on "Ýdalir":
"The third single we present to you from our upcoming album is the title track, 'ÝDALIR'. Here we get to know a little about ULLUR and his home in ÝDALIR, and are introduced to the horrors he and his folk must face.
Two things I would like to mention regarding this song are, first, the majority of the song was written by our drummer, Jón Geir. He has written riffs and melodies before, but this is the first time he presents to us what became the backbone of a song. The opening riff and verse are very straight forward and menacing and you can sense the danger ULLUR and his folk are facing. And then comes the melody in the chorus. Such a strong melody which could have easily been written in 1988 and recorded for Seventh Son, if you ask me.
Second, we have to talk about the guitar solo. Þráinn is such a monster when it comes to guitar solos and has done some fantastic solos for us in the past. But here he gives us what might be his best guitar solo to date. Good stuff.
So, ÝDALIR is a song that we are very proud to present to you and I can see this song becoming a constant in our live set for years to come. And now we just have to wait a few more days until you can enjoy the album as a whole. It´s gonna be a blast.
Cheers!"
---