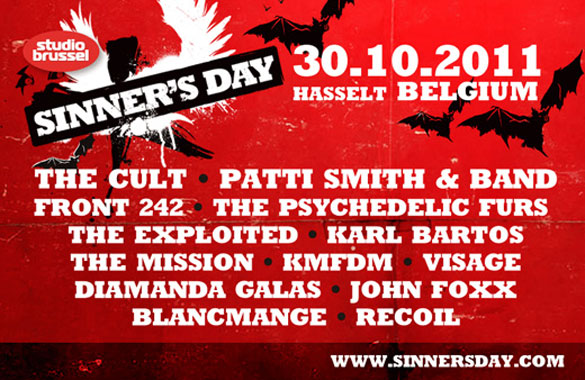 Festivalankündigung für 30.10.2011 Ethias Arena in B-Hasselt
u.a. mit The Cult, Patti Smith, Front 242, The Mission, Karl Bartos, The Exploited
www.sinnersday.be
Im Herbst heiß auf ein Festival? Ab zum Sinner's Day 2011
Am 30.10.2011 findet in Hasselt, Belgien einmal mehr das Sinners Day Festival statt. Wer bei dem LineUp keine wässrigen Augen bekommt, sollte weiterhin seinen IPod zum glühen bringen. Aber dem werden echte Größen der Szene entgehen. Dabei ist der Mix durchaus weitläufig und doch schon fast etwas für die Älteren unter uns:
 The Cult
 Patti Smith
 The Psychidelic Furs
 The Mission
 The Expolited
 KMFDM
 Front242
 Karl Bartos
 Diamanda Galas
 Recoil
 John Foxx
 Visage
 Blancmange
Wem das alles nichts sagt, der kann sich auch unter der in Belgisch, Niederländisch und Englisch zusammengefassten Informationen einen Einblick über das verschaffen was einem da den trüben Herbsttag versüßen soll.
Weitere Infos:
www.sinnersday.be/content/info/en