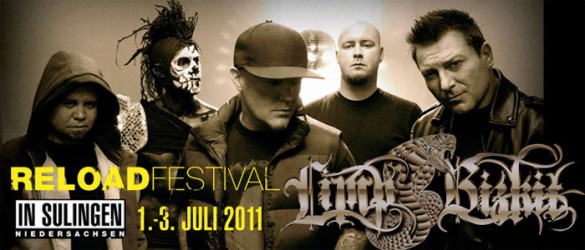 Festivalankündigung für 01.-03. Juli in Sulingen
u.a. mit: Limp Bizkit, Hatebreed, Papa Roach, Blood For Blood, Agnostic Front, Ill Nino, Soilwork, Fiddlers Green, Mr Irish Bastard,
Info:
www.reload-festival.de
www.myspace.com/reloadopenair
Langsam aber sicher kommt der Sommer auf uns zu. Und damit auch die großen Sommerfestivals. Eines, das sich anschickt, zu eben diesen zu gehören, ist das RELOAD FESTIVAL, welches in diesem Jahr zum sechsten Mal an den Start geht und sich nach 5 Jahren in Twistringen nun in Sulingen ein neues Gelände gesucht hat.
Sulingen ist ungefähr in der Mitte des Dreiecks Bremen-Osnabrück-Hannover. Und, Freunde des gepflegten Open-Air-Rockens, dieses Festival hat es in sich…
Zum Line-Up gehören unter anderem die US-Dampfwalze Hatebreed, Papa Roach und die Hardcore Legende Blood For Blood.Der absolute Höhepunt jedoch ist der einzige deutsche Festivalauftritt der Mannen um Frontmann Fred Durst…
Ladies and Gentleman: Limp Bizkit – live at Reload-Festival 2011!
Nach einigen starken und viel umjubelten Auftritten im Herbst 2010 wird der "Rock am Ring – Headliner" von 2009 in Orginalbesetzung im Sommer 2011 Europas Bühnen entern!
Auf dem RELOAD werden sie ihr neues Album "Gold Cobra" präsentieren, welches für Juni 2011 angekündigt ist!
Das wird ein Spaß…
Das jetzt fast vollständige Line-up liest sich wie folgt:
LIMP BIZKIT
HATEBREED
PAPA ROACH
BLOOD FOR BLOOD
AGNOSTIC FRONT
ILL NINO
SOILWORK
LUXUSLÄRM
TERROR
THE BONES
4LYN
FIDDLERS GREEN
WIRTZ
DEEZ NUTS
THE GHOST INSIDE
EMIL BULLS
FOZZY
MR IRISH BASTARD
DAMPFMASCHINE
TICKETS erhältlich für 59 € + VVK unter :
www.adticket.de/
ODER
www.Eventim.de/
alle Infos gibt's hier:
www.reload-festival.de
www.myspace.com/reloadopenair
www.facebook.com/pages/Reload-Festival/132375333487866?v=wall.