PODRIDO/ENDLESS DEMISE
"When Words Are A Waste Of Time/Endless Demise"
(Grindcore)
Wertung: Geht so/Gut
VÖ: 2016
Label: Power It Up Records
Seite A:
Die Mexikaner von PODRIDO starten mit 5 kranken Songs in diese EP-Split!
Eine Mischung aus Punk, Grindcore und Crust in Proberaumatmosphäre, stammt jedoch aus dem Studio. Kurze, schnelle, kranke Songs. Und mit ihrem Text im "Booklet" machen sie klar was sie wollen.
"We don´t have any lyrics… for one reason. We don´t care to talk/write about any stupid thing. … We enjoy Punk Rock, Chaos, Violence, Drugs, Sex and for sure Violence. …"
Alles klar! Der Sound lässt für mich einige Wünsche offen, die Songs an sich sind recht gut gelungen!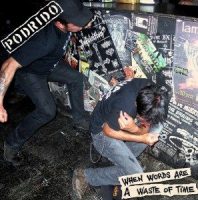 Seite B:
ENDLESS DEMISE sind da schon eine etwas andere Geschichte.
Der Sound der Amerikaner ist wesentlich bassiger und klingt dann auch nach Studio. Sie Mischung aus Powerviolence und Grind klingt ernsthafter und heftiger als das Material der Mexikaner. Victor kreischt und grunzt aus vollem Leibe und tempotechnisch bewegt man sich meistens im schnellen bis Highspeedbereich. Aber auch langsamere Parts werden mit eingestreut und lockern auf. Derbe Kost!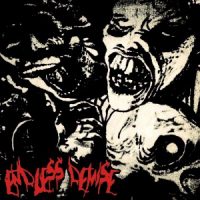 Für alle Vinylfreaks, das Ding ist auf 100 Einheiten limitiert, also schnell sein wenn ihr zugreifen wollt! (hendrik)