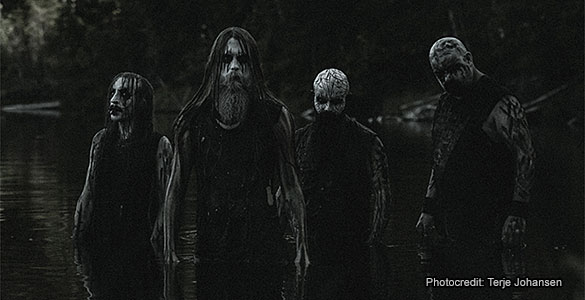 Die norwegischen Black Metaller MORK kündigen ihr sechstes Albums "Dypet" an, das am 24. März über Peaceville Records veröffentlicht wird. Nach der Veröffentlichung von "Katedralen" im Jahr 2021 kehren MORK dieses Jahr mit einem neuen Werk zurück. Auf "Dypet" erschaffen MORK ein Miasma aus düsteren, frostigen Riffs und rauen Gesangsmelodien, die die nächste logische Entwicklung des brillanten Thomas Eriksen darstellen. Das Album treibt gleichzeitig neue Ideen voran und behält dennoch die charakteristischen Grundlagen des eiskalten, hypnotischen Black Metal bei.
Thomas Eriksen comments "It is with great pride that I am able to present and experience the release of my sixth full length album. I put every single drop of myself into the process of shaping MORK's music. Perhaps even more so with this new album. As the album title, which translates to "The Deep", something from the depths has been brought to the surface, "Dypet" was inspired by my life over the last couple of years, the thoughts, feelings, passion and the evolving of creative free will. Dive in and let yourself sink into the abyss. "
The album also features a special guest appearance from HJELVIK, the former singer of fellow Nordic legends Kverlertak, on 'Hoye Murer'. It also delves into the world of analog synth's adding a different but no less hellish soundscape to MORK's palette.
---