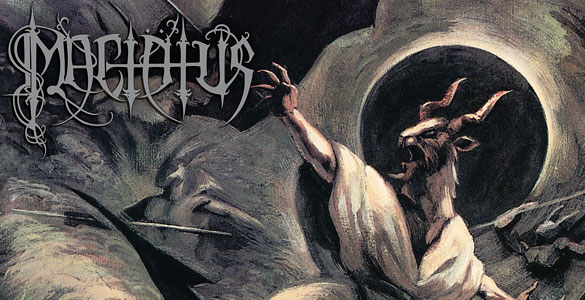 Das Symphonic Black Metal Werk von MACTÄTUS aus dem Jahr 1998, "Provenance of Cruelty", wurde jetzt von Northern Silence Productions auf Vinyl und einer limitierten CD-Edition neu aufgelegt.
https://mactatus-northernsilence.bandcamp.com/album/provenance-of-cruelty
Info:
Embark on a journey to rediscover a hidden gem in the world of Scandinavian Black Metal. Hailing from Norway, Mactätus presents the reissue of their 1998 Symphonic Black Metal masterpiece, "Provenance of Cruelty." At the time of its release, the hype surrounding Scandinavian Black Metal was on the decline, causing this brilliant album to remain obscure and underrated for quite some time. However, this overlooked gem has been waiting for its moment to shine, and now, it's time for fans of Emperor, Limbonic Art, Gehenna, Dimmu Borgir, Mörk Gryning, Odium, Haimad, and 90s Symphonic Black Metal in general to experience the majesty of Mactätus.
Recorded at Akkerhaugen Lydstudio in Norway during August and September 1998, "Provenance of Cruelty" was expertly mixed and engineered by Torbjørn Akkerhaugen, produced by Akkerhaugen, MACTÄTUS, and Samoth, and mastered by Tom Kvålsvoll at Strype Audio. This reissue, released by Northern Silence Productions under exclusive license from Napalm Records, features the original cover art by Petagno, logo by the Riddick Brothers, and an adjusted layout by Olaf Martin for NORTHERN SILENCE to accommodate both CD and LP formats.
For the first time ever, "Provenance of Cruelty" will be available on vinyl, as well as a strictly limited CD edition in digipack, allowing old and new fans alike to appreciate its full nostalgic magnificence. The album boasts powerful performances by the Mactätus lineup, with additional female vocals by Kathrine Abrahamsen and clean male vocals in "Sleepless Souls" by Tony Abrahamsen.
Don't miss this opportunity to delve into the dark and mesmerizing world of Mactätus' "Provenance of Cruelty." This is an essential addition to any serious Symphonic or Melodic Black Metal collection. Join us in celebrating the reemergence of this timeless masterpiece that's finally receiving the recognition it deserves.
---