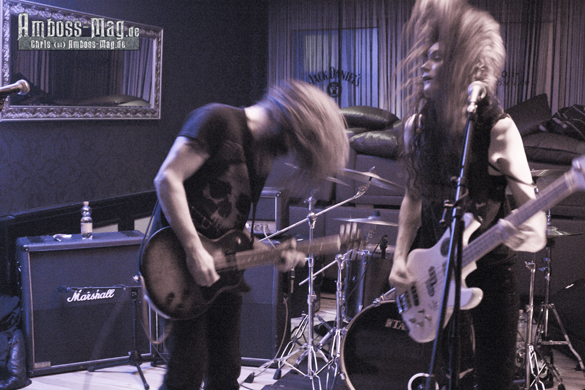 Live im Freihafen in Göttingen am 25.10.2016
Text & pics by Chris
Hell yes… the last time I saw CASTLE was … exactly 11 days ago. In Kassel they spent their day off together with UNIVERSE 217 and played a really cool show at the Hellroom. After the show and after we had the chance to talk to Liz, Mat and touring drummer Mike we instantly decided to take a ride to Göttingen, too. It's the closest town we can travel when we want to see a show and CASTLE rocked the Hellroom, so did we really have a choice?
The Freihafen is a great place to be! Small, but not too small and the bar is cozy as hell, the drinks are great and available in a big variety. I didn't know about this place before but I will keep my eyes open about what the Music Parasites will organize in the future, for sure.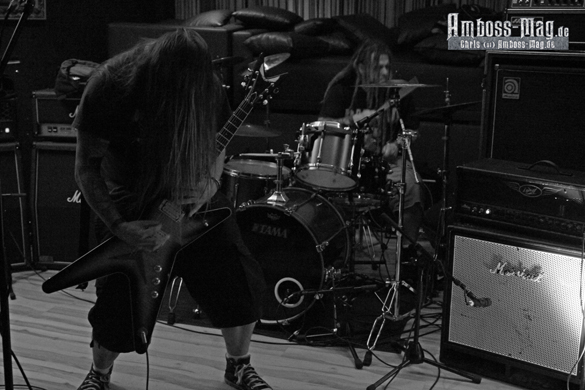 First we have the chance to see BLACK MOOD from Sondershausen. There are "only" two guys on stage but the sound is voluminous and in your face. These two fellows definately got their dose of PANTERA and Southern Doom Metal as part of their musical education because they sound like PANTERA meets DOWN, to make a rough reference. The guitars transport the typical southern Doom Sludge feeling and singer Sleaze has definately a special pissed-off-Phil-Anselmo voice; at least so it seems while standing at the speakers. They offer a great dose of groovy, doomy and a little sludgy Metal and they attendees in front of stage enjoy this show. I think (and not just me) that a little bit more variety on the vocals would be nice, but at all it was a cool opener and well spent 45 minutes.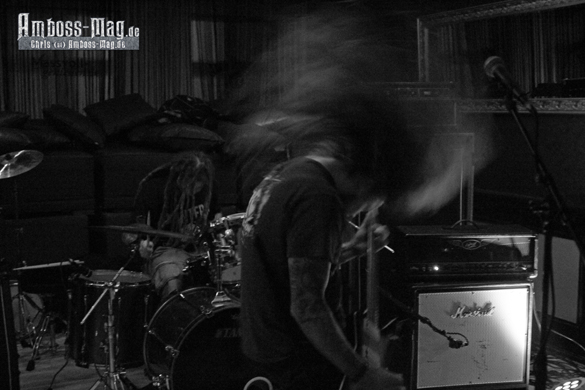 Well, after a short break it's time to enter the CASTLE again. And unholy shit… what a gig! Just like Mat said after the show, some gigs are good and others are better and this was definately a better one! From the first note we felt the energy coming from the stage and it was going like a wave through our bodies and back to stage. These moments are rare, my friends and I think everyone witnessed that and enjoyed it.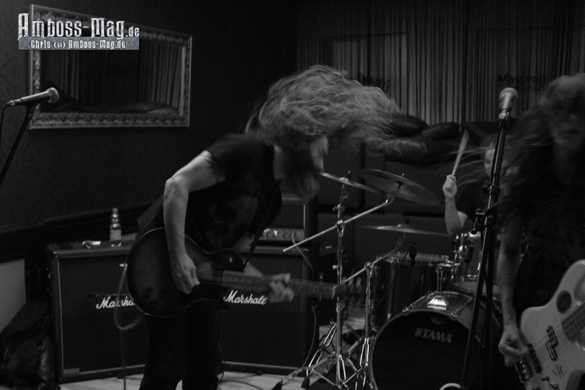 Mat is headbanging all the time and I mean all the time, except when he's singing, of course, hehehe. His energy, combined with Liz' made the difference, I'm sure. The on-stage version of Liz has this dark aura and she's a livewire that can't stand still. Both seem to enjoy being on stage when they stand face to face and let themselves go and headbang all the time. It's great to see that after such a long tour with a lot of driving hours the band is ready for action every night.
Really surprising was the crowd in front of the stage. Fucking maniacs! I've been to a lot shows in Göttingen but this crowd was awesome and enthusiastic and that's not common in this area, I guess (or I've been to the wrong shows, hehehe). I'm sure, the (positive) energy I talked about got multiplied by these guys and filled the room… awesome!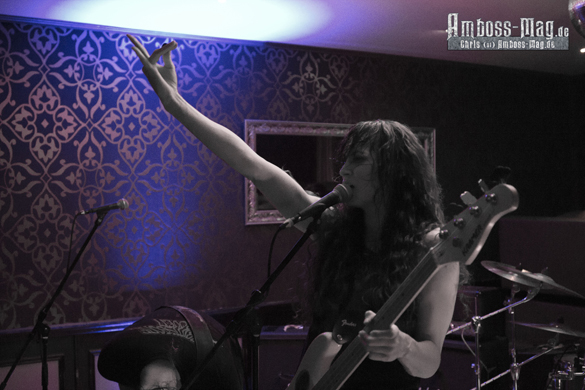 Like I said, CASTLE take no prisoners and this time I got my pen and paper with me and as far as I could decode my scriblings the next day they're heating up the room with: "Temple of the lost", "Corpse Candles", "Down in the Cauldron Bog", "Black Widow", "Hammer and the cross", "Flash of the Pentagram", "A killing pace", "Blacklands" (awesome version tonight!), "Dying breed", "Evil ways", "Storm below the mountain" and "Total betrayal". The first encore draws the attention to drummer Mike who plays a really cool and entertaining drum solo. And we all know that drum solos are not always entertaining… he is a great guy and drummer and I really enjoyed watching him beating the drum kit, not only during his solo, of course. Next to come is "Descent of Man" and the final blow "Vile of death". (If I got something wrong or forgot a song, let me know…)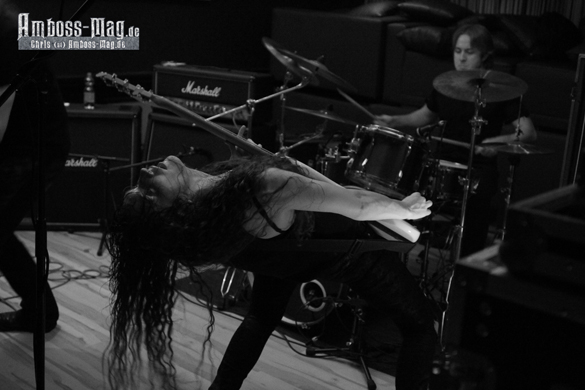 The show was great and the fans really enjoyed this night. After the gig, Liz, Mat and Mike are always available for chats, photos, signings and whatever… they are really close to their fans and really great people. We thank you to come out and make our life a little better with your presence and music. Take care, guys! (chris)