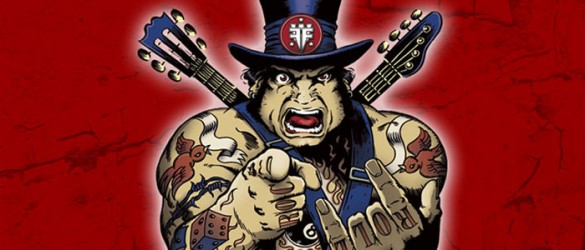 Ankündigung für 01.07.-03.07.2011 Flughafengelände in Roitzschjora
u.a. mit: Volbeat, Hatebreed, Bullet For My Valentine, Agnostic Front, Bring Me The Horizon, Cavalera Conspiracy, Parkway Drive, Bood for Blood…
Info:
withfullforce.de
myspace.com/withfullforce
myspace.com/withfullforcefestival (Fanpage)
Vom 1.-3. Juli findet das diesjährige, 18. WITH FULL FORCE Open Air auf dem Flughafengelände in Roitzschjora (nähe Leipzig) statt und auch dieses Jahr ist das Festival wie gewohnt und bewährt aufgezogen: 1 Hauptbühne, 1 Zeltbühne (mit Themennächten nach dem Headliner auf der Hauptbühne), große Händlermeile auf dem Festivalgelände.
Auch in diesem Jahr wird es beim Skateforce wieder eine Miniramp geben. Die Rampe wurde für das diesjährige Rampen-Massaker um weitere 5m verbreitert. Es gibt jetzt eine integrierte 3m breite Bank und die hohe Extension ist nun doppelt so breit. Das Skateforce-Areal ist wie jedes Jahr rechts neben der Tentstage zu finden. Die Nutzung ist für alle Festivalbesucher frei.
Was ich bewundernswert finde, ist, dass das Festival jedes Jahr eine Ausschreibung macht, wen das Publikum sehen möchte und sich dann danach richtet, wer ins Festival und wer ins Budget passt. (hendrik)
Dieses Jahr sind es bisher:
50 Lions, Agnostic Front, Arkona, Arma Gathas, Bood for Blood, Bring Me The Horizon, Bullet For My Valentine, Cancer Bats, Carnifex, Cavalera Conspiracy, Deadlock, Death By Stereo, Deez Nuts, Die Apokalyptischen Reiter, Die Kassierer, Earth Crisis, Emil Bulls, ELäKELäISET, Entombed, Evile, First Blood, Gallows, Grave, Hatebreed, Hellyeah, Ill Niño, Knorkator, Krawallbrüder, Kverlertak, Kylesa, Legion Of The Damned, Manos Evile, Madball, Mad Ball, Millencolin, Misery Index, Moonspell, More Than A Thousand, Negator, Omnium Gatherum, Parkway Drive, Peter Pan Speedrock, Protest the Hero, Radio Dead One's, Samael, Satyricon, Six Feet Under, Skindred, Solstafir, Stonewall Noise Orchestra, Suicide Silence, Terror, Title Fight, The Adolescents, The Black Dahlia Murder, The Casualties, The Ghost Inside, U.S. Bombs, Volbeat, Watain, Your Demise
An den Preisen hat sich nichts getan:
TICKETS VVK:
Weekend Ticket 79,90 EUR inkl. VVK-Gebühr inkl. Camping
Parkticket 18,00 EUR inkl. VVK-Gebühr (Motorräder frei!)
TICKETS VOR ORT:
Weekend-Ticket: 95,00 EUR
Weekend Parkticket: 25,00 EUR
Tagesticket: 50,00 EUR
Tages-Parkticket: 10,00 EUR.