DIE KRUPPS
"Live im Schatten der Ringe"
(Industrial / EBM / Crossover)
Wertung: Empfehlung
VÖ: 13.05.2016
Label: AFM Records
Webseite: www.die-krupps.de
DIE KRUPPS haben eine bemerkenswerte Auferstehung erlebt und mit "The Machinists of Joy" und "V – Metal Machine Music" ihre besten Zeiten aus dem letzten Jahrtausend wieder aufleben lassen, wenn nicht sogar übertroffen. Da liegt es nicht fern die alten und neuen Fans auch mit einer Kostprobe ihrer Live Energie für zu Hause zu versorgen.
"Live im Schatten der Ringe" ist eine DVD/2CD, die die Live-Performance der Band auf dem E-tropolis Festival in der ausverkauften Turbinenhalle in Oberhausen am 22. Februar 2014. Eine 90 Minuten Live-Show mit Songs aus jeder Phase ihres bisherigen Schaffens.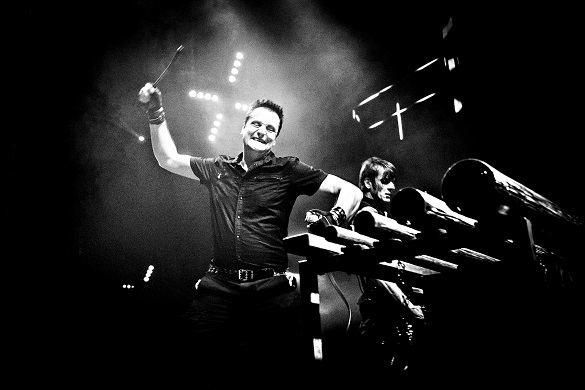 Der Sound dieser Aufnahme ist grandios und gibt die Musik in voller Gänze perfekt wieder. Ein bisschen schade finde ich dass die Zuschauer selbst zwischen den Stücken nur sehr wenig zu hören sind, das bringt dann leider nur sehr wenig von der vorherrschenden Stimmung herüber.
Gerade bei einer so langen Bandgeschichte wie sie DIE KRUPPS vorweisen können, ist es gar nicht so einfach seine Highlights bei einem solchen Live Konzert zu nennen. Mir sagen sehr die EBM Stücke wie "Risikofaktor", "Der Amboss", "Industrie-Mädchen" oder "Schmutzfabrik" zu. Doch auch die Klassiker der eher Metal-lastigen Phase wie "Fatherland" oder "Crossfire" kommen sehr gut. Doch unbestritten kann man sagen, dass an "Metal Machine Music" oder natürlich "To The Hilt" niemand vorbei kommt.
Tolles Zeitzeugnis das ich allerdings an dieser Stelle nur akustisch bewerten kann da mit die DVD Version nicht vorliegt. Doch ich bin mir sicher, dass sich auch diese Variante sehr lohnt.
Trackliste:
01 Intro
02 Blick Zurück Im Zorn
03 Dawning Of Doom
04 Risikofaktor
05 Im Falschen Land
06 Essenbeck
07 Der Amboss
08 The Machinist Of Joy
09 Part Of The Machine
10 Industrie-Mädchen
11 Schmutzfabrik
12 Robo Sapien
13 Metal Machine Music
14 To The Hilt
15 Nazis Auf Speed
16 Fatherland
17 Machineries Of Joy
18 Crossfire
Erhältlich als DVD/2CD oder BD/2CD
Kommende Live Dates:
05.08.2016 – Wacken Open Air (DE)
06.08.2016 – Laba Daba Festival (LT)
12.08.2016 – Brutal Assault Festival (CZ)
13.08.2016 – Mera Luna Hildesheim (DE)
… more to come