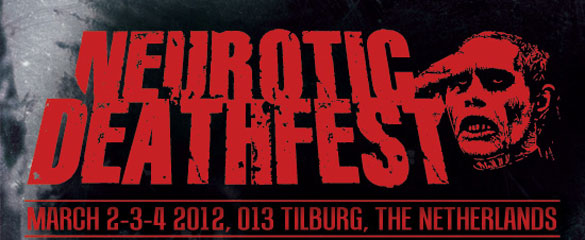 Neurotic Deathfest 2012 Ankündigung
02.-04.03. in NL-Tilburg
u.a. mit Cannibal Corpse, Behemoth, Napalm Death, Suffocation, Gorguts, Morgoth,…
Das holländische Indoorfestival für Death Metal und Grindcore hat sich vom Tagesfestival in 2004 zum 3-Tagesfestival in 2012 gemausert. Die ersten beiden Jahre in Rotterdam und dann 2 Jahre im bekanntesten Clubs Hollands, dem Dynamo, ist es seit 2008 im Tilburger 013 beheimatet. Vor 2 Jahren hat mir das Festival gut gefallen, was mein alter Bericht (http://www.amboss-mag.de/festivals/f10/neurotic_deathfest/neuritc-deathfest.html)
gut darstellt.
Ich freue mich, auch dieses Jahr wieder daran teilzunehmen.
2012 sind bis jetzt bestätigt:

Bands
Freitag, 2.3.:
ASPHYX, DENIAL FIEND, MODUS DELICTI, NAPALM DEATH, SONNE ADAM, SUBLIME CADAVERIC DECOMPOSITION, SUFFERING QUOTA
Samstag, 3.3.:
ABYSMAL TORMENT, ACHERON, BENEATH THE MASSACRE, BETRAYING THE MARTYRS, CARNIFEX, COLDWORKER, CYANIDE SERENITY, GORGUTS, HOUR OF PENANCE, MOLOTOV SOLUTION, MORGOTH, ORIGIN, PSYCROPTIC, SUFFOCATION, WITHIN THE RUINS
Sonntag, 4.4.:
ABORTED, BEHEMOTH, BLOOD RED THRONE, CANNIBAL CORPSE, CATTLE DECAPITATION, DEBAUCHERY, DECAPITATED, FLESHGOD APOCALYPSE, INTERNAL BLEEDING, LEGION OF THE DAMNED, LENG TCH´E, MISERY INDEX,
NEXUS INFERIS, SUICIAL ANGELS, UNCLEANSED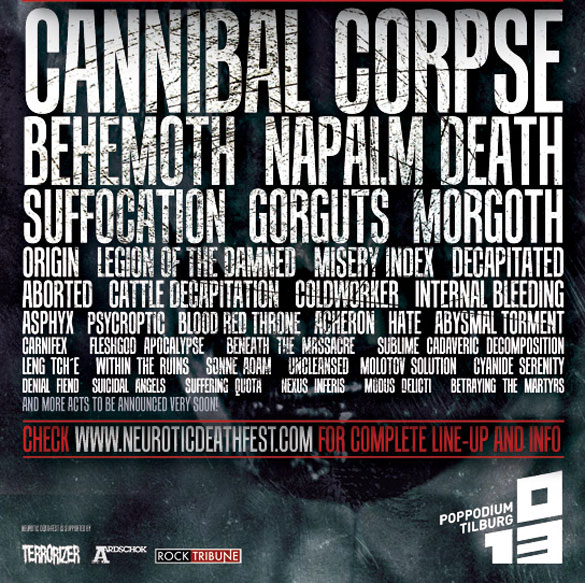 .