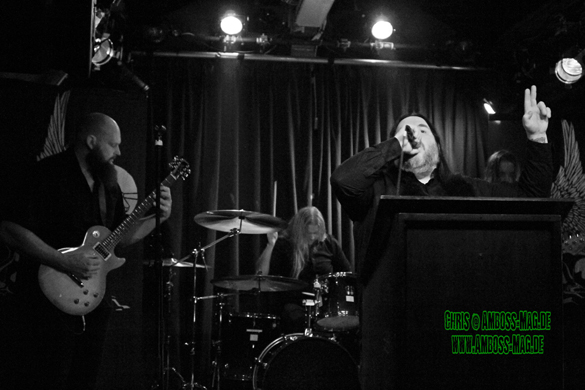 Text & Photos © Chris
The text only represents my personal point of view and maybe not the opinion of some or all the bandmembers!
A german version is coming along, too!
Please check out my photogallery on my website!

Die deutsche Version findet ihr unten!
Sometimes life is strange and fate is striking hard… short after the tour, which was a great fun for us, GRIFTEGÅRD is no more. I don't want to rewrite all the little bits and pieces where I look into the future, so read this diary as it is: a great memory for everyone who has been there and like one guy said on facebook: "a nice read".
Machmal ist das Leben eine Bitch… kurz nach der Tour hat die Band GRIFTEGÅRD aufgehört zu existieren; da ich aber keine Lust habe, den Text, der während und kurz nach der Tour entstanden ist, zu ändern, nehmt ihn als das hin, was er ist: eine wertvolle Erinnerung für alle, die da waren und betrachtet es als eine "nette Lektüre".
THE PROLOGUE
Who hasn't dreamt of getting the chance to go on tour with a band you really admire? Especially when you write for an online-magazine? And even more especially when you know the guys and you can call them friends? I guess most of us did dream of that and now, by some lucky incidents, this dream is getting real for me. Still, it feels unreal, to be honest…
GRIFTEGÅRD is one of my favourite bands of all time and since 2009 I know Ola Blomquist and Thomas Sabbathi, later I met Fredrik Hellerström in 2012; I met Joona Hassinen and Jonas Mattson at the ACHERONTIC ARTS in Oberhausen this year but we just drank a beer and gave us a nod… but there will be plenty of time to getting known to each other in the next days, I think.
As Ola told me they were looking for some gigs in November 2015 some months ago he gave me the freedom to support them with some of my contacts and my enthusiasm. Of course I asked, if they need some further help on tour and suddenly I was part of the gang to help them with the merchandise, the driving and everything else that lies in my humble possibilities.
So any of you who expect an objective report of the tour… well, I don't know if that's the point of this tour diary. I want to pen down my own experiences, my own feelings about how it feels like to be part of a fantastic band who takes a ride through Germany and Austria. Of course I won't miss to write down some reviews about the shows and stuff… When it comes to GRIFTEGÅRD it might feel, like I'm partial. But which writer, who goes on tour with a band, isn't? Which fan isn't partial? I assured Ola that if they suck, I will tell him and I will tell you. But to be honest… I've seen them a few times and they did never suck and I would be surprised if they started sucking on their headlining tour this fall.
The next thoughts are not especially about GRIFTEGÅRD, it's about all the bands who go on tour. Every musician knows that already and now I can tell you: you can record great tunes; your record can be voted to be one of the 50 best Doom Metal records of all time (with your debut!); every time you play live the audience is astonished about the deepness and power of the music but going on tour is a struggle. Please remember the next time you go to an underground show and no matter what's the name of the band: what they are doing is a sacrifice to us. Going on tour sounds like fun (and it definitely should be kind of holidays), but it's hard work. The bands spend time and money and enthusiasm in enormous amounts to go out and play. That's no complaining by me, that's reality! If you have the chance to attend some shows… do it! Every person who shows up, is important. You guys are important.
I mean, while helping with the booking you realize there are two kinds of people who organize shows: some do it for money. If you can't assure them that there will be a special amount of people showing up, they won't do it. Of course that feels disappointing, but on the other hand, they earn their money with that. The second kind of people who are organizing shows are the crazy motherfuckers, the Metalheads, the Enthusiasts who love the band especially and the music in general and who will sacrifice all their energy, time and effort to put up a show with a great band. To all those guys who organized these five shows in November, I shout out a big "Fuck yeah! You guys rule!".
THE MEETING, 10.11.2015
When I got up on tuesday at 6 o'clock the guys were driving for an hour already to get to Hamburg. My trip went smooth (of course there was a delay with the DB) and it's always delightful to meet interesting people, like the nice woman in front of the train station in Hamburg who asked for a lighter and gave me her pack of cigarettes to prevent further smoking. Together we took a look at the refugee camp at the station and had our thoughts about the situation. From there I went to the Bambi Galore by subway and because I was way too early, I decided to go to a Bistro and share my hopes and visions about the upcoming tour with the nice owner. Suddenly I realize a small bus cruising around and I can see that it's a swedish one. So I get out and we meet at last. It's good to see that everyone is healthy but a little tired.
BAMBI GALORE, HAMBURG
Together we enter the Bambi Galore and meet with Florian, who had the balls to organize this show on a tuesday, knowing that it might be a non-profit event, or even worse.
We decide to unload the car instantly and as soon as we're ready, dinner is, too. So we sit down and have a nice meal and nice beer, the first chats and funny stories are told and the atmosphere is very relaxed and nice. These fives guys never give me the feeling of being unwanted or something like that. Nice guys don't play Rock'n'Roll, they play Doom Metal.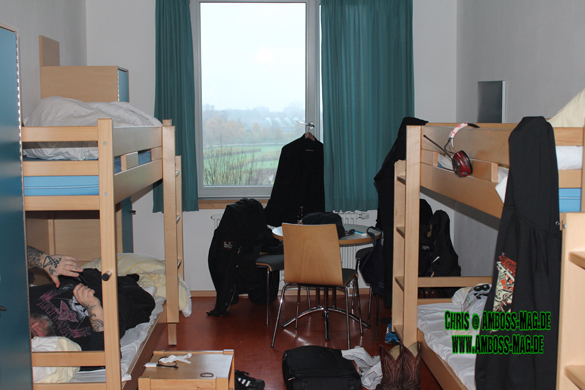 After that we head on to our place in the Youth Hostel… six men, one room and you have to put on your sheets and bed linen for yourself. We're living the Rock'n'Roll dream, motherfuckers. After a little rest it's time to go back and soundcheck. While the guys are doing their stuff, I'll do mine and prepare the merchandise. Ola really managed to forget the vinyls of the latest EP "The Four Horsemen", but I might say in all humbleness that I organized some blue coloured vinyls from the third edition with the outstanding support of Sven from Ván Records way before to surprise the band with the third pressing and now it turns out to have been a great idea, so the fans can get their hand on these gems.
Already the soundcheck is amazing and the version of "A beam in the eye of the lord" is so majestic that I can't wait for the show tonight. Although there are some technical difficulties the band and the marvelous technicians are cool and no one gets nervous.
The next hour is spend talking and zipping a little beer and it's pointing out that Jonas and Thomas are very communicative, while Joona and Fredrik are the quiet ones and Ola once again has forgotten something in the hostel, hahaha…
At 20.00h Flo opens the doors and yes… it will be very hard for him to reach the point of break even. About 30 guys and gals find their way to the Bambi Galore and of course that's not enough to bring in his costs. Knowing that it's even more honorable that he decided to do this show.
The opening act tonight is ENDLOS. They play Black Metal, act with two singers and no bass and are very nice to watch and listen to. In February 2016 they'll release a record and I'm looking forward that. Black Metal always lived from the impetuous energy that is rooted in the youth and we get the full treatment here. They enrich their music with nice atmospheric guitar parts and even a Ska-part is implemented in the sound… strange but somehow fitting. I enjoy their show and wish them all the best with the first release!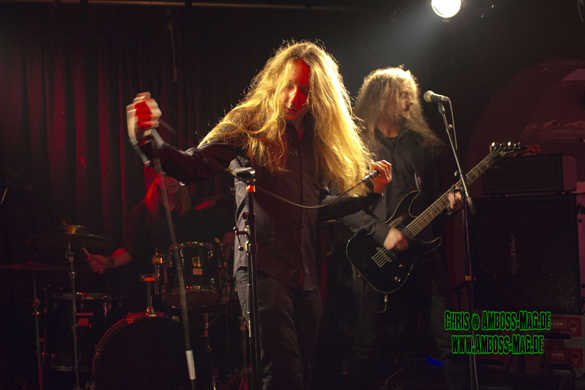 Then after a short break it's time for the people to enter the church of GRIFTEGÅRD. The Intro plays and the band starts off with "Charles Taze Russell". The mighty "A Beam in the Eye of the Lord" follows and Thomas is showing his skills and is proving my theory right, that he has to be considered as one of the best, if not THE best, singer in Doom Metal, and one of my all-time favourites "Wedded to Grief" which gives me once again goosebumps all over my body, comes up next. If there's one song that every Doomhead should know, it might be that one…but I haven't heard a weak song from them before, so put your record on the record player and decide for yourself. They go on with the massive "Paul Gustave Doré" and "The Mire" before we come to the last song of the evening. It's a new one called "A Pile of Ash" and these 30 guys in front of stage can tell their children and grandchildren that they have been there, when the band played the new song for the first time. After just one listen in a live situation I don't dare to rate it now but what's obvious, is the fact, that it has some killer melodies and several fantastic guitar parts by Jonas. I'm really looking forward the chance to see and hear the new song in the next days again and again.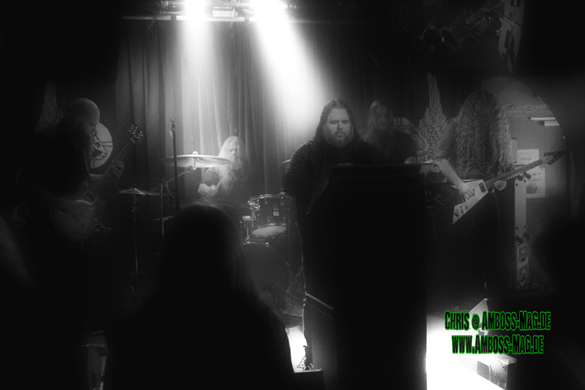 The performance is very cool and you wouldn't think that their last show before today was in May at the ACHERONTIC ARTS FESTIVAL in Oberhausen. Everything falls into place, Thomas is preaching behind his pulpit, rolling his eyes and after I spent the day with him I have to witness that something changes when he walks on stage. I was literally surprised when I saw him on stage, there was an aura, somehow different than before. Ola is the master of the majestic riff and likes to hide in the shadows while performing his art. One day I'll talk to the lightcrew and let him stand in the spotlight, just to get some nice pictures from him on stage, hahaha. Jonas and Per Broddesson (former GRIFTEGÅRD-guitarrist) have a common history that might not be perfectly harmonic but I can't deny, that they have a similar style in playing the fantastic leads and Jonas is adding his own style to the older songs and blooms on the new tune "A Pile of Ash". The same is to say about Fredrik: he's adding his own style to the drumming and gives the songs more drive in some way. A few days later he's proving my thoughts right as he tells me, how he felt as he was asked to join GRIFTEGÅRD and while doing that he speaks so respectful about Jens Gustafsson and his drumming skills that it sends shivers down my spine.
Bass players are mostly the neglected musicians in music journalism because they are not standing at the front and have not the same esteem as guitarists or singer but you can turn down all the bass from every record you hear and you'll realize how important they are. Joona is no exception: quiet in the second row but so valuable for the GRIFTEGÅRD-Sound.
After the show, which was excellent by the way, the guys and I enjoy hanging around with the crowd who's left at the Bambi Galore and share some drinks and stories. I thinks there is a kind of relief tangible in the atmosphere around everyone. Luckily we can leave our gear at the Bambi Galore and head on to our Hostel and at midnight the snoring starts… It was a long and great day on tour with these guys.
11.11.2015
I'm impressed how smooth everything works out when six people share a bathroom… no jams or something, just a relaxed mood when we get up at around 8 o'clock. At breakfast I'm impressed once again how alive the guys are and they are kidding around a lot what makes me laugh so hard, I almost choke on my breakfast. It's so much fun being with these guys, I can tell you.
The driving to Kassel is very easy, again no traffic jams or else, but these guys have always music on their minds so there's a lot of singing and humming. Jonas tells me about how he got into GRIFTEGÅRD: he was a huge fan of them before and of course he knew the guys. On one day Thomas called and asked if he wants to be in the band, but he could take a few days to think about, of course. "I didn't need more than five seconds to say that I want to be part of the band", Jonas laughs.
GOLDGRUBE, KASSEL
We arrive at the Goldgrube quite early and spend some time in a nearby bar, having a beer, until the drummer from PATH OF SAMSARA recognizes us and tells us that the club is already open for the band. We meet all the guys of PATH OF SAMSARA and at least TamTam, the organizer of the show, shows up. It's always a pleasure meeting guys whose enthusiasm is beyond belief and who keep the underground alive. I get the chance to talk to the guys from PATH OF SAMSARA and I'm surprised how young they are. When I listened to their latest record "The fiery hand" I didn't had much information and I liked it that way, so I'm stunned again. It's their first show after releasing the CD via Ván Records and I'm really looking forward their show tonight. But before that we got to eat a nice meal and I have to say it's great what these guys delivered: healthy stuff like Bananas and Apples, a great Soup and Bockwurst and some sweets for my swedes (sorry, I just had to write that one down…). When you realize that the sound in the empty hall during soundcheck is awesome you know, you're with great guys and technicians. Once again the soundcheck is flawless and we're looking really forward the show as we expect a lot of metalheads tonight. But once again I'm a little disappointed that just about 40 people will show up, BUT there couldn't be a better vibe during the shows! The audience appreciates the both shows so much and it is an awesome atmosphere; maybe the wallpaper is to blame that it feels like a comfortable gig in your own living room.
PATH OF SAMSARA delivere a great show! These guys read the handbook of being in a dark / occult Rock band very closely and built a shrine with skulls, incense and stuff which gives a nice atmosphere to the show and you can feel that they are hungry and want to go further than this.
Unfortunately I can't see a lot of the show, but I can hear the music very well and I got to say, they share awesome songs and a lot of energy with us. I'm really looking forward their show on Wednesday in Weikersheim, where I hopefully have more time to spend in front of the stage.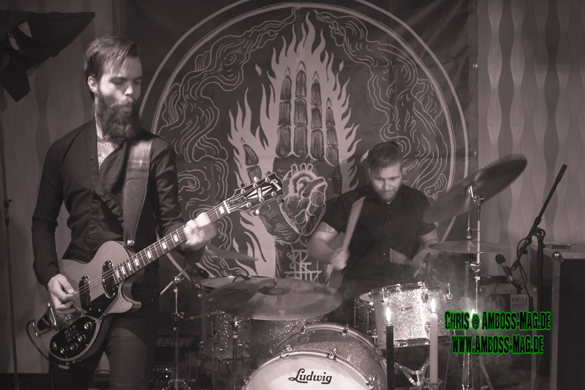 Well, the show in Hamburg was already a very good one but tonight GRIFTEGÅRD inflame the whole magic of their music. From the first note on the band is tight, the sound is very good, so you can hear Jonas solos much better than yesterday and that's a great joy. Thomas is so good, it gives the audience goosebumps all over their bodies when he sings the awesome melodies of "Wedded to Grief" or the new song "A Pile of Ash", it nothing less than magic. Tonight "A Pile of Ash" really blooms to be the highlight of the show, in my humble opinion, unless they leave the stage after the last song and the crowd is cheering constantly for about five minutes for another one.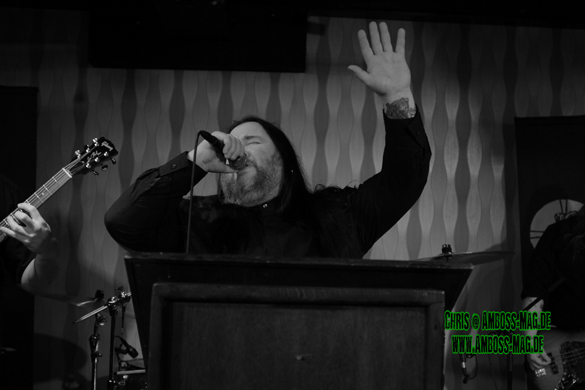 They just won't let the band leave but they have always to be careful with Thomas' voice so it seems there won't be an encore. But then all of a sudden, they reappear on stage and the crowd goes definitely nuts. So the last song of the evening will be "The Four Horsemen"! This song is a hit, but GRIFTEGÅRD made it to one of their own songs and although they hadn't played it since May in Oberhausen and unfortunately but understandably they'll do it without Farida Lemouchi and it's still awesome. The crowd is singing every word and even the oooh-ooh-ooh-oooh-chorus is sung entirely by the crowd… sorry but I think, this was the special IRON-MAIDEN-Fear-of-the-dark-moment on this tour so far and I'll treasure the image of my smiling wife and her shiny eyes forever in my heart, when they play this one. Luckily I could prevent that she runs up on stage, crooning the tune.
The song is a tribute to the dead friends Selim and Jens and if they have seen and heard this, they will be so proud about their friends, I'm sure. After the show every musician is very pleased with the show, what's kind of rare, to be honest. The fans are really excited afterwards and they are aware that they have seen something quite extraordinary tonight.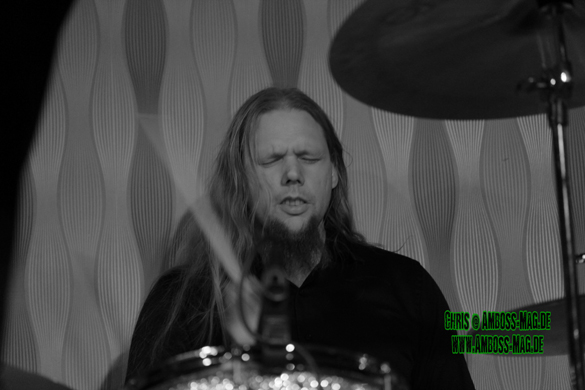 (Setlist 11.11.2015: Intro / Charles Taze Russell / A Beam in the Eye of the Lord / Paul Gustave Doré / Wedded to Grief / The Mire / A Pile of Ash / Outro / The Four Horsemen)
Unfortunately we have to load our stuff to the car this night, but still we spend enough time in the GOLDGRUBE to have a lot of chats and a few drinks.
Tonight we have a whole 3-room-appartement for us and it's one of the nicest and strangest places I've ever stayed. Arriving the place and looking to it, I thought "OK, probably you're getting killed tonight…" but inside it's a great place. One room has a comic theme, the other one has replica-nostalgic-guns on the wall and the other one, I share with Ola, is a religious room with a lot of icons and stuff. After Ola went to the toilet he asks: "Why do you shit on plates?" and he means the old toilets where your droppings don't go directly into the water… I can only guess why people built those toilets but leave my thoughts to your imagination. At about 2 o'clock we're ready to go to bed to think about this awesome show again.
12.11.2015
Because it's just another 300km drive we have quite a lot time this morning and get up at around 9.30h I guess. It feels good to start the day after a good sleep, already knowing the next days won't let us have such a great comfort.
I spend the morning folding and organizing the T-Shirts for the merchandise so I will have it a little more easier "at work" tonight. Doing the merchandise is fun because that's a great place to meet people and talk about music, I really appreciate the "job".
Ola and Thomas are organizing our breakfast and soon we're heading for a music store so Joona can buy some strings for his bass, Ola gets a second breakfast and I get Thomas some GeloRevoice from the pharmacy. The guys use the driving time wisely and sleep again, while I'm typing this.
When we arrive in Weikersheim we check in in our flat which is run by a 86 year old gentleman. The flat is awesome, has several rooms to sleep so everyone get his nice place, and tonight I will share a room with Fredrik. The people of Weikersheim are so nice, the town is so cozy and the streets are really narrow so it's difficult to drive through and find a space to park our car, but the mother in law of Eugen, the local organizer, offers us to park the car in front of their home, what is really nice!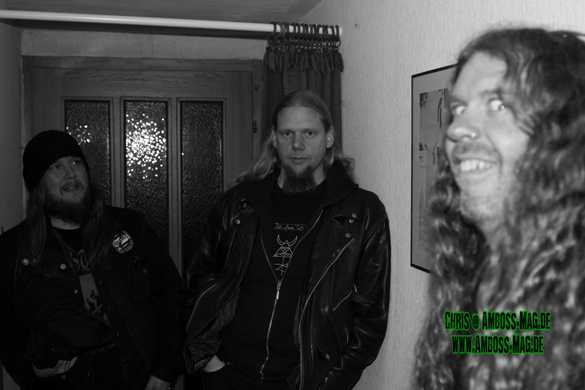 Next to our Apartment we see a very old house and everybody has the same thought: this place looks beautiful and creepy and we're sure if there's a haunted place in Weikersheim, we just found it. As we're making jokes about ghosts, Thomas warns us that it's not cool to joke about ghosts (the angry ones) but we end up making plans for a further education of the ghosts of Weikersheim, as we assume it's getting harder for them to scare people nowadays. The ghosts are invited to learn very strange noises from their Master Thomas tonight and if this doesn't scare people, then nothing does.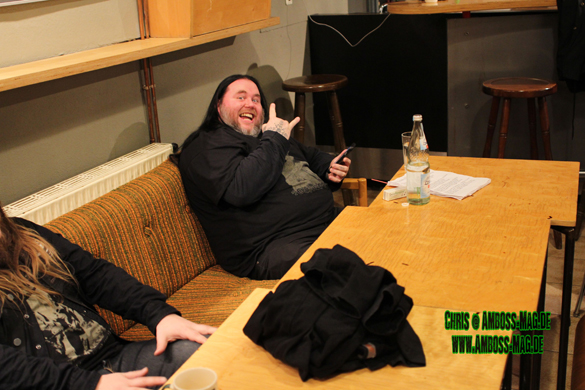 CLUB W71, WEIKERSHEIM
Club W71 looks kind of a club house but is a cool place to be, the room has a decent size and a huge stage and nice and sometimes creepy pictures at the wall.
The guys from PATH OF SAMSARA have arrived a little earlier than us and it's really nice to meet them again. Than it's business as usual: Soundcheck, preparing the merchandise, have some great dinner and some local beer. Suddenly it's time to open the doors and the first people arrive and it feels very familiar with them. It was great to see that a guy came over from Stuttgart, just to see the show!
Yesterday I promised myself to take a closer look at the PATH OF SAMSARA show and thanks to the room, I can't miss anything. And today these guys fucking rock to the maximum! After a great atmospheric intro they start rocking and once again it's quite odd to me seeing them play because they are so different characters: Guitarist N is doing the whole Rockstar thing and Pete Townsend would be proud of him and fortunately you don't have to pay an Euro every time you use his famous windmill move, hahaha. Singer and bassist B is a counterpart to that definitely: introverted like a Robert Smith from THE CURE he's handling the vocals and bass very well and it's fun to watch N drumming. One of the strength of the band is the drumming for sure, he uses the drums really well to create atmosphere and that's simply awesome. Today I realize that they sound on stage a little bit more like THE DEVIL'S BLOOD than I realized it while I was listening to their record. But it fits in great into the mood the guys can create an 60 minutes rocking pleasure.
I'm really looking forward watching them play at the HAMMER OF DOOM next week and how they will be accepted by a much bigger audience.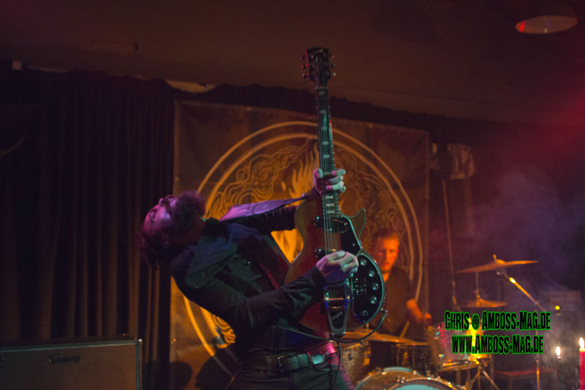 I forced the guys to write down the setlist so here's what they played live:
1. The Dawn of Saturn / 2. Prayer to my mother beyond / 3. Supernova / 4. Mahakala / 5. The Withered Tree / 6. The Altar / 7. The Fiery Hand / 8. Veil of Gold / 9. Black Lotus
After the show Eugens mother in law comes up to me and tells me a little staggered that this was way too occult for her. She has not something to do with the occult movement and so she wasn't sure, if she really liked it. Welcome to our world, nice woman!
If you have a good time, you can be sure there will be some kind of downer around the corner and tonight it's the worst thing that might ever happen: Thomas has throat problems, he's in danger of loosing his voice tonight! Thomas is a perfectionist and very sad, he has to rearrange the singing a little bit and I fear the worst for tonights show but: Thomas won't let anybody down. After the Intro fades out and the band starts again with "Charles Taze Russell" the people will just see and hear one thing: the fuckin' best singer in Doom. B (PATH OF SAMSARA) says something like: "Although he's got throat problems, he's better than most of the singers in best shape". Who am I to disagree?!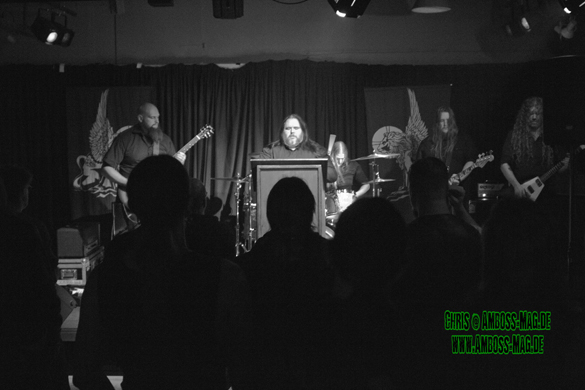 Nonetheless I realize that the guys on stage are a little more tense because we all don't know what might happen. But Thomas is a fighter and he won't let the fans down. He's definitely going to the maximum and he even finds the courage to do the encore "The Four Horsemen" for the fans! These really appreciate that and once again, no one leaves the place unsatisfied.
(Setlist 12.11.2015: Intro / Charles Taze Russell / A beam in the eye of the lord / Paul Gustave Doré / The Mire / A Pile of Ash / Wedded to grief / Outro / The Four Horsemen)
Something unexpected and kind of funny happens nonetheless… one guy, I won't tell his name, has to leave the stage to take a pee…hahaha. Never witnessed that before, but it might have been the nice local beer that was rushing through too fast.
The sound engineer Armin is a hell of a guy and he knows how to handle the sound although it is not usual to have a metal band playing here, the place is known more for Jazz or Punk concerts. But I got to say they are delivering the best sound so far, clear and heavy as shit. Tonight is also the night where we have a proper lightning, and I really appreciate that.
After the show the tension loosens and we can enjoy our local beer and some nice spirit, before we walk back to our place for the night and fall asleep more or less instantly at 2 o'clock.
13.11.2015
The night is very short: at 6.15h my alarm clock get me up and for the next hour I just walk around like a zombie… Today we have a long distance to handle. We're heading to one of the most beautiful and fascinating cities in the world: Vienna here we come! We have to leave this early because Jonas is a handsome young man who's in love and he wishes to meet his girlfriend who lives in Vienna! For the sake of love we sacrifice our holy slumber to his hormones and off we go. It's nice that Eugen, the organizer of yesterdays show, will take the trip to Vienna with us because he will attend the DOOM OVER VIENNA festival, too. He directs us to a nice restaurant in Austria where we will have a fucking great meal and such a good time. During the drive to this place no one really talked a lot, but we catch up the lack of conversation while sitting at the table and joking around all the time.
When we arrive to Vienna I'm just getting into a very sad mood. I've got some several friends living here but I didn't manage to make up with them, which makes me really sad but it gets much worse. A good friend of mine is called Ludwig and he had an accident a few months ago and now he's dwelling between life and death, he's in a coma. Suddenly I saw advertisements for an austrian furniture shop called "Ludwig" with a directional arrow under the name. It's so hard trying not to believe that some force is taunting me with that. It might be the lack of sleep but I start to feel so miserable and helpless thinking about my friend and watching these signs that seem to tell me that there's a way to find him, but I can't. But the cream on top is that Thomas puts on the WARNING record "Watching from a distance" which always touches my heart so powerful and I feared so much that we'll hear the song "Faces" because if we would, I think I would have embarrassed the guys in the car with an outburst of grief beyond belief. To my luck Thomas stops playing that record during the song "Bridges"… and so I just could hide away some tears. I'm sure I would have been in good company if I completely lost it, but I'm glad I had not to bother my friends with that in the car.
At 16.30h we arrive at the Hostel in Vienna and have to organize a place for our car, which takes a long time. But finally Ola and I get it done very well but after the "Ludwig" incident and the long search for a parking place I think I just need some time alone and a drink, but the company of Joona, Fredrik and Jack Daniels at the bar was really helpful to calm down a little bit. After that we sit down with Ola and fool around until it's time to leave. I wish I could tell you everything we talked about, but that would be way too much for this diary, unfortunately.
DOOM OVER VIENNA, VIENNA, VIPER ROOM
Generally everything is fine but the lack of sleep and the parking situation is a pain in the ass, so it's awesome that Jürgen, the organizer of the DOOM OVER VIENNA, drives away his car so we have a proper space. Unloading the car is a bitch because you have to take so many stairs downwards and that's not very comfortable when you're carrying some stuff.
Due to the fact it's a festival I prepare the merchandise instantly but have not really a chance to see any of these bands but EARTHSHIP sounds nice and for EPITAPH I take a break… well Jonas would say "one of my way too many breaks this evening" and he thinks about to cut down my non-existing salary. Because I'm feeling guilty of taking breaks (and I even took s shit!) we agree that he can keep 50% of nothing, so we both are happy now.
EPITAPH are once again a fantastic band and nice people. Their Doom kicks ass and Emiliano once again is very entertaining doing his show. The other guys have fun too and play a really great set and although I just can watch two songs (before Jonas spots me hidden in the crowd me and commands me to the merch immediately) but it's a great pleasure listening to the rest of the show.
The GRIFTEGÅRD show seems to been born under a not-so-lucky star. No soundcheck, starting 1 hour late, far too little light on stage and a sound engineer who has slightly lost control over everything is causing difficulties on stage. Ola gets totally out of balance (like he said) and one or two times not everything is perfect in timing, but seriously: the guys in front of the stage didn't notice any of that. And that's ok, because it's not important. All the difficulties are a result of some technical issues and inconveniences but the band is in a good shape and touched by the enthusiastic reactions of the crowd. Thomas' voice seems to be recovered to a certain point so he sings very, very powerful tonight. The setlist is Intro / Charles Taze Russell / A Beam in the Eye of the Lord / Paul Gustave Doré / Wedded to Grief / The Mire / A Pile of Ash / The Four Horsemen and I have to say, that "A Pile of Ash" is just a killer! I had the privilege and joy to listen to it 4 times and I tell you, that this will be a huge hit, just as "The Four Horsemen" already is, which is played again as the encore. The sound in the middle of the hall is really great and the lightning was nice and the most important thing: the fans really enjoyed the show!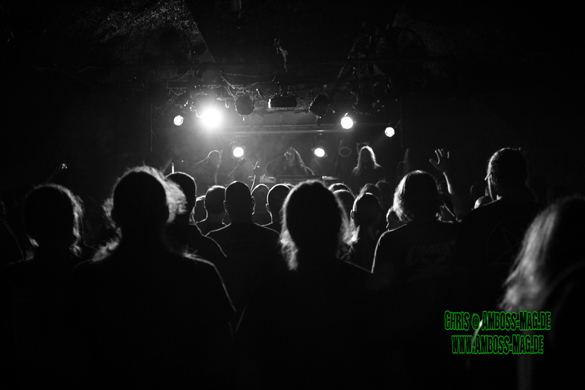 It is so fucking sad that Jürgen (DOOM OVER VIENNA) wrote after the festival via facebook, that not so many people showed up this weekend (maybe 120 on friday?), that it might have been the last DOOM OVER VIENNA! Unfortunately that fits with my personal observations and fear, that the club and underground culture dwells in troubled times right now.
After the gig Ola is really upset about the whole show, but he is gentleman enough not to show it to the other people, while the other guys agree that it was little strange sometimes but a great show, nonetheless. As we drive home the mood is a little darker than on other days but Thomas cheers us up with his Eros Ramazotti impersonation and after a really long day we get to bed at about 3 o'clock…
14.11.2015
…just to get up 3 hours later and take another hilarious ride. This time it's a massive 8 hour ride through Austria, Czech Republic and Germany. Fredrik and Ola can be considered as the heroes of the day as they take us to Berlin very smoothly.
The massive terrorist attacks in Paris leave their impact on us and I really feel a little strange. I feel sorry for the killed and wounded people and the hostages who feared for their lives. It's so hard to imagine what it must feels like if you're at a show, enjoying the music and these degenerated motherfuckers have to spread their hate. Basically I can't imagine, because it's beyond my imagination. I hope the retarded brainless shitheads will learn that we can live together, no matter what kind of race, colour, religion and taste of music you have. And if they won't understand that: I hope they all will kill themselves in a quiet place, maybe a field or in the woods. Just try your suicide belt in the nature with no people around, I wouldn't care. But one last thing: people like you will never go to paradise, because there is no paradise (surprise, you fuckers!). I hope all the deluded people will end up in a special version of eternity and that should be like Mallorca in the summer with thousands of people drinking Sangria and dancing and listening to really bad party music all the time. That would be the right place for you motherfuckers. Go to hell.
We're happy when we finally reach the K17 in Berlin. The crew is very cool and nice to us and as soon as we unloaded the car we get some dinner and have a beer that activates our hidden energy resources. The club is well known and the sound engineers know what they are doing so the sound is really well during the soundcheck by ALBEZ DUZ and EVIL SPIRIT.
K17, BERLIN
Tonight we have some friends showing up and we're happy to meet our friend Malte and my wife Kathy again and even Götz (DEAF FOREVER) shows up. One thing that really annoys me is that we have to leave the hall until 22.30h because then starts a Metal Disco. On the one hand it's nice to get the little chance to get some sleep finally but GRIFTEGÅRD have to cut their show. Personally I'm not satisfied with that decision but for the sake of Thomas' voice the band agrees.
About 50 people show up tonight and I don't know if it's ok. Of course it might have been more all the tour along but what can you do?! It's hard to activate the people nowadays to visit a live show and to my dismay Joona shows me after the gig the queue of people who want to go to the Metal Disco… That's when we realize that live music sucks and it's better to hear some music on CD instead to get to the place three hours earlier and watch three great bands playing their asses off!
And actually they do: the opening band is EVIL SPIRIT and they're really cool. They play great doom and do it very oldschool and I like their show. Nice and rare to see that the drummer is singing, too. I thinks that's quite hard to handle, but he really sounds great.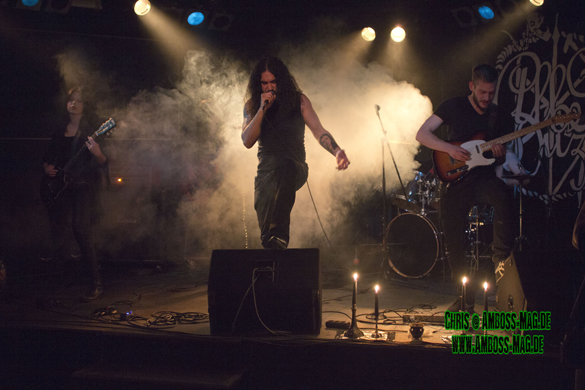 Next band is ALBEZ DUZ and there's a buzz around them in the forums and magazines and actually they are really cool, too. To me personally it's kind of hard because I want to do so much things at the same time but doing the Merchandise for my friends is always number one so I really can't concentrate good enough on the shows of EVIL SPIRIT and ALBEZ DUZ tonight to write a proper review and I hope you'll forgive me that, but thanks to my great wife who's helping me out at the merchandise I can enjoy the last show of this tour in its entirety, although it had been cut. Every minute of a GRIFTEGÅRD show is a moment to treasure and remember and this is what I'll do. The massive "Charles Taze Russel" is followed by "A Beam in the Eye of the Lord" and "Paul Gustave Doré". After 4 shows in a row, I'm sure that "A Pile of Ash" will be the best song of GRIFTEGÅRD so far. It's so unbelievably majestic, the different melodies have been born out of beauty and the guitar parts by Jonas are simply amazing and he plays them with so much feeling that you can't withdraw the beauty in sadness and grief. The last song is "The Mire" and it's sad that it'll the last song I hear until the HELL OVER HAMMABURG in 2016 and our trip will come to an end… but before that Kathy and I are forced to remove that merchandise while the band is still playing but I think we did well selling stuff out of the boxes and didn't let anybody down who wanted a memorabilia of this remarkable night.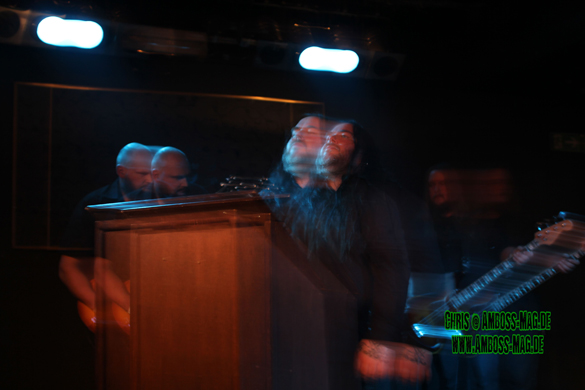 After the show the band is storing their instruments and we decide to head to our place to get some rest, because Ola, Thomas, Fredrik, Jonas and Joona have to leave at 6 o'clock in the morning to catch their ferry. But when it comes to parking, Berlin is a fuckin' bitch. In front of our hostel there is no chance and we have to cruise around for eternity. At the end of this odyssey Fredrik decides to sleep in the car to have an eye on the gear because the parking lot is too far away to get the bus unloaded and to save time in the morning. Ola can't stand the thought of leaving him alone and decides to sleep in the car, too. Jonas, Joona, Thomas and I use the privilege to walk to the hostel but honestly I think, sleeping in the car couldn't be worse as the hostel is on a 0-star-level and I don't really dare to take a shower.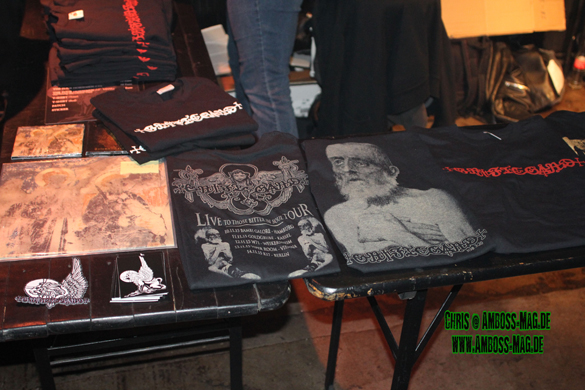 THE EPILOGUE
Again, after about four hours of slumber (or as Ola said "micro-sleep") we get up again but this time it's for a sad reason. We have to part ways. While I have the privilege to be home after a three hour ride, Ola, Thomas, Jonas, Joona and Fredrik have to go on for many hours, but they booked some bunks at the ferry, so I really hope they'll find some rest.
Touring was like I expected, but still a little different. As we got to the locations after some long rides we didn't have much time to watch something except some restaurants and creepy places like in Weikersheim, which really left a big impact on me. When we arrived, we used the time just being comfortable and stressless and that worked out really fine. I had some high ambitions before going on tour, but when you just get in the mood, you simply can enjoy the time being. I also learned on a personal level, that having too much thoughts about something that already hasn't occurred is not a healthy way of living. Well, I knew before, but with these guys I really learned, what that means. I hope I can transfer this knowledge to my everyday life.
To resume my thoughts about the tour, I have to say that's it's sad that not more people showed up. Not basically for money reasons at first hand, but I'm more convinced than ever, that GRIFTEGÅRD is an awesome band and they did never fail on stage. (Yeah Ola, Doom Over Vienna doesn't count; it wasn't your fault!) Even while Thomas' voice was at a critical stage they delivered so well, that everybody who saw them was astonished by this great music at all. Being at the Merchandise gave me the chance to talk to a lot of people after the shows and I can't describe their looks in their eyes and their enthusiasm when they talked about the show. And I only wish we could have reached more peoples hearts and enriched their lives because this is actually what these five guys did.
On the other hand it's of course about the money. But this time I have the organizers in my mind! To get financially even there were not enough people around. But if we all want to go to a nice underground show in the next five or ten years, we have to get our asses up and walk to the great locations! Forget TV, forget your smartphones, enjoy yourself while watching a great band playing for you! Don't just go to shows of bands you like, try new ones! In big citys like Hamburg or Berlin it's possible because there are so many clubs. Go there and have a great time! Go there before you'll attend a soulless presentation of music at a Metal Disco. It won't hurt, believe me.
I want to say THANK YOU to every organizer and everyone who worked for and with them on this great tour! Without your support and kindness and enthusiasm all this wouldn't have been possible!
I want to say THANK YOU to everyone who showed up! You guys fuckin' rule! Next time, bring your friends, hahaha!
At last I want to say a big THANK YOU to "my guys". I feel so privileged to have been part of this tour. It surely enriched my life big time and I will treasure all these silly and serious moments we shared until dementia might erase it. You're the kindest guys I've ever met and it feels so precious to know you and to call you my friends (if you want that or not, hahaha…). You're my preciousss…. ya know.
Or just like Götz summarized when I was making a five minute monologue to him about being on the road with you: I love you, guys! (chris)
********************************************************************
PROLOG
Wer hat nicht einmal davon geträumt, mit einer Band, die man liebt, auf Tour zu gehen? Besonders, wenn man nebenbei diese Erfahrung noch für ein Magazin nutzen kann? Und ganz besonders, wenn man die Bandmitglieder zum Teil schon kennt und seine Freunde nennen darf? Ich denke, jeder hat schon mal von so einer Chance geträumt und durch einige glückliche Zufälle, wird dieser Traum demnächst für mich wahr! Obwohl es sich zurzeit noch sehr unwirklich anfühlt.
GRIFTEGÅRD ist eine meiner Lieblingsband aller Zeiten und mit Ola Blomkvist und Thomas Sabbathi bin ich seit 2009 befreundet; Fredrik Hellerström durfte ich 2012 während eines Schweden-Urlaubs kennenlernen und Joona Hassinen und Jonas Mattson habe ich auf dem ACHERONTIC ARTS-Festival kennen gelernt, aber da haben wir uns nur mal kurz zugenickt und zugeprostet… aber ich denke, wir werden in den nächsten fünf Tagen genug Zeit haben.
Als Ola mir vor einigen Monaten erzählte, dass sie auf dem Weg nach Wien zum DOOM OVER VIENNA nach einigen Gigs suchen, habe ich in meinem spätjugendlichen Leichtsinn meine Hilfe und Unterstützung angeboten und wollte einige Kontaktpersonen ansprechen. Natürlich habe ich auch darüber hinaus meine Hilfe angeboten und plötzlich und unerwartet war ich Teil der Gang und sollte mich um das Merchandise kümmern. Generell ist es ja auch nicht schlecht, wenn man einen Einheimischen an der Hand hat, der hilft, sofern es in seinen bescheidenen Möglichkeiten steht.
Falls jemand also einen absolut objektiven Bericht erwartet, das wird wohl nichts. Aber ich verspreche euch, dass ich meine ganz persönlichen Eindrücke, meine Gefühle aufschreiben werde und festhalte, wie es sich anfühlt, meiner einer begnadeten Band "on the road" zu sein. Selbstverständlich bin ich etwas befangen, was die Band angeht; aber welcher Fan ist das nicht?! Ich habe Ola vor einiger Zeit mal versichert, dass ich mit meiner Meinung nicht hinterm Berge halte, wenn sie mal Mist verzapfen; aber ich habe sie bereits einige Male live gesehen und sie haben immer überzeugt und ich glaube nicht, dass sie das auf ihrer Headliner-Tour im November ändern werden.
Bei meinem nächsten Gedanken geht es nicht unbedingt um GRIFTEGÅRD, sondern um alle Bands, die auf Tour gehen. Jeder Musiker unter euch weiß es längst und ich kann euch sagen: du kannst die feinsten Songs aufnehmen, dein Debütalbum kann vom DEAF FOREVER unter die 50 besten Alben gewählt werden, deine Shows können regelmäßig die Fans begeistern… aber eine Tour zu organisieren ist ein echter Kampf. Denkt daran, wenn ihr das nächste Mal zu einem Underground-Konzert geht: die Bands geben bereits im Vorfeld alles, investieren Unmengen an Zeit und Enthusiasmus, um uns unsere Lieblingsmusik vor die Haustür (im besten Falle) zu bringen. "Auf Tour gehen" klingt nach einer Menge Spaß und sollte auch eine Art Urlaub und Flucht aus dem Alltag darstellen, aber es ist bereits im Vorfeld echt harte Arbeit. Allein das Klinkenputzen, um an gute Auftrittsmöglichkeiten zu kommen ist extrem zeit- und nervenraubend. Ich möchte mich wahrlich beschweren oder jammern, aber so ist die Realität. Also, wenn ihr die Chance habt, auf kleine Konzerte zu gehen: macht es! Jeder, der vorbeischaut ist wichtig… IHR seid wichtig!
Während ich ein wenig beim Booking unterstützt habe, war schnell klar, dass es zwei Sorten von Veranstaltern gibt… Nummero Uno: es geht ums Business. Wenn du im Vorfeld nicht an Eides statt versichern kannst, dass eine Mindestzahl an Gästen aufschlagen wird, bist du raus. Das ist zwar schrecklich unromantisch, aber schließlich verdienen die Clubs damit ihr Geld, also was soll's. Zur zweiten Sorte zählen die Verrückten, die Metalheads und Enthusiasten dieses Planeten, die Musik im Allgemeinen und die bestimmte Band im Besonderen zu schätzen wissen und ihrerseits Zeit und Geld investieren, um die Bands auf die Bühnen zu bringen. Allen Leuten, die den Mut hatten, die Shows zu veranstalten, rufe ich ein fettes "FUCK YEAH! YOU RULE!" entgegen!
DAS TREFFEN, 10.11.2015
Als ich am Dienstag um 6.00h aufwache, sind die Jungs von GRIFTEGÅRD bereits seit einer Stunde in Richtung Hamburg unterwegs. Meine eigene Anreise verläuft reibungslos, mal von einer saftigen Verspätung bei der Deutschen Bahn abgesehen und es immer wieder spannend zu sehen, was man für Menschen trifft, wenn man die Grenzen des Dorfes überquert. Zum Beispiel die nette Dame, die mich am Hamburger Hauptbahnhof anspricht und um Feuer bittet und dafür ihre, bis auf 2 Zigaretten, volle Schachtel mitgibt, damit ich sie davor bewahre, noch weiter zu rauchen. Zusammen schauen wir uns die Flüchtlingslage an und tauschen unsere Gedanken dazu aus.
Vom Bahnhof ist es mit der U-Bahn nur ein Katzensprung zur Haltestelle Billstedt und ich erreiche das Bambi Galore viel zu früh und entscheide mich, erst mal in dem nahegelegenen Bistro ein Bierchen zu mir zu nehmen und teile meine Hoffnungen und Sorgen bezüglich der anstehenden Tour mit dem netten Chef des Bistros. Plötzlich sehe ich, dass draußen ein Wagen immer wieder vorbeikommt und erkenne, dass er ein schwedisches Kennzeichen hat. Also nichts wie raus und schlussendlich treffen wir uns. Es freut mich, dass alle gesund aussehen, auch wenn jeder etwas müde von der langen Fahrt ist.
BAMBI GALORE, HAMBURG
Gemeinsam gehen wir in das Bambi Galore und treffen den Veranstalter des Abends, Florian, der den Mut hat, eine Band am Dienstag Abend auftreten zu lassen, obwohl er sich denken kann, dass es bestenfalls Plus-Minus-Null ausgehen kann.
Wir entladen zuerst den Bus (ein Neunsitzer von Renault) und als wir damit fertig sind, ist es auch unser Abendessen. Gemeinsam stärken wir uns und und sofort fängt die Unterhaltung an und es fühlt sich großartig an, mit den Jungs zusammen zu sein. Die fünf Kerle geben mir von der ersten Sekunde an ein gutes Gefühl… Nice boys don't play Rock'n'Roll, they play Doom Metal.
Anschließend fahren wir zu unserer Unterkunft in der örtlichen Jugendherberge. Sechs kräftige Kerle, ein Zimmer und wir werden an der Rezeption angebellt, dass wir unsere Betten selber beziehen müssen und gefälligst morgen früh abzuziehen haben. Wir leben halt den Rock'n'Roll-Traum, Leute! Nach einer kleinen Ruhepause fahren wir zurück in den Club und während die Jungs alles für den Soundcheck vorbereiten, nutze ich die Zeit, um den Merchandise-Stand herzurichten. Irgendwie hat Ola es geschafft, die "The Four Horsemen"-EP auf Vinyl zu Hause zu vergessen, aber in aller Bescheidenheit darf ich die Geschichte erzählen, dass ich im Vorfeld Sven von Ván Records kontaktiert habe und er mir einige Exemplare der dritten Pressung (blaues Vinyl) zur Verfügung gestellt hat! Ich danke Sven von ganzem Herzen für seine großartige Unterstützung! Es sollte eigentlich nur eine kleine Überraschung für die Band sein, aber es scheint, dass wir mit der Aktion genau richtig gelegen haben und nun die Fans das Kleinod auf Tour mitnehmen können.
Allein beim Soundcheck haut es mich aus den Socken, als die Band "A Beam in the Eye of the Lord" in voller Länge zelebriert und ich die Show heute Abend kaum noch erwarten kann. Kleinere technische Probleme werden mit einer Zen-mäßigen Geduld ertragen, aber es dauert nicht lange, bis die Soundtechniker alles im Griff haben. Die nächste Stunde vergeht wie im Flug, wie nuckeln einige Bierchen und ich erkenne schnell, dass Jonas und Thomas sehr kommunikativ sind, während Fredrik und Joona sich eher im Hintergrund halten. Und Ola? Der hat schon wieder etwas in der Jugendherberge vergessen, hahaha.
Um 20.00 Uhr öffnet Florian die Pforten und … jau, das wird kein leichter Abend für ihn als Veranstalter. Ungefähr 30 Leute finden sich im Club ein und natürlich wird das nicht reichen, um die Kosten für ihn zu decken. Mit dem Wissen ist es umso ehrenwerter, dass er diese Show mit uns durchzieht.
Der Opener des Abends ist ENDLOS, die Black Metal spielen und zwei Sänger, aber keinen Bass haben. Es macht Spaß der Band zuzuhören und im Februar 2016 wird das erste Album veröffentlicht, worauf ich jetzt schon gespannt bin. Black Metal lebt immer zu einem gewissen Grad von der unbändigen Energie, die in der Jugend verwurzelt ist und damit werden wir heute reichlich verwöhnt. Sie reichern ihren Sound mit feinen atmosphärischen Parts und sogar einer Prise Ska an. Klingt komisch, aber irgendwie passt es auf seltsame Weise. Ich genieße den Auftritt und drücke für den Release des ersten Albums die Daumen.
Danach wird es aber Zeit, die Kirche GRIFTEGÅRDs zu betreten. Die Band startet mit "Charles Taze Russel". Das majestätische "A Beam in the Eye of the Lord" folgt und Thomas zeigt, was er kann und bestätigt damit meine These, dass er einer der besten, wenn nicht DER beste Sänger im Doom Metal ist. Anschließend folgt gleich mein Lieblingssong (bis zum Ende der Tour) "Wedded to Grief", wobei ich wieder endlose Gänsehaut am ganzen Körper verspüre. Wer GRIFTEGÅRD kennenlernen möchte, sollte sich diesen Song anhören; allerdings kenne ich keinen schwachen Song von ihnen, also legt das Album auf und entscheidet selbst. Es geht weiter mit dem mächtigen "Paul Gustave Doré" (von Thomas immer nur als "Doré" angekündigt) und "The Mire" bevor wir schon zum letzten Song des Abends kommen: ein neuer Song namens "A Pile of Ash"! Die 30 Leute vor der Bühne können ihren Kindern und Enkelkindern erzählen, dass sie dabei waren, als die legendären GRIFTEGÅRD den Song zum allerersten Mal aufgeführt haben. Nach nur einem Hördurchgang auf einem Konzert ist es noch zu früh, etwas dazu zu sagen, aber offensichtlich hat man hier einen Meilenstein im Gepäck, der vor unglaublichen Melodien und einigen großartigen Gitarrenparts von Jonas nur so strotzt. Ich freu ich wie bekloppt auf die Chance, den Song noch vier Mal erleben zu dürfen!
Der Auftritt war schon wirklich gut, wenn man bedenkt, dass die Band das letzte mal auf dem ACHERONTIC ARTS-Festival gemeinsam auf der Bühne stand! Alles passt perfekt zusammen und Thomas predigt von seiner Kanzel herab, rollt mit den Augen und nachdem ich einen halben Tag mit ihm verbracht habe, komme ich nicht umhin zu bemerken, dass etwas mit ihm passiert, wenn er die Bühne betritt. Ich war richtiggehend überrascht, als ich ihn auf der Bühne gesehen habe und seine Aura eine ganz andere war, als zuvor.
Ola ist der Meister des majestätischen Riffs und wie immer bevorzugt er es, in den Schatten zu kauern und seine Kunst auszuüben. Eines Tages gebe ich der Lichtcrew 'n Fuffi und sie sollen ihn mal mit einem fetten Spot verfolgen, damit ich mal anständige Fotos von ihm schießen kann. Jonas und sein Vorgänger Per Broddesson haben eine gemeinsame, nicht zwingend harmonische Vergangenheit, aber es ist nicht von der Hand zu weisen, dass beide einen sehr ähnlichen Stil haben, wenn sie die unglaublichen Gitarrenleads spielen. Jonas fügt zu den alten Songs seine eigene Handschrift hinzu und bei dem neuen Song blüht er regelrecht auf.
Gleiches gilt auch für Fredrik: er fügt auch beim Drumming seine eigene Art hinzu und gibt den Songs dadurch etwas mehr Drive, wie ich finde. Einige Tage später wird er meine Gedanken bestätigen, als er mir erzählt, wie es sich angefühlt hat, für den verstorbenen Jens Gustafsson einzusteigen. Dabei spricht er so unglaublich respektvoll von Jens persönlich und seiner Art Schlagzeug zu spielen, dass es mir eiskalt den Rücken runterläuft.
Bassisten sind oftmals die vernachlässigten Kinder der Musikjournalisten, weil sie nicht im Rampenlicht stehen und nicht die Reputation eines Sängers oder Gitarristen besitzen, aber ihre könnt aus allen Platten, die ihr hört, ja mal die Bässe rausdrehen und dann versteht man, wie wichtig Bassisten sind. Joona ist da keine Ausnahme: still in der zweiten Reihe und doch so wichtig für den Sound der Band.
Nach der guten Show hängen wir noch im Bambi Galore ab und reden und trinken mit den übriggebliebenen Fans und der Crew. Man kann die Erleichterung, den ersten Gig erfolgreich hinter sich gebracht zu haben, förmlich spüren. Glücklicher Weise können wir das Equipment im Bambi Galore stehen lassen und fahren zu unserer Jugendherberge und bereits um Mitternacht geht das große Schnarchen los. Das war ein großartiger erster Tag mit den Jungs auf Tour.
11.11.2015
Ich bin sehr überrascht, wie locker-flockig alles vonstatten geht, wenn sich sechs Leute ein Badezimmer teilen, denn es gibt keine Staus oder Verzögerungen, als wir uns um 8.00h aus den Federn rollen. Beim Frühstück bin ich wiederum überrascht, wie gut drauf die Rasselbande schon ist und wie man so früh morgens schon so albern sein kann. Aber die Jungs bringen mich so dermaßen zum Lachen, dass ich drohe, an meinem Frühstücksbrötchen zu ersticken.
Die Fahrt nach Kassel läuft ohne nennenswerte Komplikationen, keine Staus oder sonstige Zwischenfälle, aber dafür mit viel Musik. Wenn mal nichts über die Anlage läuft, summt oder singt immer irgendwer schreckliche Songs, hahaha… Jonas erzählt mir nebenbei, wie er zu GRIFTEGÅRD gekommen ist: er war vor seinem Einstieg schon ein großer Fan der Band und eines Tages hat Thomas angerufen und gefragt, ob er sich vorstellen könnte, in die Band einzusteigen. Natürlich könne er sich das ganze einige Tage überlegen. "Ich habe keine fünf Sekunden gebraucht, um zuzusagen!" lacht Jonas.
GOLDGRUBE, KASSEL
Wir erreichen die Goldgrube schon recht früh, so dass wir uns in der nahegelegenen Pinte zum Zeitvertreib ein Getränk gönnen, bis B. (Drummer von PATH OF SAMSARA) uns erkennt und mitteilt, dass die Goldgrube bereits für die Bands geöffnet hat. Wir treffen also die anderen Jungs von PATH OF SAMSARA und TamTam, den Veranstalter des Abends. Es ist immer inspirierend, solche Menschen zu treffen, die mit ihrem Enthusiasmus den Untergrund am Laufen halten.
Ich gönne mir einen ersten Schnack mit den Jungs von PATH OF SAMSARA und bin beinahe erschüttert, wie Jung die Burschen sind! Als ich die Promo zu ihrer neuen CD "The fiery Hand" bekommen habe, fuhr man eine Null-Info-Politik und so kommt das doch etwas überraschend für mich, denn die Band klingt eindeutig anders, als sie aussieht, hahaha. Es ist das erste Mal, dass sie nach der Veröffentlichung auf eine Bühne steigen und ich bin sehr gespannt, wie es wohl wird.
Aber bevor es losgeht wollen wir uns stärken und es ist toll, was TamTam und seine Crew für uns vorbereitet haben: selbstgemachte Kartoffelsuppe, Bockwürste, gesunder Kram wie Äpfel und Bananen und Süßigkeiten (…Sweets for my Swedes…). Großartig!
Wenn man schon beim Soundcheck in dem leeren Club einen großartigen Sound hat, kann man sich entspannt zurücklehnen, denn dann hat der Soundmischer wirklich alles im Griff. Der Soundcheck selbst verläuft wieder völlig reibungslos und ich freue mich sehr auf den Abend, denn Kassel ist eine feine Metalhochburg und ich erwarte eine stattliche Anzahl an Fans… aber ich werde enttäuscht, dass sich maximal 40 Leute in der Goldgrube einfinden. Allerdings könnte die Stimmung bei einem Doom-Konzert kaum besser sein! Die Fans feiern die Bands ab und vielleicht liegt es an der schicken Tapete, dass man sich vorkommt, als würde die Band in deinem Wohnzimmer spielen.
PATH OF SAMSARA liefern heute ordentlich ab und die Fans danken es mit immer stärkerem Applaus. Das "Handbuch für okkulte Rockbands" hat die Band jedenfalls ausgiebig studiert und baut einen kleinen Schrein mit Schädeln, Schalen und Weihrauch auf, was dem Gig eine angenehme Atmosphäre verleiht. Man merkt, dass die Band wirklich hungrig ist und noch nach Höherem strebt. Leider kann ich heute nicht viel von dem Gig sehen, aber ich kann gut hören sie können mit großartigen Songs und einer Menge Energie punkten. Ich freu mich jetzt schon auf den Gig in Weikersheim, bei dem ich hoffentlich mehr Zeit vor der Bühne verbringen kann.
Der GRIFTEGÅRD-Auftritt in Hamburg war schon sehr gut, aber heute entfalten sie ihre Magie vollends! Von der ersten Note an ist die Band absolut drin, der Sound ist klasse und man hört Jonas' Solos heute noch etwas besser, als in Hamburg. Thomas ist ebenfalls in Hochform und die Menge bekommt eine Gänsehaut nach der anderen, wenn er die Melodien von "Wedded to Grief" oder "A Pile of Ash" singt. Das ist pure Magie! Heute mausert sich "A Pile of Ash" auch zum absoluten Highlight des Abends und als die Band die Bühne verlässt, lassen die Jünger nicht locker und fordern ungefähr 5 Minuten lang eine Zugabe. Es dauert so lange, weil die Band sich unsicher ist, ob sie nochmal herauskommen soll, da der Song, der nun kommen könnte, das letzte Mal gemeinsam beim ACHERONTIC ARTS-Festival gespielt wurde. Aber sie kommen zurück, die Menge flippt aus und wir bekommen "The Four Horsemen", natürlich ohne Farida, aber Thomas meistert alle Strophen verdammt gut. Noch bevor Thomas den Ooh-ooh-oooh-oh-Part anstimmen kann, übernimmt das Publikum diese Aufgabe mit Wonne und ich habe einen verdammten IRON-MAIDEN-FEAR-of-the-dark-Moment. Den Anblick meiner zugereisten Gattin werde ich wohl nie vergessen, als sie strahlend und mit glänzenden Augen jedes Wort mitsingt. Zum Glück für alle Anwesenden kann ich sie davon abhalten, auf die Bühne zu stürmen, um Faridas Parts zu übernehmen. Dankt mir, in dem ihr mir ein Bier ausgebt…
"The Four Horsemen" ist ein Tribut an Selim Lemouchi und Jens Gustafsson und wenn die beiden sehen, was hier heute Abend ihnen zu Ehren passiert, werden sie sehr stolz auf ihre Freunde sein. Nach der Show sind sogar die Musiker extrem zufrieden, was nach meiner Erfahrung eine sehr seltene Sache ist. Die Fans sind auch nach der Show sehr aufgepusht und sich durchaus bewusst, dass sie heute einen wirklich magischen Moment erlebt haben.
(Setlist 11.11.2015: Intro / Charles Taze Russell / A Beam in the Eys of the Lord / Paul Gustave Doré / Wedded to Grief / The Mire / A Pile of Ash / Outro / The Four Horsemen)
Leider müssen wir noch am Abend das Equipment einpacken, aber wir finden danach noch genug Zeit, um bei dem einen oder anderen Getränk in der Goldgrube abzuhängen und zu quatschen.
Heute schlafen wir in einem 3-Zimmer-Appartment und als wir nachts ankommen denke ich, dass es ziemlich wahrscheinlich ist, heute Nacht ausgeraubt zu werden, aber daran ist wohl die Nacht und das Bier schuld. Innen ist es der Hammer: jedes Zimmer hat ein anderes Thema: ein Comic-Zimmer, ein anderes ist mit Nachbildungen alter Waffen und erlegten Stofftieren geschmückt und das dritte, welches ich mir heute mit Ola teile, ist ein (anti)religiös eingerichteter Raum mit vielen Ikonen, Kreuzen und so. Nachdem Ola vom Klo kommt, stellt er mir die Frage: "Warum kackt ihr in Deutschland immer auf einen Teller?" Ich muss kurz überlegen und dann weiß ich, was er meint: die alten Toiletten, bei denen der Scheiß nicht gleich im Wasser verschwindet… ich kann nur raten, warum man die Schüsseln früher so gebaut hat, aber unsere gemeinsamen Gedanken darüber überlasse ich lieber eurer Fantasie. Es ist etwa 2.00h, als wir uns hinlegen und den Tag noch einmal Revue passieren lassen.
12.11.2015
Da es nur eine 300km-Fahrt bis nach Weikersheim ist, gönnen wir uns Schlaf bis um 9.30h… was für ein Luxus! Es fühlt sich gut an, so ausgeschlafen in den Tag zu starten, vor allem, wenn man schon weiß, dass dieser Luxus in den nächsten Tagen durch Abwesenheit glänzen wird. Während Ola und Thomas sich um das Frühstück kümmern, falte ich T-Shirts (meine Frau wäre stolz auf mich), damit ich es heute auf der "Arbeit" etwas leichter habe. Den Merchandise-Stand zu besetzen macht unglaublich Spaß, denn man lernt so viele tolle Leute kennen und kann sich wunderbar über Musik austauschen. Ich liebe es!
Als wir aufbrechen, halten wir kurz in der Stadt, damit Ola sich ein zweites Frühstück, Joona sich neue Basssaiten und ich für Thomas GeloRevoice besorgen kann. Die Fahrtzeit wird weise genutzt: die meisten schlafen und ich tippe diese Zeilen.
In Weikersheim angekommen, begeben wir uns zur Ferienwohnung, die von einem 86jährigen Herrn geführt wird und ich werde als Dolmetscher eingesetzt… wobei ich meinerseits einen Dolmetscher benötigen würde, hahaha. Die Wohnung ist klasse, es gibt mehrere Zimmer und heute teile ich mir eins mit Fredrik. Die Menschen in Weikersheim sind absolut großartig! Die Straßen dieser gemütlichen Stadt sind verdammt eng und wieder einmal suchen wir einen Parkplatz, aber Rettung naht. Die Schwiegermama von Eugen, dem heutigen Veranstalter, lädt uns ein, vor ihrem Haus zu parken und fährt extra für uns ihr Auto weg. Das Angebot wird prompt genutzt und ich danke noch mal ganz herzlich!
Neben unserer Wohnung finden wir ein Haus, welches wunderhübsch und gruselig zugleich ist und alle haben den gleichen Gedanken: wenn es irgendwo spukt, dann hier. Wir albern herum, bis Thomas uns warnt, mit bösen Geistern Schabernack zu treiben, was allerdings lediglich dazu führt, dass wir den Geistern und Gespenstern eine Fortbildung anbieten, da es heutzutage sicherlich genauso schwierig für Geister ist, die Menschen zu erschrecken, wie Menschen zum Konzert zu locken. Sie können heute Nacht bei Meister Thomas Nachhilfe in Sachen grauenerregende Geräusche bekommen, denn wenn das niemanden erschreckt, wird nichts in der Welt die Menschen noch erschrecken können.
CLUB W71, WEIKERSHEIM
Der Club W71 sieht aus wie ein Vereinshaus, aber ist eine verdammt coole Location. Der Raum ist angenehm groß, hat eine riesige Bühne und interessante und manchmal schaurige Fotos an der Wand.
PATH OF SAMSARA sind schon vor uns angekommen und es ist schön, das Trio wieder zu sehen. Danach geht alles in eine Art Routine über: Soundcheck, Merchandise aufbauen, lecker Abendessen und lokales Bierchen verkosten. Plötzlich und unerwartet öffnen sich die Türen und die ersten Gäste laufen auf, sogar aus Stuttgart kommen die Fans.
Gestern habe ich mir geschworen, dass ich mich PATH OF SAMSARA etwas intensiver widmen möchte und dank des Raumes kann ich quasi nichts verpassen. Heute Abend rocken die Jungs die Hütte in großem Stile. Nach einem herrlich atmosphärischem Intro geht die Luzie ab und es ist irgendwie seltsam, die Jungs spielen zu sehen, da es so unterschiedliche Charaktere sind: Gitarrist N zieht das komplette Rockstar-Ding durch und Pete Townsend wäre stolz auf ihn, wenn er sehen würde, dass der Windmühlen-Move ausgiebig zum Einsatz kommt- Sänger und Bassist B ist das komplette Gegenteil: introvertiert wie Robert Smith von THE CURE steht er am Mikro und singt großartig. Eine der Stärken der Band ist definitiv das Schlagzeugspiel von B, denn für die rituelle Atmosphäre sind die Trommeln ein wichtiges Instrument und es klingt klasse! Heute fällt mir auf, dass die Band live etwas mehr nach THE DEVIL'S BLOOD klingt, als es mir auf dem Album aufgefallen wäre; aber es passt einfach alles und PATH OF SAMSARA verwöhnen die Hörer mit einer Stunde feinster Musik. Ich freu mich sehr auf das HAMMER OF DOOM am kommenden Wochenende und bin gespannt, wie die Band auf weitaus mehr Zuschauer wirken wird.
Nach dem Gig zwinge ich Schlagzeuger B, mir die Setlist aufzuschreiben, also könnt ihr nun sehen, was sie gespielt haben: The Dawn of Saturn / Prayer to my mother beyond / Supernova / Mahakala / The Withered Tree / The Altar / The Fiery Hand / Veild of Gold / Black Lotus.
Nach der Show kommt Eugens Schwiegermama zu mir und sagt, dass ihr das nun eine Spur zu okkult war, denn sie hat es nicht so mit dem Okkulten. Willkommen in unserer Welt, nette Dame!
Wenn man mal eine verdammt gute Zeit hat, kann man sicher sein, dass um der nächsten Ecke das Schicksal lauert, welches dir den Tag versaut und heute ist es echt mies zu uns: Thomas hat Probleme mit seiner Stimme! Als Perfektionist ist er schrecklich unglücklich über diese Tatsache und ist traurig, dass er einige Stellen anders singen muss, um die Stimme nicht komplett zu verlieren. Ich befürchte eigentlich das Schlimmste, aber Thomas und die Band lassen niemanden hängen, auch wenn ich eine gewisse Anspannung auf der Bühne wahrnehmen kann! Sie geben alles, spielen den kompletten Set und auch die Zugabe "The Four Horsemen" kommt heute wieder zum Zuge! Das ist absolut vorbildlich und wir erleben ein tolles Konzert! B von PATH OF SAMSARA sagt sinngemäß: "Wenn jemand mit Stimmproblemen so singen kann, ist er immer noch besser, als die meisten Kollegen". Wie kann ich da widersprechen? Etwas Unvorhergesehenes passiert dennoch: ein Musiker, dessen Namen ich nicht nennen möchte, muss zwischen zwei Songs die Bühne verlassen, um pinkeln zu gehen… das habe ich so auch noch nicht erlebt, aber sicherlich ist das schmackhafte einheimische Bierchen schuld daran. (Setlist 12.11.2015: Intro / Charles Taze Russell / A Beam in the Eye of the Lord / Paul Gustave Doré / The Mire / A Pile of Ash / Wedded to Grief / Outro / The Four Horsemen)
Der heutige Tontechniker Armin ist eine Wucht, denn er schafft es, einen großartigen Sound zu kreieren, obwohl Metal Bands nicht zum üblichen Klientel zählen, da hier überwiegend Jazz und Punk-Konzerte veranstaltet werden. Heute ist auch der erste Abend, an dem wir eine angemessene Beleuchtung der Bühne haben; vielen Dank dafür!
Nach der Show lockert sich die Stimmung wieder etwas und gemeinsam mit Eugen und PATH OF SAMSARA gibt es noch einige Feierabendbiere zu vernichten, bevor wir zu Fuß in unsere Ferienwohnung pilgern, wo wir ca. um 2.00h in die Federn sinken.
13.11.2015
Die Nacht ist kurz, da um 6.15h mein Wecker bimmelt und ich die nächste Stunde rumlaufe wie ein Zombie. Wir haben heute eine ordentliche Strecke zu bewältigen, denn es geht in eine der schönsten Städte der Welt: Wien. Der Grund, warum wir so früh aufstehen, ist Jonas. Der gutaussehende Herr ist schwer verliebt und möchte schnellstmöglich seine in Wien lebende Freundin treffen und so opfern wir unseren heiligen Schlummer seinen Hormonen. Es ist cool, dass Eugen uns heute begleitet, da er ebenfalls auf das DOOM OVER VIENNA-Festival möchte. Er lenkt uns in Österreich zu einer tollen Gaststube, wo wir uns eine kleine Pause mit sehr leckeren Köstlichkeiten versüßen. Auf der Fahrt wurde nicht viel gesprochen, was aber am Tisch der Gaststube komplett aufgeholt wird und wieder herrscht eine tolle Stimmung unter allen Beteiligten.
Kurz bevor wir an unserem Hostel ankommen, verdüstert sich meine Stimmung sehr. Ich habe einige Freunde in Wien, es aber nicht geschafft, mich mit ihnen zu verabreden, was mich doch sehr bedrückt. Aber es kommt noch schlimmer für mich: ein guter Freund namens Ludwig hatte vor einigen Monaten einen Unfall und liegt seitdem im Koma. Plötzlich tauchen überall in Wien die Wegweiser zu einem Möbelgeschäft "Ludwig" auf, inklusive Richtungspfeil und vielleicht liegt es an der Übermüdung in Verbindung mit der Tatsache, dass aktuell das "Watching from a distance"-Album von WARNING läuft, so dass ich glaube, dass die Dämonen mich mit diesen Schildern schlichtweg verhöhnen wollen, während ich mich mies fühle und hilflos an meinen Freund denke. Das einzige, was "Glück" in dieser Situation am nächsten kommt, ist, dass das Album abgebrochen wird, bevor der Song "Faces" läuft, denn ich hätte die Reisegruppe sicherlich mit einem emotionalen Ausbruch verschreckt. Ich denke, ich bin in guter Gesellschaft, wenn es mich innerlich zerreißen würde, aber so musste ich niemanden verstören.
Als wir endlich das A&O erreichen müssen wir einen Parkplatz für unseren Wagen finden, was einfach nur unglaublich lange dauert und viel Lauferei erfordert. Aber Ola und ich schaffen es schlussendlich und nach dem Ludwig-Zwischenfall und der Sucherei glaube ich, dass ich erstmal ein kühles Getränk und 10 Minuten für mich alleine brauche, aber die Gesellschaft von Joona, Fredrik und Jack Daniels helfen mir doch deutlich besser wieder runterzukommen. Anschließend treffen wir uns mit Ola, haben wieder Spaß und machen uns dann auf zum Viper Room.
DOOM OVER VIENNA, VIPER ROOM
Veranstalter Jürgen ist ein verdammt cooler Typ, denn damit wir nicht wieder stundenlang einen Parkplatz vor dem Viper Room suchen müssen, überlässt er uns seinen Parkplatz vor dem Club. Das Entladen ist ein wenig abenteuerlich, denn um in den Club zu gelangen muss man viele dunkle Treppenstufen bewältigen, was recht schwierig ist, wenn man dabei aussieht wie ein Packesel in den Anden.
Ich kümmere mich sofort um den Merchandisestand und kann mir kaum eine Band anschauen, aber EARTHSHIP, mit dessen Mercher ich mir den begrenzten Platz teile, klingen ziemlich geil und für EPITAPH nehme ich mir eine Pause, oder wie Jonas sagen würde, "eine meiner viel zu vielen Pausen" und er erwägt, mein nicht vorhandenes Gehalt zu kürzen. Da ich mich schuldig fühle, eine Pause zu machen (und bin sogar zum Klo gegangen!) einigen wir uns, dass er 50% von Nichts einbehalten darf und wir sind beide zufrieden.
EPITAPH sind wieder grandios! Ihr oldschooliger Doomrock tritt Arsch und Emiliano zieht seine unterhaltsame Show ab. Auch der Rest der Band hat eine gute Zeit und sie spielen einen starken Gig, sofern ich das beurteilen kann, denn ich verstecke mich natürlich vor Jonas, der durch den Raum wuselt und mich prompt zum Merchandisestand zurückbeordert. Zum Glück kann ich mir den Rest der Show anhören und bin begeistert.
Der Auftritt von GRIFTEGÅRD steht unter keinem guten Stern. Kein Soundcheck, eine Stunde Verspätung, viel zu wenig Licht und schlechter Sound auf der Bühne und ein Soundmischer, der die Kontrolle komplett verloren hat, sorgen dafür, dass Ola total aus dem Gleichgewicht gerät (wie er später erzählt) und an manchen Ecken ist das Timing nicht so perfekt, wie man es gewohnt ist. Aber die Fans vor der Bühne feiern die Band völlig zu recht, denn der Zuschauer bekommt von all dem nichts mit. Der Sound in der Mitte der Halle ist super und die Lichtshow dem Auftritt würdig. Die Band ist trotz der anstrengenden Fahrt in guter Form und darf sich an den tollen Reaktionen des Publikums erfreuen. Thomas' Stimme ist deutlich kräftiger, als gestern und er singt heute wirklich sehr intensiv. Nach dem vierten Mal "A Pile of Ash" darf ich behaupten, dass es der beste Song ist, den Ola je für GRIFTEGÅRD geschrieben hat! (Setlist 13.11.2015: Intro / Charles Taze Russell / A Beam in the Eye of the Lord / Paul Gustave Doré / Wedded to Grief / The Mire / A Pile of Ash / The Four Horsemen)
Nach dem Gig ist Ola so unglaublich angepisst, aber auch gleichzeitig ein Gentleman und lässt die Fans, die mit ihm reden möchten, das nicht spüren, obwohl ich ihm ansehe, dass er einfach nur weg möchte. Die anderen Jungs bestätigen, dass es heute etwas seltsam war, aber im Großen und Ganzen ist man mit dem Auftritt zufrieden. Die Stimmung im Auto ist etwas gedrückt, bis Thomas sich als ein Eros Ramazotti-Double outet und uns alle wieder zum Lachen bringt. Nach einem anstrengenden Tag fallen wir schlussendlich um 3 Uhr ins Bett…
14.11.2015
… nur um 3 Stunden später wieder aufzustehen. Die Fahrt ist heute wieder anstrengend, denn in 8 Stunden fahren wir von Wien nach Berlin und Ola und Fredrik sind unsere Helden, denn die beiden bringen uns sicher ans Ziel.
Die gestrigen Anschläge in Paris hinterlassen sicherlich ihre Spuren bei uns und ich fühl mich tatsächlich etwas seltsam. Ich kann es mir einfach nicht vorstellen, wie es sein muss, wenn man Spaß auf einem Konzert hat und dann diese Dreckschweine ihren Hass verteilen. Irgendwann müssen diese hirnlosen Verlierer verstehen, dass wir alle gemeinsam leben können, unabhängig von Herkunft, Religion und Musikgeschmack. Und wenn sie es nicht verstehen wollen, hoffe ich, dass sie sich alle in den Kopf schießen oder auf einem freien Feld den Bombengürtel testen. Aber eine Sache sollten sie wissen: für diese grausamen Mordtaten kommen sie garantiert nicht ins Paradies, denn es gibt keines. Ich würde mir aber wünschen, dass diese verblendeten Arschgranaten ihre Ewigkeit auf Mallorca verbringen müssen… mit besoffenen Leuten, Möpsen, Sangria und schlechter Ballermann-Mucke.
Wir sind froh, als wir das K17 in Berlin erreichen, denn die Crew ist super und versorgt uns mit lecker Essen und Getränken, was dann unsere geheimen Kraftreserven aktiviert.
BERLIN, K17
Heute treffen wir einige Freunde und wir freuen uns sehr über den Besuch von Kathi, Malte und auch Götz Kühnemund schaut vorbei. Das einzige, was mich heute etwas anpisst, ist die Tatsache, dass das Konzert spätestens um 22.30h vorbei sein muss, da danach eine Metal-Disco veranstaltet wird. Einerseits klingt es verlockend, die Chance zu haben, etwas Schlaf nachzuholen, andererseits müssen GRIFTEGÅRD dadurch ihren Set kürzen! Ich bin nicht zufrieden mit dieser Entscheidung, aber im Hinblick auf Thomas' Stimme stimmt die Band zu.
Heute kommen ca. 50 Leute zur Show… es hätten auf der ganzen Tour gerne mehr sein können, aber was will man machen?! Es scheint sehr schwierig zu sein, die Menschen heutzutage auf Gigs von kleinen Bands zu locken, aber Joona zeigt mir die lange Schlange von Leuten, die es nicht erwarten können, in die Disco zu gehen! In diesem Moment realisieren wir, dass es wohl geiler zu sein scheint, Mucke aus der Retorte zu hören, anstatt Bands live anzuschauen. Dabei hätten die Leute alle nur 3 Stunden früher vorbeizukommen brauchen…
Von den beiden Vorbands bekomme ich leider wieder einmal nicht genug mit, um ein anständiges Review schreiben zu können, aber sowohl EVIL SPIRIT, als auch ALBEZ DUZ sind extrem feine Bands.
EVIL SPIRIT spielen einen angeschwärzten Doom der Alten Schule und ich muss mir glatt das Tape mit nach Hause nehmen. Interessant, dass der Sänger auch gleichzeitig der Drummer ist, was ich mir nicht sehr einfach vorstelle. Als nächsten kommen ALBEZ DUZ und sie haben in diversen Foren und Magazinen gerade ihre Fans gefunden, aber wie gesagt… ich habe die unangenehme Eigenschaft, zu viele Sachen zur gleichen Zeit machen zu wollen und daher hat das Merchandise aktuell die höchste Priorität; wenigstens bis GRIFTEGÅRD die Bühne entern und meine Gattin mich am Stand ablöst und ich die letzte Show der Tour in vollen Zügen genießen kann. Jede Minute GRIFTEGÅRD ist ein Moment, den man für immer festhalten möchte und das versuche ich heute Abend. "Charles Taze Russell" macht wie immer den Anfang, gefolgt von "A Beam in the Eye of the Lord" und "Paul Gustave Doré". Nach fünf Shows in Folge bin ich heute Abend endgültig der Meinung, dass "A Pile of Ash" einer der geilsten Doom Songs aller Zeiten ist und wenn ich mich nicht verguckt habe, denkt Malte das auch. Der Song hat alles, was GRIFTEGÅRD je ausgemacht haben: majestätische Riffs, wunderschöne Gesangsmelodien und zwei Soloparts, die so wunderbar sind, dass man sich der Schönheit von Trauer und Leid nicht entziehen kann. Der letzte Song, den ich bis zum HELL OVER HAMMABURG hören werde ist "The Mire" und es ist sehr traurig für mich, dass der Trip sich nun langsam aber sicher dem Ende zuneigt. Zuvor werden wir allerdings aufgefordert, den Merchandisestand abzubauen, obwohl die Band noch spielt, aber Kathi und ich schaffen es ganz gut, aus den Kisten heraus zu verkaufen und so jeden Fan, der noch ein kleines Andenken an diesen starken Abend haben möchte, zu beglücken.
Nach der Show geht das große Einpacken wieder los und wir fahren zurück in Richtung Hostel, um etwas Schlaf zu finden, denn die Band möchte schon um 6.00h morgens die Reise nach Hause antreten. Aber da haben wir die Rechnung ohne den Wirt gemacht: findet mal einen Parkplatz für einen Bus / Transporter in Berlin bei Nacht! Am Arsch! Wir fahren eine gefühlte Ewigkeit durch die Gegend um das Hostel herum, aber um die Geschichte abzukürzen: wir finden einen Platz, aber es ist zu weit, um den Wagen auszuladen und Fredrik entscheidet sich, im Bus zu pennen! Ola kann sich nicht mit dem Gedanken anfreunden, dass Fredrik dort allein ist und entscheidet sich, ihm Gesellschaft zu leisten. Jonas, Joona, Thomas und ich nutzen das vermeintliche Privileg und gehen zurück ins Hostel. Allerdings denke ich, dass die Option, im Auto zu schlafen nicht schlecht wäre, denn das Hostel liegt locker unter der 0-Sterne-Marke und ich trau mich nicht mal zu duschen.
NACHWORT
Wiederum nach 4 Stunden klingelt am Sonntag der Wecker und heute quäle ich mich aus der Kiste, denn ich habe eigentlich keine Lust auf das, was gleich geschehen wird.
Das Tourleben war einerseits so wie ich es erwartet habe, aber dennoch auch ganz anders. Wir hatten generell nie viel Zeit, um uns in den Orten was anzuschauen, von dem einen oder anderen Restaurant mal abgesehen, sondern wir haben die Zeit einfach genutzt, gemeinsam Zeit miteinander zu verbringen. Die Stimmung war immer super und ich als Außenstehender hatte niemals das Gefühl, dass ich nicht dazugehöre, wofür ich den verrückten Typen wirklich dankbar bin.
Vor der Tour hatte ich viele Ideen, was man alles machen könnte, aber wenn du dich dem Fluss der Geschehnisse einfach hingibst, kannst du die Zeit einfach nur genießen, was ich auch wirklich tat. Die Tour hat mir auch verdeutlicht, was ich schon lange wusste: sich um Sachen Gedanken machen, die noch gar nicht passiert sind, ist der sichere Weg in die Stressfalle und ich hoffe, ich kann dieses Wissen in meinen Alltag integrieren.
Es ist schade, dass nicht mehr Leute zu den Shows gekommen sind; nicht wegen der Kohle, sondern weil ich mir wünschen würde, dass viel mehr Leute diese großartigen Konzerte hätten erleben dürfen. Sogar während Thomas einige Probleme mit seiner Stimme hatte, haben sie jeden vor der Bühne überzeugt. Die Betreuung des Merchandises hat mir extrem viel Freude bereitet, denn ich habe die Fans direkt nach der Show sehen und sprechen können und manchmal waren die Reaktionen und Blicke einfach Balsam für die Seele.
Natürlich muss man auch die Veranstalter im Blick haben, denn es ist einfach sauschwer mit solchen Konzerten über die Runden zu kommen. Wir sollten uns alle mal etwas am Riemen reißen und kleine Shows besuchen, denn wenn wir nicht den Arsch hochbekommen, wird es diesen Untergrund in 5 oder 10 Jahren nicht mehr geben. Legt die Smartphones beiseite, schaltet den Fernseher aus, genießt eure Zeit, während ihr Bands supportet, die sich für euch den Arsch aufreißen.
DANKE an alle Veranstalter und jeden, der mit und für sie gearbeitet hat! Ohne euch wäre all das nicht möglich gewesen!
DANKE an alle Fans, die vorbeigekommen sind! Ihr seid die Besten! Nächstes Mal bringt eure Freunde mit!
Und zuletzt möchte ich "meinen Jungs" danken! Ich fühle mich geehrt, dass ich Teil eurer Tour sein durfte! Ihr habt mein Leben unendlich bereichert und ich werde jede Sekunde, jeden Schwachsinn und jede ernste Unterhaltung in Ehren halten, bis die Demenz sie ausradiert. Ihr seid der netteste Haufen, die ich je getroffen habe und es fühlt sich gut an, euch nun alle meine Freunde nennen zu dürfen! Ihr seid mein Schatzzzz. Oder wie Götz meinen fünfminütigen Monolog über das Leben on the road mit euch zusammengefasst hat: Ich liebe euch. (chris)