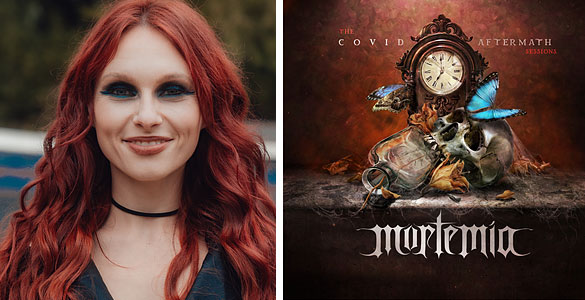 Morten Veland (SIRENIA, MORTEMIA und Gründer von TRISTANIA) hat den vierten MORTEMIA-Song aus "The Covid Aftermath Sessions" veröffentlicht. Der Track trägt den Titel "Antidote" und enthält Fabienne Erni von den Bands Eluveitie und Illumishade als Gastsängerin. Er ist seit dem 9. Juni 2023, auf allen digitalen Plattformen erhältlich. https://distrokid.com/hyperfollow/mortemia/antidote-feat-fabienne-erni
Morten Veland:
I'm proud and honoured to welcome Fabienne Erni (Eluveitie, Illumishade) as my special guest for 'The Covid Aftermath Sessions'. This song is entitled 'Antidote'. Fabienne's amazing vocal performances really makes this song shine so beautifully. It's a very melodic and modern sounding song, very dynamic with a quite uptempo beat. I feel truly privileged and thankful to have Fabienne on board this project, and I am really pleased to be sharing this song with you all. You can enjoy 'Antidote' on all digital platforms now.
Fabienne Erni:
I'm super stoked to be featured in Mortemia's upcoming track 'Antidote'! Working with Morten, who's incredibly talented and creative, was an absolute joy. It was a fantastic experience to collaborate with him, making this song and video truly unique. 'Antidote', explores the challenges of confronting the past. It embodies the essence of releasing past burdens, acknowledging them, and progressing forward. If you're ready to delve deep within yourself, confront your beliefs and memories that are rooted in the past and which might still be restraining you – then dive into 'Antidote'.
---