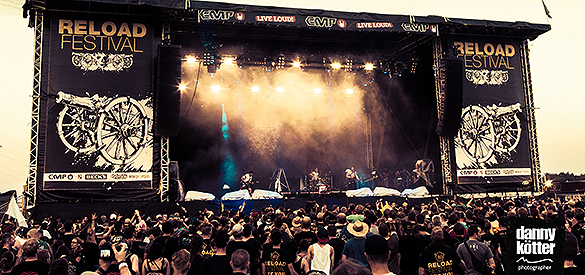 Ankündigung für 26.+27.08. / Warm-Up-Party 25.08.
in Sulingen, Niedersachsen
u.a. mit Limp Bizkit, Five Finger Death Punch, Airbourne, Hatebreed, Arch Enemy, Fear Factory, Terror, Stick To Your Guns, Comeback Kid, Emil Bulls, Sodom, Die Kassierer, Dog Eat Dog, Itchy Poopzkid, Monsters Of Liedermaching, Fjørt
An zwei Tagen (plus Warm-Up-Party) bietet das familiär anmutende RELOAD FESTIVAL im norddeutschen Sulingen musikalische Highlights aus den Bereichen Metal, Hardcore und Punk. International bekannte Bands wie u.a. Limp Bizkit, Five Finger Death Punch, Hatebreed und Airbourne sind dieses Jahr die Zugpferde. Die Metalfans aus der Amboss-Redaktion freuen sich aus dem vielfältigen Angebot vor allem auf Five Finger Death Punch, Arch Enemy und Sodom. Weitere Besonderheit des Festivals: Überschneidungen gibt es nicht.
Weitere Infos:
Warm-Up-Party (25. August): Dimple Minds, Unleash The Sky & Snoozebutton
Tickets: 89,00 Eur (inkl. Gebühren & Camping am Auto) erhältlich bei www.eventim.de und www.metaltix.com, an allen bekannten CTS-VVKStellen sowie in den Sparkassen-Filialen Sulingen und Diepholz, der Volksbank in Twistringen und Shock Records & Coffee in Osnabrück.
Mehr Informationen unter www.reload-festival.de und auf Facebook!