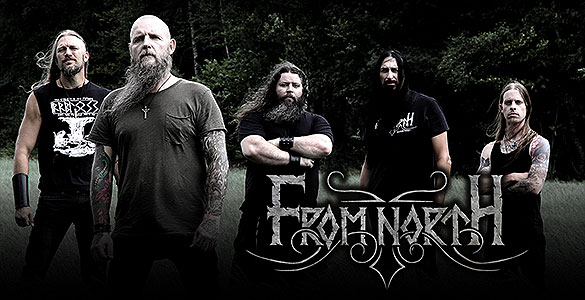 Das selbstbetitelte Debütalbum der Viking/Folk Metaller FROM NORTH läuft nach etwas Eingewöhnungszeit seit einiger Zeit bei mir rauf und runter. Ihre Mischung aus Metal und Mittelalterinstrumenten ist über die gesamte Spieldauer packend und erinnert am meisten an ELUVEITIE oder auch ENSIFERUM. Trotz Debüt blicken die Männer auf viele Jahre Erfahrung im Metal zurück. Das und mehr verraten sie im Interview. (eller)
https://www.facebook.com/fromnorthsweden/
Album-Review
(English version below)
Gratulation zum Debütalbum. Nach etwas Eingewöhnungszeit läuft das Album seit einigen Tagen bei mir sehr oft. Ich hoffe, ihr habt von anderen Magazinen und Fans ähnlich gutes Feedback erhalten.
Danke, wir freuen uns, dass es Ihnen gefällt! Wir haben sehr gute Kritiken erhalten und das Feedback von Menschen auf der ganzen Welt war durchweg positiv! Wir sind natürlich überrascht und aufrichtig dankbar, aber wir wussten, dass das gut war, und wir werden uns die Herzen herausreißen, um es zu beweisen!
Ihr habt die Band erst letztes Jahr gegründet. Seit wie vielen Jahren macht ihr Metal und in welchen Bands habt ihr vorher gespielt?
Alle zusammen spielen wir seit über 100 Jahren Metal, also gibt es eine Menge Erfahrung in der Band!
Die Mitglieder haben unter anderem in Bands wie White Spirit, Zero Illusions, Year of Falling, Anata, Bleed For Me, Irrbloss, Sinistry, Doomdogs und Stormhold gespielt.
Wie würdest Du Eure Musik mit eigenen Worten beschreiben?
Kraftvoll, melodisch, aggressiv, emotional… Für uns enthält es ein bisschen von allem. Es liegt wirklich am Hörer zu entscheiden, was es für ihn ist!
Wer ist verantwortlich für das Schreiben der Songs oder macht Ihr dieses gemeinsam?
Alle Songs auf dem Debüt wurden von unserem Sänger Håkan geschrieben.

Verstehe ich das richtig, dass ihr mit Andreas Lindvall eine Person habt, die die Lyrics schreibt, aber sonst kein Instrument bei euch spielt?
Das ist wahr. Er ist ein kleiner Gnom, den wir in einer alten Höhle gefunden haben, wo wir alte nordische Gedichte studieren und Pilze essen. Er ist ein Killer auf der Geige, aber leider so hässlich, dass er das Publikum verscheuchen würde!
Sind eure Texte einzelne Geschichten oder ist es ein Konzeptalbum?
Nun, wir sind eine Viking Metal Band, also handeln die Songs aus dieser Epoche der Geschicht.
Aber die Themen der Songs sind sehr unterschiedlich. Von einem Lied über die Seeschlacht von Svolder bis hin zur
eine über Thors erste Begegnung mit der Midgardschlange. So wird alles zwischen geschichtlichem Ereignis, mythologischen Geschichten und alten Sagen dargestellt, aber auch Lieder, die sich mit dem Denken und Handeln jener Menschen beschäftigen, die in der damaligen Gesellschaft lebten.
Welche mittelalterlichen Instrumente sind auf dem Album zu hören und wer spielt diese von euch?
Es gibt eine Menge Mittelalter Sounds, um die Atmosphäre zu bekommen, vor allem Zurna und Geige stehen im Mittelpunkt. Es ist eine Mischung aus Live-Instrumenten und einigem magischen Hokus Pokus von Håkan.
Wie kamt ihr auf den Bandnamen FROM NORTH ?
Im Grunde genommen von dort, wo wir herkommen und leben, aus dem Norden der Welt. Egal wohin wir gehen, wir werden immer aus dem Norden kommen…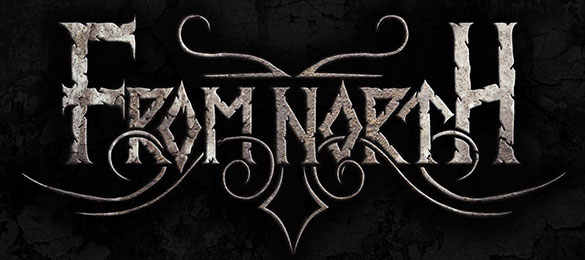 Welche Bands würdet ihr unseren Lesern empfehlen?
Es gibt so viel großartigen Metal und Hard Rock. Wir alle lieben die Klassiker, wie Sabbath, Slayer, Thin Lizzy, Rammstein, um nur einige zu nennen. Wenn es um Folk/Pagan/Viking geht, verpasst auf keinen Fall die schwedischen Legenden Vintersorg, Falconer und Månegarm oder den Großvater Quorton mit Bathory.
Sind in nächster Zeit Liveauftritte geplant und mit welcher Band würdet ihr gerne mal auf Tour gehen ?
Im Oktober gibt es eine Release-Party für das Debütalbum, das am 1. September veröffentlicht wurde. Wir planen auch Festivals und so weiter für 2018. Wir hoffen, dass wir in den nächsten Jahren die Chance bekommen werden, für viele großartige Leute und Fans zu spielen!
Welche Pläne habt ihr sonst noch ?
Wie eben genannt. Große Auftritte zu machen, wohin wir auch gehen, das nächste Album noch besser zu machen und dem einzigartigen FROM NORTH Sound treu zu bleiben!
Again make the world aware of the force From North!
---
Congratulations on the debut album. After some time of getting used to the album. I hope you have received similar good feedback from other magazines and fans.
Thanks, we're glad you like it! We have received very good reviews and the feedback from people all round the world has been all over positive! We are of course surprised and genuinely grateful, but we knew this was good, and we will tear our hearts out to prove it!
You started the band just last year. How many years have you been doing metal and in which bands have you played before?
All together we've played metal for over 100 years, so there's a lot of experience in the band!
The members has a history in bands such as White Spirit, Zero Illusions, Year of Falling, Anata, Bleed For Me, Irrbloss, Sinistry, Doomdogs and Stormhold among others.
How would you describe your music in your own words?
Powerful, melodic, aggressive, emotional… For us it contains a bit of everything. It's really up to the listener to decide what it is for them!
Who is responsible for writing the songs or do you do it together?
All the songs on the debut is written by Håkan (singer).
Do I understand that you have a person (Andreas Lindvall) who writes the lyrics, but doesn't play any other instrument with you?
That's true. He's a little gnome we found in an old cave, studying old Norse poems while eating mushrooms. He's a killer on the fiddle, but unfortunately so ugly he would scare away the audience!
Are your lyrics single stories or is it a concept album?
Well this is a Viking metal band, so the songs are set to that era in history.
But the subject of the songs differs a lot. From a song about the naval battle of Svolder, to the
one about Thor's first encounter with the world serpent. So everything between historical event, mythological stories and old sayings are represented, but also songs dealing with thought and actions of those who lived in that society in that time.
What medieval instruments can be heard on the album and who played them?
Theres a lot of mideval stuff in there to get the atmosphere, Zurna and fiddle being the most prominent. It's a mix of live instruments and  some magic hokus pokus by Håkan. (Songwriter)
How did you get the band name FROM NORTH?
Basically from where we're from and live, the northern parts of the world. No matter where we go, we will always come From North…
Which bands would you recommend to our readers?
There's so much great metal and hard rock. We all love the classics, like Sabbath, Slayer, Thin Lizzy, Rammstein to mention some. When it comes to Folk/Pagan/Viking, never miss Swedish legends Vintersorg, Falconer and Månegarm or the Grandfather Quorton and his Bathory.
Are live performances planned for the near future and which band would you like to go on tour with?
We have a release party now in October for the debut album witch was released 1 September. We are also checking festivals and stuff for 2018. Hopefully we will get the chance to play for a lot of great people and fans the following years!
What other plans do you have?
As above. To make great performances wherever we go, to make the next record even better, staying true to the unique From North sound!
Again make the world aware of the force From North!