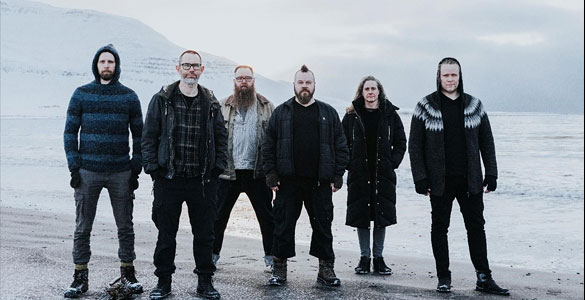 Die Viking Metaller SKÁLMÖLD haben ihre zweite Single "Verðandi" zusammen mit einem offiziellen Musikvideo veröffentlicht. Mit ihrem ersten Album seit fünf Jahren wird das isländische Sextett am 18. August 2023 ihr sechstes Studioalbum "Ýdalir" über Napalm Records veröffentlichen.
Preorder: https://napalmrecords.com/skalmold
Björgvin Sigurðsson on "Verðandi":
"The second song we present to you from our upcoming album is 'Verðandi'. Parts of the story of Ullur presented on the album are told through the eyes of the Norns – Urður, Verðandi and Skuld. Past, present and future. The Norns live at the foot of Yggdrasill where they spin the threads of fate of all men. The three Norns all get their own song on the album and here we enter the realm of the present with Verðandi.
In two ways this song has a really classic feel to it. Firstly it is heavily inspired by the more classic styles of Metal and has a very old-school vibe. Secondly it can be seen as a classic SKÁLMÖLD song, driven forward by a really catchy and folk inspired melody, yet still heavy and epic."
---