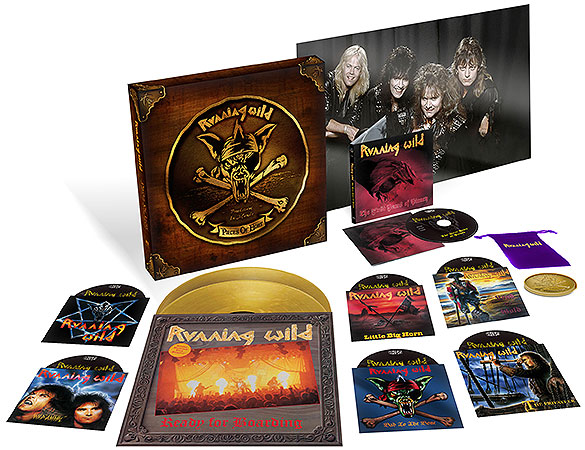 BMG/Noise veröffentlicht am 28.September 2018 "Pieces Of Eight" Limited Edition Boxset – Singles, Live und Raritäten 1984 – 1994. Eine limitierte Deluxe-Box in der alle Singles der Band bei Noise Records, die Neuaufnahmencompilation "The First Years Of Piracy" sowie eine Expanded-Doppel-Gold-Vinylversion ihres ersten Livealbums "Ready For Boarding", erweitert um eine komplette neue Show auf der zweiten Disc die vorher nur auf VHS erhältlich war, enthalten sind. All diese Titel waren seit ihrer Erstveröffentlichung während der Dekade der Band auf Noise Records lange Zeit vergriffen.
Die Box enthält außerdem eine Running Wild Piece-Of-Eight-Münze und ein doppelseitiges Poster mit dem klassischen Line-Up der Band und dem Boxset-Artwork.
Besucher des Wacken Open Air werden dort die Möglichkeit haben, diese limitierte Box exklusiv fast zwei Monate früher zu erwerben und die Band am Freitag dem 03.08.2018 an der offiziellen Wacken Signing Stage zu treffen.
Schöner Trost für Fans, die es nicht nach Wacken schaffen: unser liebster Pirat höchstpersönlich hat für Vorbesteller die Boxen signiert. Enterwillige benutzen dazu diesen Vorbestell-Link:
https://runningwildband.lnk.to/PiecesOfEight
Trailer

Enthaltenen Tracks:
Victim Of States Power CD EP (1984)
Victim Of States Power
Walpurgis Night
Satan
Wild Animal CD EP (1989)
Wild Animal
Chains & Leather
Tear Down The Walls
Störtebeker
Bad To The Bone CD EP (1989)
Bad To The Bone
The Battle Of Waterloo
March On
Little Big Horn CD EP (1991)
Little Big Horn
Billy The Kid
Genocide
Lead Or Gold CD EP (1992)
Lead Or Gold
Hanged, Drawn And Quartered
Win Or Be Drowned
The Privateer CD EP (1994)
The Privateer
Dancing On A Minefield
Poisoned Blood
The First Years Of Piracy CD album (1991)
Under Jolly Roger
Branded And Exiled
Soldiers Of Hell
Raise Your Fist
Walpurgis Night
Fight The Oppression
Marching To Die
Raw Ride
Diamonds Of The Black Chest
Prisoner Of Our Time
Ready For Boarding 2x gold LP (1988)
Disc 1 – original concert
Live In Munich, Nov 1987
Hymn Of Long John Silver
Under Jolly Roger
Genghis Khan
Raise Your Fist
Purgatory
Mordor
Mordor
Diabolic Force
Raw Ride
Adrian (S.O.S.)
Prisoner Of Our Time
Disc 2 – bonus concert
Live in Düsseldorf, Oct 1989
Intro
Riding The Storm
Bad To The Bone
Raw Ride
Raging Fire
Tortuga Bay
Uaschtschun
Bass Solo
Conquistadores
Prisoner Of Our Time
---