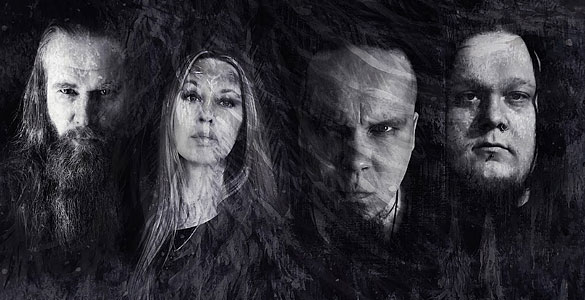 Die finnische Dark Metal Band DARK THE SUNS hat eine neue Single und ein Musikvideo zu "Raven" veröffentlicht. Auf dem Track ist Paavo Laapotti (Before The Dawn & Defiled Serenity) am Gesang zu hören. Der Track stammt aus dem kommenden fünften Studioalbum 'Raven and the Nightsky', das noch in diesem Jahr über Inverse Records veröffentlicht wird. https://push.fm/fl/dts-paavo-laapotti-raven
Comments from the band:
Mikko: Raven is the 4th single from our upcoming Raven and the Nightsky -album. In Raven single we have a special guest vocalist Paavo Laapotti (Before The Dawn and Defiled Serenity). Paavo has an amazing voice and his voice brought really beautiful and melancholic athmosphere for the single! Jani also played acoustic guitar for the song, so we got more good new elements for the song. I'm really proud of the results!
Inka: We had talked with Paavo about making a song together, and when one night I played the piano and made the chorus to this song, I immediately thought that this would sound great with Paavo's vocals. He is super talented and he has such a great voice. The result sounds exactly like what I thought at the time. I thought about the single cover for a long time and made many sketches of ravens and black wings to catch the right feeling; in the end it felt like all the pieces fell into place, melodies and words, Jani's acoustic guitar, painting, video… this was a really great project with a great team, and I am so happy for the results.
Paavo: Making of this song was very easy with seamless teamwork and a great, clear concept. I really like the song and it has the great distinctive sound of Dark The Suns but with a twist. It was an honor to be a part of this release and I think we succeeded in bringing the nordic feel to the listeners around the world.
Jani: As usually, working with Mikko and Inka was at the same time professional and easy-going, it is always a pleasure to spend time with them. The new song "Raven" is super catchy with beautiful melodies in it, and the vocals by Paavo are outstanding. I was honored to be involved in this one.
---