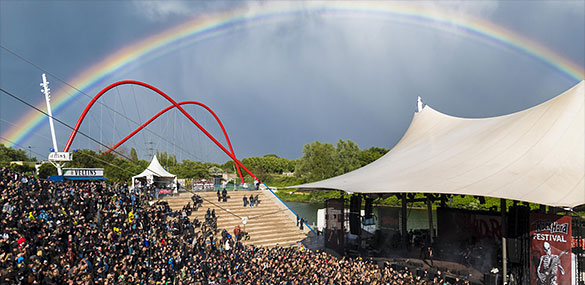 Videolivebericht vom ROCK HARD FESTIVAL 2019
vom 07.-09.06. Amphitheater, Gelsenkirchen
(Video filmed and created by Philipp)
Statt des geschriebenen Wortes mit Fotos gibt es vom diesjährigen ROCK HARD FESTIVAL einen speziellen Aftermovie, bei dem neben Rock Hard Chefredakteur Boris Kaiser die Bands Vulture, Chapel Of Disease, Tyler Leads, The Spirit und Visigoth interviewt bzw. bei ihren Auftritten gezeigt wurden. Mit diesen Bands werfen wir einen besonderen Blickwinkel auf das Festival im Ruhrgebiet und geben euch einen Einblick, wie die Bands das Ganze erlebt haben.
Vielen Dank an das gesamte Rock Hard Magazin, die es uns ermöglicht haben diesen Film zu verwirklichen. Rock Hard: http://www.rockhard.de
Und ganz besonderen Dank natürlich allen Bands, die an diesem Projekt teilgenommen haben.
---