afmusic feiert mit der CD-Compilation "Join the Dark Side, we have the music!" sein 10-jähriges Jubiläum. Das 14-Track-Album, welches am 2. November veröffentlicht wird, enthält Songs von den Labelkünstlern Principe Valiente, Golden Apes, The Search, (((S))) und The Silence Industry, sowie ungehörtes und seltenes Material von Bands mit denen das Label in den vergangenen Jahren zusammengearbeitet hat.
afmusic kann auf mehr als 150 digitale Veröffentlichungen zurückblicken und etablierte erfolgreich die Strategie, einen großen Teil des Repertoires als Netlabel unter einer freien Lizenz anzubieten. Daneben gab es mehr als 100 CD- oder Vinyl-Veröffentlichungen im Dark Wave-, Gothic-, Post Punk- und Independent-Genre.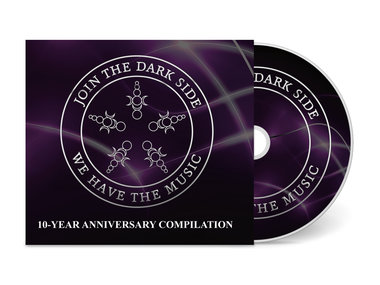 Aber diese Zusammenstellung ist mehr als nur ein Rückblick, es ist auch eine Vorschau auf die kommenden Dinge.
Mit bisher unveröffentlichten Songs von den Golden Apes ("Voykova" stammt von ihrem im März 2019 erscheinenden Album "Kasbek"), Emerald Park, Principe Valiente, The Silence Industry, Shearer und Supreme Soul bringt diese Compilation den Hörer in die Zukunft von afmusic.
Titelliste:
1. The Foreign Resort "Buried"
2. (((S))) "House" **
3. The Knutz "The Cave"
4. Rhombus "Timeless and Elegant"
5. Golden Apes "Voykova" *
6. The Silence Industry "(I) Believe" *
7. The Transisters "Electromagnetic(New)Wave" **
8. Shearer "Repsol's Dirty Dreams!" *
9. Supreme Soul "House of Pleasures" *
10. Smoke Fish "We're Gonna Have a Good Time" **
11. Emerald Park "For Tomorrow (Park Remix by Danish Daycare)" *
12. The Search "Adora" **
13. Principe Valiente "When I Learned to Crawl (Live Piano Version)" *
14. Art Noir "Time and Eternity" *
15. Bonus Track
* bisher unveröffentlicht
** erstmals auf CD
VORBESTELLUNGEN: https://shop.af-music.com/merch
---