Zu ihrem neuen, fünften Album "Helix" am 19. Oktober auf Spinefarm Records haben AMARANTHE ihre neue Single als Video zum Ansehen veröffentlicht:
Zum neuen Album "Helix" wird Amaranthe im Oktober / November auf Europatour kommen und mit Powerwolf unterwegs sein. Alle Tourdaten sind hier zu finden: http://amaranthe.se/tour
Mit vier Alben haben sich AMARANTHE jenseits von 118 Millionen YouTube-Views und einer halben Milliarde Song-Streams nach oben gespielt, sind dreimal auf Platz 1 der "Billboard Heatseekers Chart" gelandet und haben einiges an Gold- und Platin für Alben und Singles eingesammelt.
---
Continue reading →
Am 09. November erscheint das neue GodSkill Album "Gatherer Of Fear And Blood". Bereits diesen Samstag steigt die dazugehörige Release Show im Karlsruher AKK bei welcher der neue Silberling erstmals und exklusiv vorab über den Tresen gehen wird. Anlässlich des bevorstehenden Releases veröffentlich die Band mit "The Eleven Kills The Ten" den Opener des Albums in Form eines brandneuen Videoclips auf Youtube.
Das Album enthält 8 Songs feinsten Blackened Death Metal, welcher in den Audiodrive Studios in Sinsheim von Pyogenesis-Urgestein Tim Eiermann aufgenommen und produziert, sowie von Jens Bogren im schwedischen Örebro gemastert wurde.
---
Continue reading →
"Noire" ist das erste Studioalbum von VNV Nation in 5 Jahren, das im Studio von Ronan Harris in Hamburg produziert wurde und am 12.10. veröffentlicht wird. "When Is The Future?" ist das erste Musikvideo daraus. Zeitgleich zur Album-VÖ startet die Europa Tour.
EUROPEAN TOUR 2018
(more dates in 2019) – with special guests "Holygram"
12.10 Alter Schlachthof – Dresden (DE)
13.10 Stadtgarten – Erfurt (DE)
14.10 Im Wizemann – Stuttgart (DE)
16.10 Futurum – Prag (CZ)
17.10 Progresja – Warszawa (PL)
19.10 Effenaar – Eindhoven (NL)
20.10 E-Werk – Cologne (DE)
21.10 De Casino – Sint Niklaas (BE)
23.10 Melkweg – Amsterdam (NL)
24.10 Ringlokschuppen – Bielefeld (DE)
26.10 Columbiahalle – Berlin (DE)
27.10 Altes Theater – Magdeburg (DE)
28.10 Muffathalle – Munich (DE)
30.10 Batschkapp – Frankfurt (DE)
31.10 Haus Leipzig – Leipzig (DE)
01.11 M.A.U. Club – Rostock (DE)
02.11 Mehr Theater am Großmarkt – Hamburg (DE)
03.11 Forbraendingen, Copenhagen (DK)
---
Continue reading →
Die Taiwanesische Metalband CHTHONIC hat gerade ein neues Video für "A Crimson Sky's Command" veröffentlicht. Der Track stammt vom kommenden Album "Battlefields Of Asura". CHTHONICs erstes Album in 5 Jahren wird am 12. Oktober veröffentlicht.
---
Continue reading →
Die Crossover-Folker von VOLLBARD legen zum 02. November ihre neue Platte "Tavernenpiraten" vor. In 12 Songs ziehen die Freibeuter aufs feucht-folkige Meer hinaus und nehmen ihre Hörer mit Gesang (Roger Baum) und Gitarre (David Wollschläger) mit auf Schatzsuche nach Gold, nach schönen Frauen und nach gutem Rum. Viel Unsinn, eine Prise Tiefsinn, vor allem Frohsinn und dazu ein steifer Grog – die "Tavernenpiraten" lichten den Anker.
---
Continue reading →
Die deutschen Old-School-Deather DEMONBREED melden sich zurück. Am 14. Dezember 2018 wird die Band ein Mini-Album mit dem Titel "Hunting Heretics" über Testimony Records veröffentlichen. Der Nachfolger des Debüts "Where Gods Come To Die" (2016) enthält fünf neue Songs und wurde von Gitarrist Fernando Thielmann, der auf dem neuen Release auch für das Schlagzeug zuständig ist, aufgenommen und produziert. Das lyrische Konzept dreht sich um die Zeit der Inquisition.
---
Continue reading →
afmusic feiert mit der CD-Compilation "Join the Dark Side, we have the music!" sein 10-jähriges Jubiläum. Das 14-Track-Album, welches am 2. November veröffentlicht wird, enthält Songs von den Labelkünstlern Principe Valiente, Golden Apes, The Search, (((S))) und The Silence Industry, sowie ungehörtes und seltenes Material von Bands mit denen das Label in den vergangenen Jahren zusammengearbeitet hat.
afmusic kann auf mehr als 150 digitale Veröffentlichungen zurückblicken und etablierte erfolgreich die Strategie, einen großen Teil des Repertoires als Netlabel unter einer freien Lizenz anzubieten. Daneben gab es mehr als 100 CD- oder Vinyl-Veröffentlichungen im Dark Wave-, Gothic-, Post Punk- und Independent-Genre.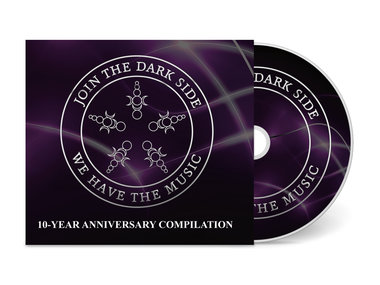 Aber diese Zusammenstellung ist mehr als nur ein Rückblick, es ist auch eine Vorschau auf die kommenden Dinge.
Mit bisher unveröffentlichten Songs von den Golden Apes ("Voykova" stammt von ihrem im März 2019 erscheinenden Album "Kasbek"), Emerald Park, Principe Valiente, The Silence Industry, Shearer und Supreme Soul bringt diese Compilation den Hörer in die Zukunft von afmusic.
Titelliste:
1. The Foreign Resort "Buried"
2. (((S))) "House" **
3. The Knutz "The Cave"
4. Rhombus "Timeless and Elegant"
5. Golden Apes "Voykova" *
6. The Silence Industry "(I) Believe" *
7. The Transisters "Electromagnetic(New)Wave" **
8. Shearer "Repsol's Dirty Dreams!" *
9. Supreme Soul "House of Pleasures" *
10. Smoke Fish "We're Gonna Have a Good Time" **
11. Emerald Park "For Tomorrow (Park Remix by Danish Daycare)" *
12. The Search "Adora" **
13. Principe Valiente "When I Learned to Crawl (Live Piano Version)" *
14. Art Noir "Time and Eternity" *
15. Bonus Track
* bisher unveröffentlicht
** erstmals auf CD
VORBESTELLUNGEN: https://shop.af-music.com/merch
---
Continue reading →
Die Dark-Rock / Post-Punk Band VARSOVIE aus Frankreich haben ein neues Video aus ihrem dritten Album "Coups Et Blessures" veröffentlicht, welches im Mai 2018 erschienen ist.
---
Continue reading →
Amon Amarth haben das live Video zu "Twilight of the Thunder God" ihrer neuen Dokumentation 'The Pursuit Of Vikings: 25 Years In The Eye Of The Storm', veröffentlicht.
Am 16. November veröffentlichen Amon Amarth ihre neue Dokumentation und das begleitende Live-Album "The Pursuit Of Vikings: 25 Years In The Eye Of The Storm" – eine retrospektive Dokumentation mit jeder Menge Live- und Behind-The-Scenes-Material sowie umfangreichen Band-Interviews. Der Film erzählt die Geschichte des schwedischen Quintetts, sowohl aus ihrer eigenen Perspektive, als auch durch die Augen ihrer Fans, auf deren Unterstützung sich die Band auf ihrem ganzen Karriereweg stets verlassen konnte. Es ist eine spannende Zusammenstellung, die sowohl der treuen Anhängerschaft Tribut zollt als auch allen Newcomern eine detaillierte und packende Einführung in die inspirierende Geschichte der Musiker bietet. Zusätzlich zur Dokumentation enthält "The Pursuit Of Vikings: 25 Years In The Eye Of The Storm" Live-Mitschnitte (Audio und Video) zweier verschiedener Live-Sets vom Summer Breeze Festival 2017 in Dinkelsbühl, die die Band in Bestform zeigen.
---
Continue reading →
Mit seinem innovativen Mix aus Electronica, Industrial, Metal und Progressive Rock hat "Inmazes" nach allgemeinem Dafürhalten eine kräftige Prise frischen Wind in die teils festfahrene Szene geblasen. So beschrieb das britsche Prog-Magazin VOLAs Klangbild beeindruckt als "widescreen heavy stadium Prog", im Metal Hammer las man von "weighty riffs, gloomy, ambient soundscapes and guttural grooves".
Das zweite VOLA-Album "Applause Of A Distant Crowd" erscheint am 12. Oktober 2018 auf CD, digital, sowie als LP in schwerem 180-Gramm-Vinyl mit beigelegtem Download-Code bei Mascot Records.
---
Continue reading →