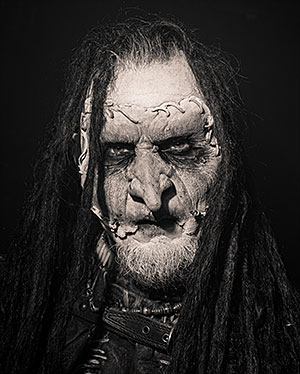 MORTIIS hat ein neues Video für den Song "A Dark Horizon" veröffentlicht, das von seinem kommenden Album "Spirit Of Rebellion" stammt. Regie führte der finnische Regisseur Ari Savonen, mit dem MORTIIS auch für das Video "Visions of an Ancient Future" zusammenarbeitete.
"Spirit Of Rebellion" ist als neu interpretierten Erweiterung und Fortsetzung des 1994er Era I-Klassikers "Ånden som Gjorde Opprør" angekündigt und wird am 24. Januar 2020 über Omnipresence Productions / Dead Seed Productions veröffentlicht.
---

Die Norweger SVARTTJERN haben einen zweiten Track "Melodies Of Lust" aus ihrem kommenden fünften Album veröffentlicht. Das Album heißt "Shame Is Just A Word", erscheint am 17. Januar bei Soulseller Records und geht den True Norwegian Black Metal Weg der Band weiter. https://www.facebook.com/svarttjern
---

"En Route To Mayhem" ist die dritte Single von APOCALYPTICAs kommendem Album "Cell-0", das am 10. Januar erscheint.
APOCALYPTICA 2020 TOUR DATES
17.01. Hallenstadion, Zurich, Switzerland
18.01. Schleyerhalle, Stuttgart, Germany
19.01. Olympiahalle, Munich, Germany
21.01. Gasometer, Vienna, Austria
25.01. Max Schmeling Halle, Berlin, Germany
30.01. Arena Leipzig, Leipzig, Germany
31.01. Festhalle, Frankfurt, Germany
01.02. König Pilsener Arena, Oberhausen, Germany
02.02. Sportpaleis, Antwerp, Belgium
09.02. Afas Live, Amsterdam, The Netherlands
11.02. Sporthalle, Hamburg, Germany
---

Die Dark Metal Band DEATHWHWHITE hat den Track "Funeral Ground" in Form eines Musikvideos veröffentlicht. "Funeral Ground" ist dem kommenden Album "Grave Image" entnommen, das am 31. Januar 2020 über Season of Mist erscheinen wird. https://www.facebook.com/deathwhiteofficial/
Die Band kommentiert: "We were quite elated upon seeing Jérôme Comentale's cover art design for 'Grave Image.' With that mind, we wanted to find some way to tie it into a video, which we did for "Funeral Ground". It is not obvious at first, but, rest assured, it is there. We had the good fortune of shooting during a brisk autumn day in the natural outdoors, something that we feel only added to the song's overall atmosphere, which treads some new – no pun intended – ground for us. Due credit to our resident jack-of-all-trades Shane Mayer, who lent his considerable time and energy to the video's creation."
---
Die Müsteraner Metalcore-Institution NEAERA kommen wirklich zurück!
2020 wird es ein neues, selbstbetiteltes Album geben.
Das Video zu "Torchbearer" gibt es schon jetzt!

Stockholms Gothic Rock/Post-Punk-Act THEN COMES SILENCE haben bei SPV/Oblivion unterschrieben. Die Ankunft des Albums "Machine" wurde für den 13. März 2020 angekündigt. Mit der Single "We Lose The The Night" wird am 10. Januar 2020 eine erste Single veröffentlicht. Bald nach der Veröffentlichung des Albums ist die Band um den Sänger/Bassisten Alex Svenson ist eine ausgedehnte Tournee mit einer Reihe von Festival-Shows geplant, darunter das M'era Luna im August 2020. www.facebook.com/thencomessilence
---


KEIN KIEL FESTIVAL am 28.12.2019 mit NO MORE aus Kiel (der echte Norden), GIRLS UNDER GLASS und CHARLES LINDBERGH n.e.v. aus Hamburg (ziemlich Norden) und DEAD ASTROPILOTS aus Lille (Frankreichs Norden). Und das "Postergirl" ist aus Schweden (noch echterer Norden). http://www.keinkiel.de/
KEIN KIEL Festival
Sonnabend 28.12.2019
Schaubude, KIEL
mit:
NO MORE
GIRLS UNDER GLASS
DEAD ASTROPILOTS
CHARLES LINDBERGH n.e.v.
Einlass: 19:30 // Beginn: 20:00
InBetween & Aftershow Party mit DJ Matt Bischoff (Love Parasite, Hamburg) und DJ Timo C. Engel (Pop & Trash)
---

BLACK DREAMS ist ein finnischer Melancholic Heavy-Rock-Act, der mit "Deep inside" seine neue 2-Track-Single veröffentlicht. Als zweiter Track ist "Like A Cockroach" mit von der Partie. https://www.facebook.com/BLACKDREAMSOFFICIAL/
The first track Deep Inside is a dramatic tune with atmosphere that you can find a hint of gothic romanticism. Track features Juhani Flinck (Dead Shape Figure, Misterer) playing the guitar solo. Second track Like A Cockroach is faster piece. Melodic, rocking, energetic yet melancholic track. "Most of us know at least one cockroach – a person who you would like to smack with a baseball bat. But you know it's useless – cockroaches always come back and they never quiet down." comments the singer Juha Kraapo.
---
Das HELL OVER HAMMABURG, Hamburgs traditionsreiches Indoor-Festival für Metal und Hardrock, geht in seine achte Runde am 6. und 7. März 2020 in der Markthalle. Schwerpunkte sind Headlineraufritte der US-Metaller VISIGOTH sowie der schwedischen Kult-Black-Metal-Legende NIFELHEIM. Weitere Highlights: die Reunion der amerikanischen Epic-Doomer THE GATES OF SLUMBER sowie die erste Show von SIJJIN, der Nachfolge-Combo der zu Grabe getragenen Death-Metal-Institution Necros Christos. http://helloverhammaburg.blogspot.com/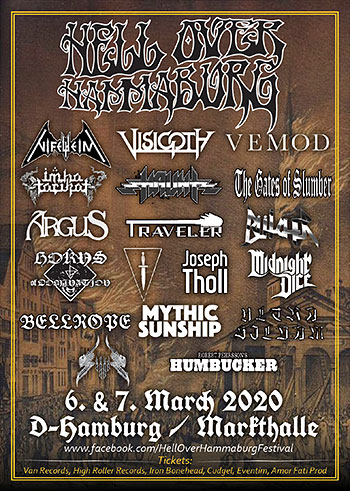 ---
Die Schweden NIGHT CROWNED um ehemalige und gegenwärtige Mitglieder von Acts wie Dark Funeral, Nightrage und Cipher System veröffentlichen ihr Debütalbum "Impius Viam" am 28. Februar via Noble Demon Records, dem brandneuen Label, das von Nuclear Blast Veteran Patrick Walch gegründet wurde. "Unholy Path" ist die erste Hörprobe aus kommenden Werk der Blackened Death Metal Band. www.facebook.com/nightcrowned
The band comments: "When picking the first single for the album we choose "Unholy Path". A song that represents our sound and captures the essence of the album well. A dark tale of a future we soon shall experience."
---