Pressemitteilung aus dem Haus der Grindfuckers:
Die Spaßdilettanten der EXCREMENTORY GRINDFUCKERS haben ein neues Hochglanz-Video zum Titeltrack ihres neuen Albums 'Vorsprung durch Hektik' (VÖ 12.11.2016) veröffentlicht.
Statt einem überteuerten Kinobesuch wird dabei für den filmischen Genuss nichts weiter fällig als ein Klick auf folgenden Youtube-Link:
Regie, Kamera und Schnitt haben (wie man sieht) die Musikmissbilliger wie immer selbst gemacht.
Wer die Grindkasper zusäzlich live und in 3D sehen möchte, sollte auf folgenden Bühnen Ausschau halten:
14.1. Zürich (CH) Meh Suff! Winter Festival
10.2. Stuttgart (D) Club CANN (COREneval-Tour)
11.2. München (D) Feierwerk (COREneval-Tour)
17.2. Wien (A) ((szene)) (COREneval-Tour)
18.2. Berlin (D) Blackland Metalbar (COREneval-Tour)
23.2. Avila (ES), ACAAA
24.2. Lissabon (PT) Stairway Club
25.2. Porto (PT), Hard Bar
26.2. Madrid (ES) Estudios Rock&Pop
18.3. Brasov (RO) Rockstadt Grind Fest
6.5. Troifaiach (A) Feel The Noise Festival
18.8. Dinkelsbühl (D) Summer Breeze – "special 90s Trash Grindcore Dance Show"
Continue reading →
Die italienischen Industrial/Electronic Metal Urgesteine ABORYM veröffentlichen den neuen Song "Slipping Through The Cracks" vom kommenden Album "Shifting.Negative", welches am 25. Januar über Agona Records veröffentlicht wird.
---
Continue reading →
Am  13. Januar erscheint das neue WOLFCHANT-Album "Bloodwinter". Als Vorgeschmack gibts nun ein Lyrikvideo zu dem Song "Das Bollwerk":
---
Continue reading →


Am 25. März 2017 laden die GOLDEN APES das 8. Mal zum Dark Spring Festival in den Bi Nuu Club nach Berlin ein. Getreu dem Credo der Veranstaltung bietet das handverlesene Line-up auch dieses Mal wieder spannende und interessante Klänge abseits des musikalischen Szene-Mainstreams und ein ausgewogenes Maß an etablierten Künstlern und aufregenden neuen Bands der Wave-, Gothic- und Post-Punk-Szene aus aller Welt.
Stattfinden wird das Festival, in bewährter Tradition, wieder im Bi Nuu (ex-Kato), dem legendären Szene-Kult-Club in Kreuzberg, im Herzen Berlins.
Line Up 2017:
And Also The Trees (UK) – Full Time Show
Golden Apes (GER)
Ascetic: (AUS)
Horror Vacui (IT)
Alliteration Kit (RUS)
Zur Aftershowparty legt dann DJ Thomas Thyssen (Pagan Love Songs) und Jakob (Stroblight Records) das Beste aus Gothrock, Post Punk, Wave & Indie auf, wozu dann bis in die frühen Morgenstunden des Sonntags durchgetanzt werden darf.
Tickets unter: www.apes.1a-shops.eu | www.koka36.de
Festival Infos unter: www.binuu.de | www.facebook.com/darkspringfestival
---
Continue reading →
Die finnische Dark Folk Band haben eine neue Single aus ihrem dritten Album veröffentlicht.
---
Continue reading →
Vor einigen Wochen haben AETERNITAS bereits die Akustikversion ihres Songs "House Of Usher" veröffentlicht.
Nun folgt das zweite und letzte Video in der Acoustic Session-Reihe der Band, die Akustikversion von "Open Your Eyes":
Mit von der Partie ist dieses Mal auch Jenny Sanden, die bereits in einem Live Video zum AETERNITAS Album "Rappacinis Tochter" zu sehen war. AETERNITAS' neues Album "House Of Usher" ist im Handel erhältlich.
---
Continue reading →
Die italienischen Black Death Metaler INFERNAL ANGELS haben den ersten Song von ihrem neuen, dem 4. Album veröffentlicht. "Ars Goetia" erscheint am 20. Januar bei My Kingdom Music. www.facebook.com/infernalangelsofficial
---
Continue reading →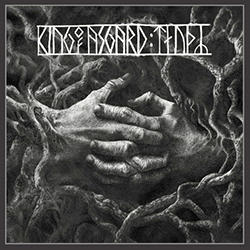 Nach langer Wartezeit werden Trollmusic am 17. März 2017 das neue KING OF ASGARD Album :taudr: veröffentlichen. Die Schweden haben eine kleine Auszeit genutzt, um sich mit verstärktem Line-Up neu zu fokussieren, und unter der Ägide von Magnus "Devo" Andersson ihre Aufnahmen einzuspielen. Das Cover für :taudr: hat Mattias Frisk in enger Zusammenarbeit mit Bassist Jonas Albrektsson entworfen, wie dieser erläutert: "Als enger Freund weiß Mattias, welche Richtung wir mit KING OF ASGARD einschlagen, und dieses Mal haben wir uns bereits sehr früh zusammengesetzt, um für :taudr: eine künstlerische Linie zu entwickeln. Mattias hat mit mir das komplette Layout arrangiert, denn wir sind da als Band vielleicht etwas penibel, doch wir legen großen Wert auf ein durch und durch stimmiges Gesamtprodukt. Mattias möchte so wie wir das Bestmögliche verwirklichen. Das Artwork fällt ziemlich düster und in sich gekehrt aus und passt hervorragend zu dem, was die Hörer auf :taudr: erwartet." https://de-de.facebook.com/kingofasgard/ / https://mattiasfrisk.com
Continue reading →
"Heljarkviða" lautet der Titel der neuen EP der Pagan-Band ARSTIDIR LIFSINS, welche offiziell am 27. Januar bei Van Records erscheinen wird, aber bereits jetzt im Shop des Labels erhältlich ist.
Das US-Mag Noisey hat nun die komplette Scheibe im Stream, und zwar hier:
https://noisey.vice.com/en_us/article/arstidir-lifsins-pay-pagan-tribute-to-the-old-gods-with-heljarkvida
---
Continue reading →
Das Debüt-Album "Post Mortem Blues" der italienischen Doom Metaller THE OSSUARY wird noch im Januar des neuen Jahres das Licht der Welt erblicken.
"Post Mortem Blues" erscheint im Januar 2017 auf CD und im März 2017 auf Vinyl über Supreme Chaos Records / Cargo.
---
Continue reading →