2015 haben J.B.O. das 20-jährige Jubiläum der "Expliziten Lyrik" mit einer Tournee gefeiert, auf der das komplette Album live gespielt wurde. Das kam bei den Fans so überragend gut an, dass nichts anderes übrig blieb, als diese Tour zu verlängern.
Nachdem 2017 das Album "Laut!" und 2018 "Meister der Musik" 20. Geburtstag haben, werden J.B.O. bei den Blast Christmas-Shows Ende 2017 ausschließlich Songs dieser beiden Alben spielen.
Blast Christmas-Termine:
16.12. Magdeburg, Factory
22.12. CH-Pratteln, Z7
23.12. Coesfeld, Fabrik
26.12. Karlsruhe, Festhalle Durlach
27.12. Landshut, Alte Kaserne
28.12. Bochum, Zeche
30.12. Leipzig, Hellraiser
Continue reading →
Der zweite Song aus dem neuen VERSENGOLD Album Funkenflug (VÖ 04.08.), zu dem es ein Video zu sehen gibt, heißt "Niemals sang- und klanglos".
---
Continue reading →
'Unkind Exit' ist die dritte Singleauskopplung aus dem aktuellen Album "Settle 4 Force", inclusive Video produziert von Immergruen Productions.
Den Job des Keyboarders erledigt bei SUB DUB MICROMACHINE ein seit Jahren liebevoll "die Büxe" genanntes Gerät. Da sie in einem Video eher langweilig rüberkommt, suchte die Band Ersatz. Mit freundlicher Unterstützung von Alf Ator von Deutschlands meister Band der Welt, KNORKATOR, wurde dieses Manko beseitigt.
---
Continue reading →
Die italienischen Vamir Metaller THEATRES DES VAMPIRES haben eine neues Video zu ihrem Song "Resurrection Mary" veröffentlicht.
---
Continue reading →
Als Vorbote zum neuen END OF GREEN Album WVoid Estate", welches am 4. August bei Napalm Records erscheinen wird, gibt es ein erstes Lyric Video zum Track "Send In The Clowns".
Michelle Darkness sagt dazu:
"Bad experiences or wrong decisions, they surround around you like heavy weights on your shoulder. Or for example people who pisses you off. Everyone knows about that kind of things. so the stage is yours. A stage for all of these clowns. And the day will come to send in the clowns. Cheers everyone. Well, maybe I'm the biggest clown of all. ;)"
END OF GREEN on Tour:
20.10.17 DE – Berlin / Columbia Theater
21.10.17 DE – Leipzig / Werk 2
03.11.17 DE – Aschaffenburg / Colos Saal
04.11.17 DE – München / Backstage
09.11.17 DE – Nürnberg / Hirsch
10.11.17 DE – Bochum / Matrix
11.11.17 DE – Hamburg / Knust
18.11.17 DE – LKA Longhorn
---
Continue reading →
Nachdem die lettischen Dark-Elektro-Rocker RYGA bereits "Say You Love Me Nowâ" einen der romantischsten Songs vom bald erscheinenden "Catch Her Groove" im April veröffentlichtten (inklusive Video), gibt es nun die Visualisierung von "Bunny Munro Waltz".
---
Continue reading →
Nach "Laudanum" und "A Black Symphony" veröffentlicht FLORIAN GREY am 30.06.17 die dritte Single, inkl. Demoversion und dazu gehörigem Video, aus seinem aktuellen Album "GONE".
"The End" erscheint als digitale Single inkl. Demoversion auf allen bekannten Download-Portalen. Ebenso gibt es direkt vom Künstler eine streng limitierte CD-Fan-Edition.
---
Continue reading →
Die Folk Gothic Doom Band EVA CAN'T präsentiert den ersten Titelsong ihres "Gravatum" aus ihren vierten Album
---
Continue reading →
Der Index Verlag (u.a. "Lords Of Chaos", "Looking For Europe", "Schwedischer Death Metal") veröffentlicht nun endlich die deutsche Erstausgabe des ultimativen Black-Metal-Nachschlagewerks BLACK METAL: EVOLUTION OF THE CULT von Dayal Patterson sowie den zweiten Band seiner fortlaufenden Reihe zum Thema, THE CULT NEVER DIES VOL. 1. Um die Geschichte des Phänomens Black Metal nachzuzeichnen, verband der sachkundige Autor und Szene-Intimus legendäre Fotos mit ausgedehnten Gesprächen, die er mit den Schlüsselfiguren der Szene führte, zu einem beispiellosen Bild eines Musikgenres, das so extrem wie wegweisend ist wie nur wenige.
In EVOLUTION OF THE CULT beleuchtet Patterson das Genre chronologisch von Webereitern wie Venom, Mercyful Fate oder Celtic Frost über die zweite Welle mit skandinavischen Vertretern wie Mayhem, Emperor oder Dissection und die kommerzielle Hochphase Ende der 1990er (Cradle Of Filth, Dimmu Borgir) bis zu aktuellen Strömungen (Blackgaze, Suicidal Black Metal). Letzteren widmet sich der Autor in THE CULT NEVER DIES VOL. 1 konzentriert, indem er lokale Szenen (z.B. Polen) behandelt und auch eher obskure Underground-Bands zu Wort kommen lässt. Da sein Hauptfokus auf Interviews liegt, geben die Bücher den Spirit der Szene unverfälscht wider und lassen so ein beispielloses Panorama entstehen, das selbst Kennern einen neuen, differenziertern Blick auf die Szene ermöglicht.
THE CULT NEVER DIES VOL. 1 enthält zudem PRELUDE TO THE CULT, das im Original nur gesondert als Fanzine verkaufte Vorspiel zu EVOLUTION mit weiteren exklusiven Gesprächen mit streitbaren Acts wie Taake oder Impaled Nazarene. Beide Bände erscheinen gebunden im hochwertigen Hardcover und bieten mehr als 1.000 Seiten Information inklusive reichhaltiger Bebilderung.
Continue reading →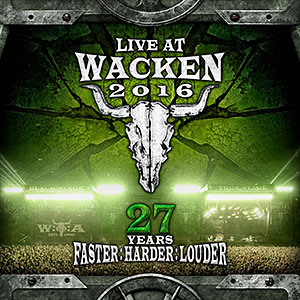 Wacken 2016 kommt zu euch nach Haus und lässt die Wände wackeln. Die besten Momente, die besten Performances des Jahres 2016 hier noch einmal auf einer Doppel CD und Doppel DVD. Der Release dieser DVD/CD wird am 21. Juli 2017 sein. www.wacken.com
Formate: 2DVD/2 CD Digipack, 2 BluRay /2 CD BR-Digipack, Standard Digital Audio
DVD/BluRay 1
1 PHIL CAMPBELL AND THE BASTARD SONS – BIG MOUTH
2 PROFANER – KILLING ON COMMAND
3 HÄMATOM – ALTE LIEBE ROSTET NICHT
4 AUÐN – ÞJÁNING HEILLAR ÞJÓÐAR
5 SAXON – BATTERING RAM
6 SAXON – HEAVY METAL THUNDER
7 ZOMBIES ATE MY GIRLFRIEND – APPROPRIATE HATE CRIMES
8 VADER – TRIUMPH OF DEATH
9 TSJUDER – DEMONIC SUPREMACY
10 IMMOLATION – DESPONDENT SOULS
11 THERAPY? – SCREAMAGER
12 MICHAEL MONROE – 78
13 ORDEN OGAN – F.E.V.E.R.
14 ORDEN OGAN – THE THINGS WE BELIEVE IN
15 THE VINTAGE CARAVAN – EXPAND YOUR MIND
16 BURY TOMORROW – MAN ON FIRE
17 ENTOMBED A.D. – DEAD DAWN
18 EQUILIBRIUM – BLUT IM AUGE
19 EQUILIBRIUM – BORN TO BE EPIC
20 DIE KRUPPS – FATHERLAND
21 AXEL RUDI PELL – GAME OF SINS
22 AXEL RUDI PELL – ROCK THE NATION
23 EKTOMORF – HOLOCAUST
24 GIRLSCHOOL – TAKE IT LIKE A BAND
25 LEMMY – BORN TO LOSE, LIVE TO WIN
DVD/BluRay 2
1 TORFROCK – TRUNKENBOLD
2 TORFROCK – PREßLUFTHAMMER B-B-BERNHARD
3 ELUVEITIE – TEGERNAKO
4 ELUVEITIE – HAVOC
5 BULLET FOR MY VALENTINE – TEARS DON'T FALL
6 BULLET FOR MY VALENTINE – WAKING THE DEMON
7 TARJA – NO BITTER END
8 1349 – SCULPTOR OF FLESH
9 RED FANG – PREHISTORIC DOG
10 UNISONIC – UNISONIC
11 CALIBAN – PARALYZED
12 WHILE SHE SLEEPS – FOUR WALLS
13 ESKIMO CALLBOY – MUFFIN PURPER-GURK
14 MYRKUR – JEG ER GUDEN, I ER TJENERNE
15 BORKNAGAR – COLOSSUS
16 BORKNAGAR – WINTER THRICE
17 METAL CHURCH – GODS OF SECOND CHANCE
18 THERION – SON OF THE SUN
19 THERION – SON OF THE STAVES OF TIME
20 STEEL PANTHER – ASIAN HOOKER
21 STEEL PANTHER – COMMUNITY PROPERTY
22 STEAK NUMBER EIGHT – BLACK EYED
23 TRIPTYKON – MORBID TALES
24 BUFFALO SUMMER – MONEY
25 BARB WIRE DOLLS – HEART ATTACK
26 ARCH ENEMY – WAR ETERNAL
27 BUDDERSIDE – PAIN
28 DIO DISCIPLES – THE LAST IN LINE
29 DIO DISCIPLES – STARGAZER
CD1:
1 PHIL CAMPBELL AND THE BASTARD SONS – BIG MOUTH
2 HÄMATOM – ALTE LIEBE ROSTET NICHT
3 SAXON – BATTERING RAM
4 VADER – TRIUMPH OF DEATH
5 TSJUDER – DEMONIC SUPREMACY
6 IMMOLATION – DESPONDENT SOULS
7 THERAPY? – SCREAMAGER
8 MICHAEL MONROE – 78
9 THE VINTAGE CARAVAN – EXPAND YOUR MIND
10 BURY TOMORROW – MAN ON FIRE
11 ENTOMBED A.D. – DEAD DAWN
12 EQUILIBRIUM – BORN TO BE EPIC
13 DIE KRUPPS – FATHERLAND
14 AXEL RUDI PELL – ROCK THE NATION
15 GIRLSCHOOL – TAKE IT LIKE A BAND
16 EKTOMORF – HOLOCAUST
17 TORFROCK – PREßLUFTHAMMER B-B-BERNHARD
18 ELUVEITIE – HAVOC
CD2:
1 BULLET FOR MY VALENTINE – TEARS DON'T FALL
2 TARJA – NO BITTER END
3 1349 – SCULPTOR OF FLESH
4 RED FANG – PREHISTORIC DOG
5 UNISONIC – UNISONIC
6 CALIBAN – PARALYZED
7 ESKIMO CALLBOY – MUFFIN PURPER-GURK
8 BORKNAGAR – COLOSSUS
9 METAL CHURCH – GODS OF SECOND CHANCE
10 THERION – SON OF THE STAVES OF TIME
11 STEEL PANTHER – COMMUNITY PROPERTY
12 STEAK NUMBER EIGHT – BLACK EYED
13 TRIPTYKON – MORBID TALES
14 BUFFALO SUMMER – MONEY
15 BARB WIRE DOLLS – HEART ATTACK
16 ARCH ENEMY – WAR ETERNAL
17 BUDDERSIDE – PAIN
18 DIO DISCIPLES – STARGAZER
Formate: 2DVD/2 CD Digipack, 2 BluRay /2 CD BR-Digipack, Standard Digital Audio
www.wacken.com
Continue reading →