Die italienischen Industrial/Electronic Metal Urgesteine ABORYM veröffentlichen den neuen Song "Slipping Through The Cracks" vom kommenden Album "Shifting.Negative", welches am 25. Januar über Agona Records veröffentlicht wird.
---
Am  13. Januar erscheint das neue WOLFCHANT-Album "Bloodwinter". Als Vorgeschmack gibts nun ein Lyrikvideo zu dem Song "Das Bollwerk":
---


Am 25. März 2017 laden die GOLDEN APES das 8. Mal zum Dark Spring Festival in den Bi Nuu Club nach Berlin ein. Getreu dem Credo der Veranstaltung bietet das handverlesene Line-up auch dieses Mal wieder spannende und interessante Klänge abseits des musikalischen Szene-Mainstreams und ein ausgewogenes Maß an etablierten Künstlern und aufregenden neuen Bands der Wave-, Gothic- und Post-Punk-Szene aus aller Welt.
Stattfinden wird das Festival, in bewährter Tradition, wieder im Bi Nuu (ex-Kato), dem legendären Szene-Kult-Club in Kreuzberg, im Herzen Berlins.
Line Up 2017:
And Also The Trees (UK) – Full Time Show
Golden Apes (GER)
Ascetic: (AUS)
Horror Vacui (IT)
Alliteration Kit (RUS)
Zur Aftershowparty legt dann DJ Thomas Thyssen (Pagan Love Songs) und Jakob (Stroblight Records) das Beste aus Gothrock, Post Punk, Wave & Indie auf, wozu dann bis in die frühen Morgenstunden des Sonntags durchgetanzt werden darf.
Tickets unter: www.apes.1a-shops.eu | www.koka36.de
Festival Infos unter: www.binuu.de | www.facebook.com/darkspringfestival
---
Die finnische Dark Folk Band haben eine neue Single aus ihrem dritten Album veröffentlicht.
---
Vor einigen Wochen haben AETERNITAS bereits die Akustikversion ihres Songs "House Of Usher" veröffentlicht.
Nun folgt das zweite und letzte Video in der Acoustic Session-Reihe der Band, die Akustikversion von "Open Your Eyes":
Mit von der Partie ist dieses Mal auch Jenny Sanden, die bereits in einem Live Video zum AETERNITAS Album "Rappacinis Tochter" zu sehen war. AETERNITAS' neues Album "House Of Usher" ist im Handel erhältlich.
---
Die italienischen Black Death Metaler INFERNAL ANGELS haben den ersten Song von ihrem neuen, dem 4. Album veröffentlicht. "Ars Goetia" erscheint am 20. Januar bei My Kingdom Music. www.facebook.com/infernalangelsofficial
---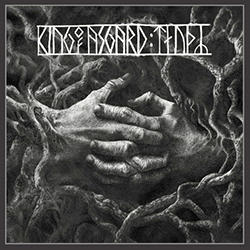 Nach langer Wartezeit werden Trollmusic am 17. März 2017 das neue KING OF ASGARD Album :taudr: veröffentlichen. Die Schweden haben eine kleine Auszeit genutzt, um sich mit verstärktem Line-Up neu zu fokussieren, und unter der Ägide von Magnus "Devo" Andersson ihre Aufnahmen einzuspielen. Das Cover für :taudr: hat Mattias Frisk in enger Zusammenarbeit mit Bassist Jonas Albrektsson entworfen, wie dieser erläutert: "Als enger Freund weiß Mattias, welche Richtung wir mit KING OF ASGARD einschlagen, und dieses Mal haben wir uns bereits sehr früh zusammengesetzt, um für :taudr: eine künstlerische Linie zu entwickeln. Mattias hat mit mir das komplette Layout arrangiert, denn wir sind da als Band vielleicht etwas penibel, doch wir legen großen Wert auf ein durch und durch stimmiges Gesamtprodukt. Mattias möchte so wie wir das Bestmögliche verwirklichen. Das Artwork fällt ziemlich düster und in sich gekehrt aus und passt hervorragend zu dem, was die Hörer auf :taudr: erwartet." https://de-de.facebook.com/kingofasgard/ / https://mattiasfrisk.com
"Heljarkviða" lautet der Titel der neuen EP der Pagan-Band ARSTIDIR LIFSINS, welche offiziell am 27. Januar bei Van Records erscheinen wird, aber bereits jetzt im Shop des Labels erhältlich ist.
Das US-Mag Noisey hat nun die komplette Scheibe im Stream, und zwar hier:
https://noisey.vice.com/en_us/article/arstidir-lifsins-pay-pagan-tribute-to-the-old-gods-with-heljarkvida
---
Das Debüt-Album "Post Mortem Blues" der italienischen Doom Metaller THE OSSUARY wird noch im Januar des neuen Jahres das Licht der Welt erblicken.
"Post Mortem Blues" erscheint im Januar 2017 auf CD und im März 2017 auf Vinyl über Supreme Chaos Records / Cargo.
---
Deep Purple enthüllen den Titel, das Veröffentlichungsdatum sowie den ersten Song ihres neuen Studioalbums "inFinite", dem mit Hochspannung erwarteten Nachfolger des weltweiten Charterfolgs "NOW What?!".
"inFinite" erscheint am 7. April 2017 bei earMUSIC. "Time For Bedlam", ein klassischer Up-Tempo-Song von Deep Purple, ist ab sofort im dazugehörigen Lyric Videos zu hören.
Am Donnerstag, den 15. Dezember, um Punkt Mitternacht, wird der Song im Rahmen der digitalen Albumpreorder als Instant Grat veröffentlicht sowie auf allen Streaming-Plattformen zur Verfügung stehen. Die physische Preorder des Albums startet zum selben Zeitpunkt.
Am 3. Februar wird eine limitierte EP zu "Time For Bedlam" erscheinen, die neben bisher unveröffentlichten Aufnahmen auch neue, nicht auf dem Album enthaltene Songs beinhaltet.
Ein Dokumentarfilm begleitet Deep Purple während ihres Songwriting-Prozesses sowie bei den Albumaufnahmen gemeinsam mit Produzent Bob Ezrin im Studio. So ist es Fans zum ersten Mal möglich, die Band ganz aus der Nähe zu beobachten. Der Film wird einigen Editionen des erscheinenden Albums beigelegt und wird vor Veröffentlichung auf exklusiven Fan-Events weltweit gezeigt.
Deep Purple kündigten kürzlich ihre "The Long Goodbye-Tour" an, welche die legendäre Liveshow der Band erneut der ganzen Welt nahebringen wird.
Bisher vermieden Deep Purple die vielen Fanfragen und Spekulationen zu der Bedeutung des Albumtitels "inFinte" sowie des Tournames "Long Goodbye".
Dazu Sänger Ian Gillan:
"If you take it literally you may, quite reasonably, think the 'Finite' part of the word describes the life of deep Purple, with a clear beginning and a nebulous end; but what of the 'in' bit? The word infinite is a three-dimensional double edged sword. It describes something that goes on forever in all directions; not unlike its temporal equivalent 'Eternal' What's that all about?
Stephen Hawking declared (in 'A brief History of Time') that, before the Big Bang there was nothing. That would put the kybosh on the idea of our universe being Infinite, as he provides a starting point, which is not acceptable to the concept. So, Hawking's universe in 'Finite'; by definition; whether he agrees or not.
Ironically, he is quite wrong (scientists always are eventually), therefore the Universe is infinite, which means it will never end, and also means that it never started, and the corollary to that of course is that we don't exist.
There is a metaphysical solution to all this, but it will have to wait until the tour is over because (thanks heavens) there are only 24 hours in a day (for the time being) or 10 hours in a metric day.
More on that later…"
NOW What?! chartete in 5 europäischen Ländern auf #1.
NOW What?! chartete in über 15 Ländern weltweit in den Top 10.
NOW What?! wurde in Deutschland für über 100.000 verkaufte Einheiten mit Gold ausgezeichnet.
Die beiden Videoveröffentlichungen "From the Setting Sun… (In Wacken)" und "…To the Rising Sun (In Tokyo)", am gleichen Tag veröffentlicht, charteten sowohl auf #1 und #2 in den britischen Musikvideocharts und krönten somit den Erfolg der NOW What?!-Tour.
Deep Purple – "inFinite – The Long Goodbye Tour"
Special Guest: tba
19.05.17 München, Olympiahalle
30.05.17 Hamburg, Barclaycard-Arena
06.06.17 Köln, Lanxess-Arena
07.06.17 Dortmund, Westfalenhalle 1
09.06.17 Leipzig, Arena Leipzig
10.06.17 Frankfurt, Festhalle Frankfurt
13.06.17 Berlin, Mercedes-Benz-Arena
14.06.17 Stuttgart, Hanns-Martin-Schleyer-Halle
---