Die Finnischen Dark Metaller MUSTAN KUUN LAPSET haben einen neuen Track "Ikaros" veröffentlicht. Ein neues Album soll 2019 erscheinen.
---
Continue reading →
Nach der erfolgreichen Veröffentlichung ihres neuen Albums 'Thunderbolt' am 02.Februar 2018 veröffentlichen SAXON mit 'Nosferatu,The Vampire's Waltz' ein weiteres, neues Video. hier zu sehen.
---
Continue reading →
Dieses Wochenende startet eine interessante Tour präsentiert von Lycanthropic Chants mit Cryptic Brood aus Wolfsburg und Diskord aus Norwegen.
Eine Woche lang geht es durch einen Teil von Europa!
Hier die Daten für euch inklusive Facebookveranstaltungen:
2018.03.16, GER/Hamburg @Gängeviertel (Facebook)
2018.03.17, BEL/Chapelle-Lez-Herlaimont @Le Cercle (Facebook)
2018.03.18, BEL/Overpelt @Café 't Linne (Facebook)
2018.03.19, FRA/Poitiers @Le Zinc (Facebook)
2018.03.20, BAQ/Donostia @Mogambo (Facebook)
2018.03.21, ESP/Zaragoza @AVV Arrebato (Facebook)
2018.03.22, FRA/Cavaillon @Iron Bar (Facebook)
2018.03.23, ITA/Milano @Blue Rose Saloon (Facebook)
2018.03.24, GER/Ulm @CAT (Facebook)
Es wird auch ein Tourshirt geben!
Geht hin und lasst euch von Death Metal zerhacken!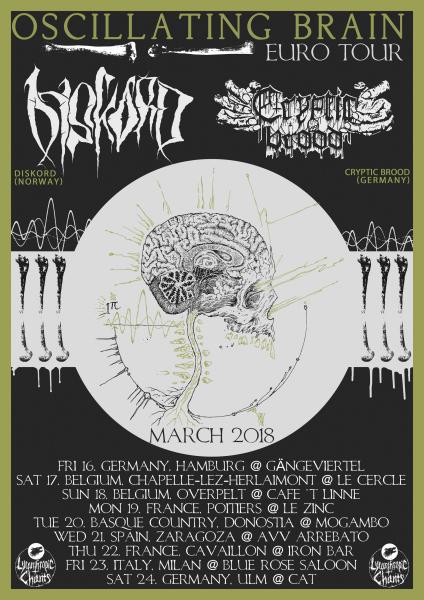 Continue reading →
Am 6. April wird das neue Album der Finnischen Melodeather KALMAH bei Spinefarm Rcords erscheinen. Als Vorgeschmack auf das achte Album "Palo" gibt es den Track Evil Kin" als Video oder bei diveresen Download und Streamingdiensten via http://spinefarm.lnk.to/Kalmah-TheEvilKin.
---
Continue reading →
Am 23.03. erscheint das TAINA-Album "Seellenfresser", welches in allen gängigen Shops als digitales Album erworben werden kann. Bereits jetzt haben die Bremer Industrial Rocker ein neues Video zu dem Song "Teil von mir" online gestellt.
24.03.18 TAINA Release Show / Heimathaus Rotenburg
05.04.18 Ebrietas / Zürich (CH)
06.04.18 Taratata / Bremgarten (CH)
07.04.18 Das O / Spiez (CH)
12.05.18 KIR / Hamburg
19.05.18 Rock and Metal Dayz / Oschersleben
25.10.18 SubKultur / Hannover
26.10.18 Bandcenter / Soltau
---
Continue reading →
Die Thüringer Extreme Metaller EISREGEN werden in diesem Sommer ein Mini-Album veröffentlichen. Es trägt den Namen "Satan Liebt Dich", wird 7 neue und bis dato unveröffentlichte Songs beinhalten und soll die Wartezeit bis zum 13. Studioalbum der Band, das in diesem Herbst erscheinen wird, verkürzen.
"Satan Liebt Dich" wird abermals von Markus Stock in der Klangschmiede Studio E gemischt und gemastert werden. Drummer Yantit wird die Gestaltung des Artworks übernehmen.
Das Record Release Konzert wird am gleichen Tag stattfinden, an dem auch "Satan Liebt Dich" erscheint: am 08.06.2018 im Heudepot in Tambach-Dietharz. Das Konzert trägt das Motto "Metal im Thüringer Wald 2018" und EISREGEN werden dann musikalisch von ihren Labelkollegen GRABAK und HARDHOLZ unterstützt. Tickets sind hier erhältlich: http://bit.ly/metalthueringerwald2018
---
Continue reading →
In 2019 wollen DEAD END FINLAND ihr viertes Album via Inverse Records veröffentlichen. Einen ersten Track gibt es bereits jetzt zu hören und zu sehen:
The band comments:
"Our fourth album will be musically the most diverse album we have made so far. The first single reflects the more epic, slower and calmer side of the album".
---
Continue reading →
Die norwegischen Symphonic Pagan Black Metaller WALLACHIA haben einen neuen Song aus dem kommenden Album "Monumental Heresy" veröffentlicht, welches am 13. April bei Debemur Morti Productions veröffentlicht wird.
---
Continue reading →
Die Symphonic Metaller AETERNITAS werden am 29.06.2018 ein neues Album bei Massacre Records veröffentlichen. "Tales Of The Grotesque" ist das 5. Studioalbum der Band. Es wurde von Alex Hunziger bei SONOFACTUM gemischt und von Darius van Helfteren bei Amsterdam Mastering gemastert. Die 12 Songs auf dem kommenden Album basieren erneut auf Kurzgeschichten von Edgar Allan Poe.
AETERNITAS Live
24.03. Barsinghausen – ASB Bahnhof Basche
26.04. Bremen – Meisenfrei
28.06.-01.07. Tann – Rockwolf Open Air
30.06. Hamburg – Bambi Galore
---
Continue reading →
Die Schweden AT THE GATES haben einen ersten Song von ihrem neuen Album "To Drink From The Night Itself" veröffentlicht, welches am 18. Mai bei Century Media Records veröffentlicht wird.
---
Continue reading →